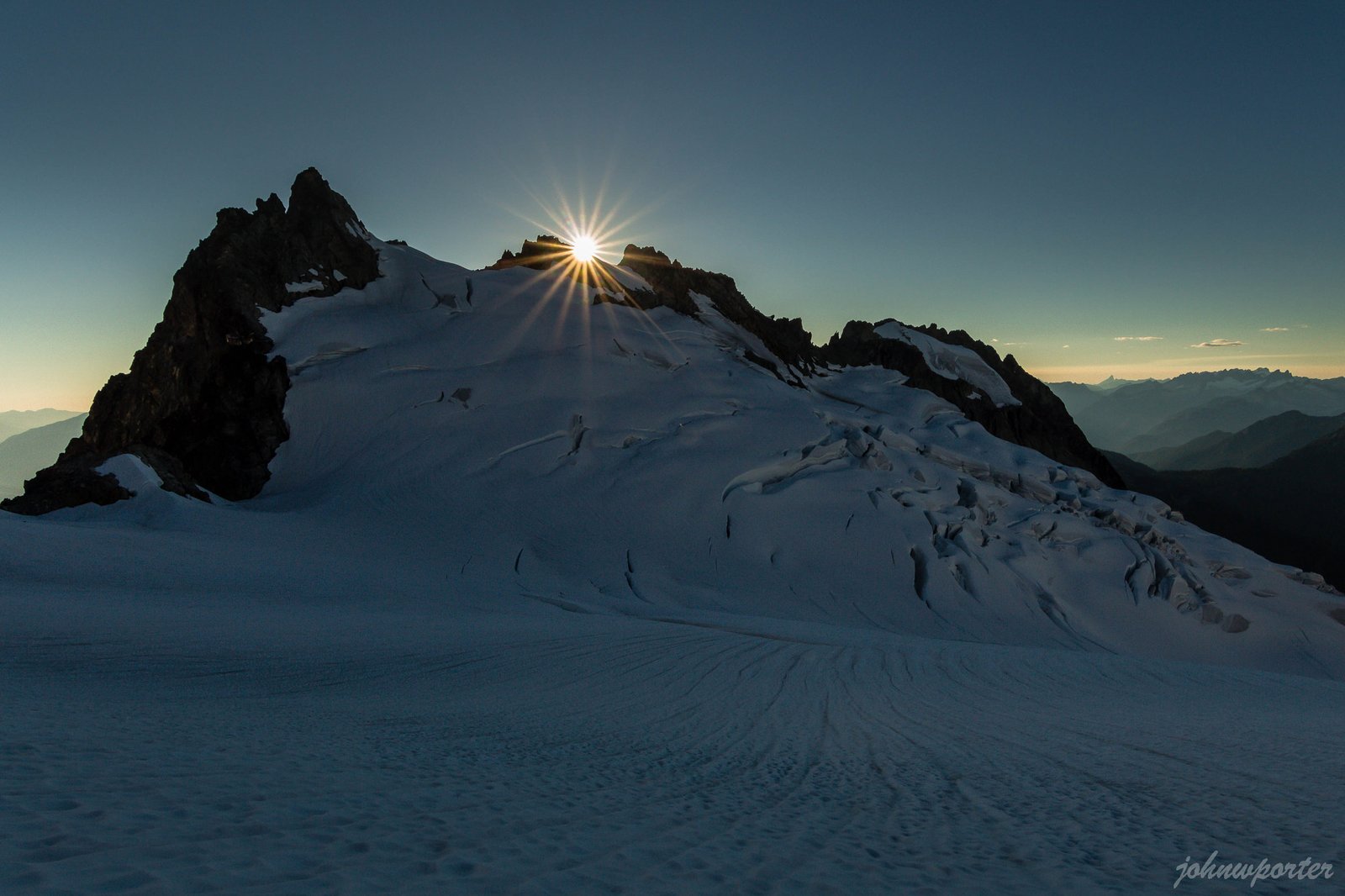 Photos from this trip can be found here.
One month ago partner and I climbed Primus and Austera Peaks. It felt really good to get the two farthest peaks on the Inspiration Traverse out of the way, albeit a seemingly never-ending traverse through five glaciers in one long day. But the same time a bit disappointed that we couldn't at least get Klawatti Peak on the way out. So here I was one month later, via same approach and solo climbed Dorado Needle and Klawatti Peak. Moat was my biggest concern on this trip. Even though it's only mid-July, depending on how quickly glaciers were melting out, the amount of space (moat) they left behind could either make or break the deal.
Besides gorgeous south views, approach through Eldorado Creek and Roush Creek was pretty uneventful. More crevasses had opened up on Eldorado Glacier in the past month, lots boot tracks through this section presumably most were climbing Eldorado Peak. Inspiration Glacier had also lost much snow with larger crevasses and more exposed rocks.
Half way through crossing Inspiration Glacier I stopped at Tepeh Col at 8,000′ col right of Dean's Spire and got my first look at Dorado Needle (pictured). Left overnight gear by the col, I then descended westward into McAllister Glacier and bypassing  few small crevasses in the process. It was here I noticed a group of four climbs slowly making their way up to the summit.
After dropping 400′ feet down by the 7,600′ notch, I started traversing northwestward to a flat area at 8,200′ north of summit. My plan was to get a better transition onto rock by going directly up Dorado's east face. But then the climbers were about to make their descent and I'd rather not be in the line of rockfalls. Snow had peeled away from rock so much that it was easier for me to attain northwest ridge through large rock debris.
Climbers took a while to descend, and so I bypassed them via steep west face and then regained ridge crest above their rappel route. The au cheval section was fairly exposed on both sides, so I carefully scooched on top of the arête. It's not for the faint of heart! A short section of steep rock scramble and I was on the summit, which was perfect for one person. I anchored myself into the bomber summit rock while moving around getting photos to be extra safe.
Man, Eldorado's backside looked so much more intimidating. Klawatti Peak on other side of MaAllister Glacier and Tepeh Towers with Ragged Ridge looming in the back, was my next day's target. This summit was, hands down, best seat in the house to check out five of the 100 highest peaks lined up in a row on the southeast.
On the descent I took the east face direct route on steep scree face. Surprisingly a tiny portion of the rock still had enough snow for me to quickly transition from rock back onto snow; most of the snow had already peeled farther away from rock. Retraced my steps back down to the 7,600′ notch while negotiating crevasses, then back up to Tepeh Col. From the col I dropped back down onto Inspiration Glacier and headed northeastward toward Klawatti Col.
Someone had built a really nice solo tent spot on southern end of the col, with views of Inspiration Glacier stretching all the way across to Eldorado, as well as Torment-Forbidden Ridge stretching across beneath the Milky Way. Klawatti Peak was sitting right behind me looking alien like in the dark.
So much daylight this time of the year made it hard to get up before sunrise. I didn't have to walk too far from camp to start climbing Klawatti, but I did spend some time scoping out moats across south side of the peak. As luck would have it, I discovered a snow bridge near end of its life cycle at the bottom a southwest-trending gully. I dug my ice ax in deep and took a big leap (of faith) onto a ledge and I started going up on loose rocks. South side of the peak hadn't gotten much sun yet so it was a bit cool.
Several big steps with a few class 4 moves in the steep gully as I carefully worked my way up. Once I made it to the southwest ridge it was more or less a walk-up to the summit. Summit was elongated and hard to figure out location of the high point without seeing a register. Views, views, and more views! I poked my head over precipitous northeast face to check out Klawatti Glacier and it was all broken up. It was all too surreal to see Dorado Needle on other side of McAllister Glacier, especially since I was just there the day before!
Going down I kinda didn't want to go through the gully again, thinking I probably would've had a hard time getting back onto snow at the bottom. I spotted some cairns along southwest ridge and followed them all the way to where I could see my tent down by the col. There I found a couple of old anchors, backed one up with extra webbing and made one rappel down onto slabs underneath. I down climbed rest of the way and was able to jump over the moat to get back on snow. Couple hundred yards later and I was back at camp.
By then it was getting warm, and I needed to start walking before snow got any slushier. So I quickly broke camp and got back on Inspiration Glacier for the long traverse back to the other end and down the mountain.