The less-than-desirable morning weather brought us out to Humility Hill. But not before I scoped out our initial plan to Philadelphia Mountain on my drive through the valley. There was nothing but clouds.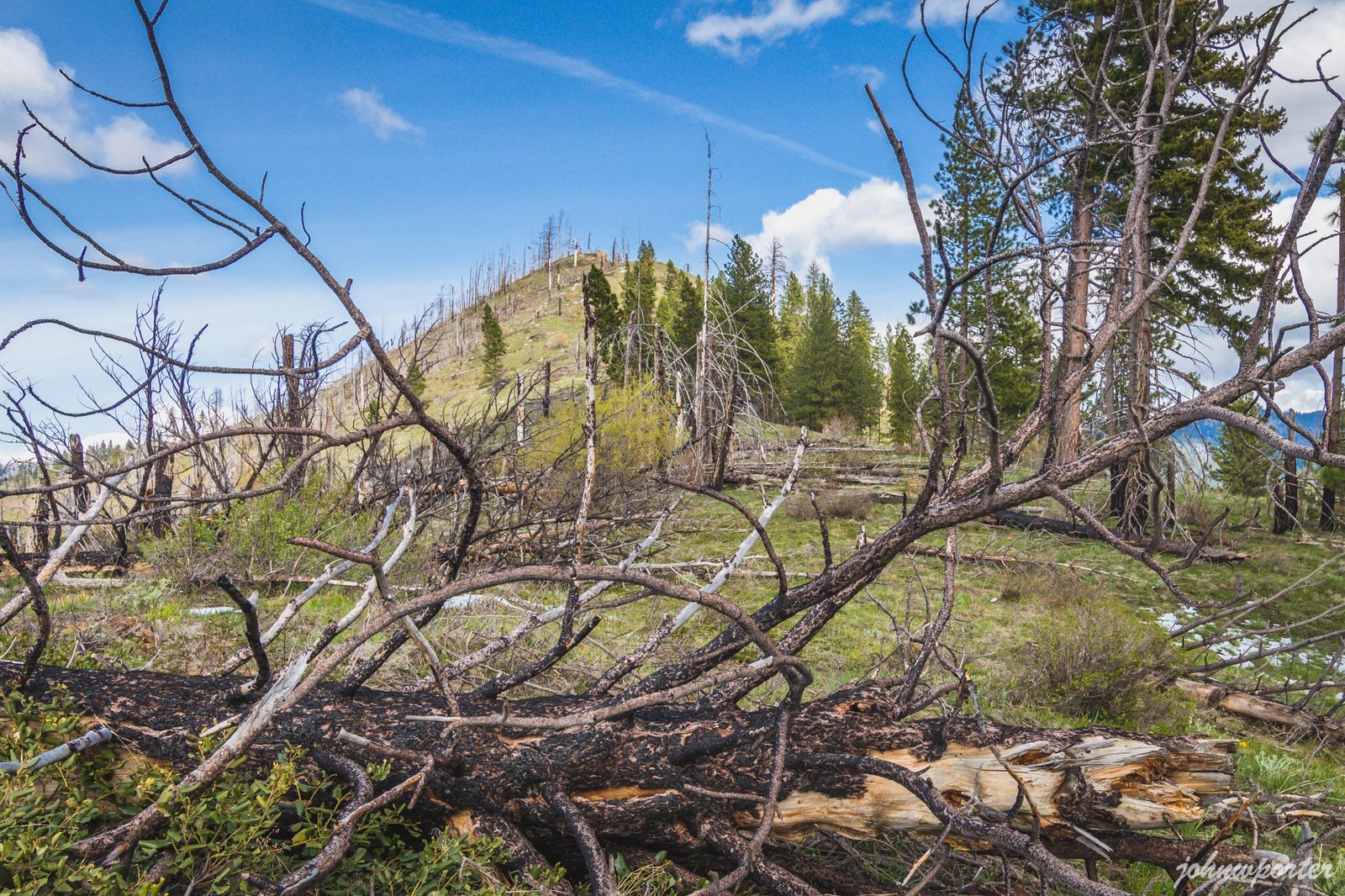 See more trip photos here.
Humility Hill at a Glance
Access: Derby Canyon Road
Round trip: 5.1 miles
Elevation Range: 1960′-4358′
Gear: none
GPS Track: available
Dog-Friendly: yes
Humility Hill
The road to the bottom of Humility Hill was still under slush just one month before. Since I didn't bring a shovel, I didn't want to get stuck. So pups and I went over to Chopper Peak instead.
The rise in temperatures in the past month made a huge difference. By now, the road was completely free of snow. Later I parked the car at the foot of the southwest ridge. It's half a mile before the NF-7403 junction.
See more trip photos here.
Southwest Ridge Route
The initial 500′ of the scramble was steep. Once we went past that part, we were on the crest with a moderate incline. During which, we crossed NF-7403 three times. The last crossing was at 3400′.
We could've certainly followed the roadway below the left of the crest and continue that way. But that would mean adding more distance. Though, scrambling was more enjoyable than walking the road.
See more trip photos here.
Humility Hill Summit
Flatter terrain went from 3600′ to 4000'. Then the final 400′ up to summit it steepened slightly. The top was somewhat windy but mostly sunny. Clouds largely gathered around Icicle Ridge, The Enchantments, and the western skyline.
Clouds in the northwest later slowly disappeared. Such places as Fortress Mountain and Chiwawa Mountain, and Buck Mountain were all visible. So we stayed longer to enjoy the scenery, including Blag Mountain right next door.
See more trip photos here.
Outro
On the way out, we dropped onto the north ridge. Then we moved counterclockwise and later joined NF-7403 at the 2950′ bend. We followed the road down to the top of the steep 500′.
I haven't seen so many balsamroots as I did on this trip. But they were virtually everywhere on the hills. They sure were the main attraction of the day!
See more trip photos here.