Philadelphia Mountain often fades into oblivion as one savors Mount Index's dramatic north cliffs above Lake Serene. Views on this obscure peak are spotty. But one can indeed have a better chance of finding solitude away from the lake seekers.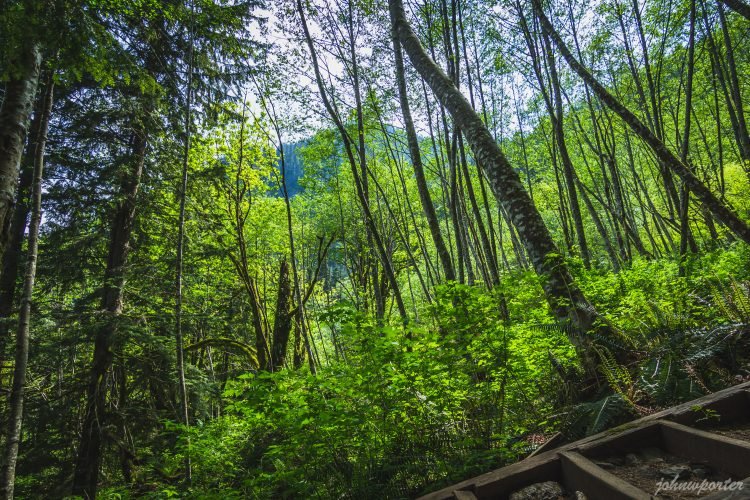 See more trip photos here.
Philadelphia Mountain at a Glance
Access: Lake Serene Trailhead
Round Trip: 11 miles
Elevation Range: 600′-4258′
Gear: snowshoes
GPS Track: available
Dog-Friendly: yes
The Preface
The lack of summit views has kept me from going to Philadelphia Mountain for years. But I needed a new place and decided to use the partly sunny midweek weather to visit the mountain. There wouldn't be much to see on top anyway.
Oddly, the weather drastically improved after I reached the trailhead past noon. It's no surprise to see quite a few cars at the Lake Serene Trailhead on a Thursday. But glad that it wasn't a full lot.
See more trip photos here.
Lake Serene Trail
Even with the number of cars here, I didn't see anyone lower down. My mind must've been on something else, but somehow I'd taken the wrong turn at the fork. Then I ended up going to Bridal Veil Falls instead.
I briefly talked to three guys by the waterfalls before going back to the trail fork. Then I went onto Lake Serene trail and hiked two more miles up to the toilet sign by the lake. Shortly, I went left into the brush and scrambled.
See more trip photos here.
Philadelphia Mountain West Ridge
The massive down trees had made reaching the west ridge a bit tricky. But once on the ridgeline, the route then became apparent. I noticed a faint trail through the snow and later put on snowshoes at 3400' as it softened.
The forest was dense. At the same time, Mount Index became less visible higher up on the ridge. But the few clearings on the north side gave views to the expansive Skykomish River Valley. I could see the upper parts of Mount Index also.
See more trip photos here.
Philadelphia Mountain Summit
The summit was flat and woodsy, just as I had expected. After resting, I then walked around the east slopes where trees spaced out more. Then I peeked through branches hoping to get some photos.
I got a glimpse of Palmer Mountain, Crosby Mountain, and Red Mountain to the south. But the views to the northeast were nonexistent. It was sad because this summit was in a perfect spot for stunning panoramic views.
See more trip photos here.
Outro
I spent some time scouting out views. Then I went back down to Lake Serene for photos. A girl and her dog were sitting on the boulder at the end of the trail. But later, I caught up to them on the trail. Then we hiked back down to the trailhead together.