We hiked to the base of Melted Mountain Last October before turning around. This weekend, avalanche danger had heightened. So we looked for places with minimal open terrain and came back here. It was great to be in the Cascades again after last week.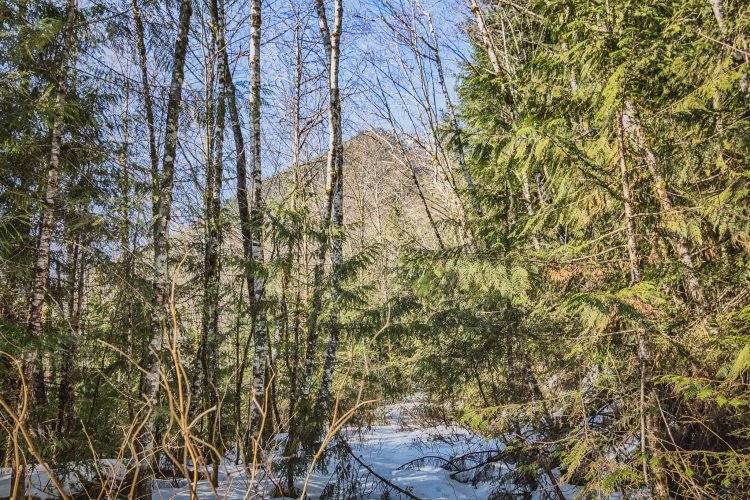 See more trip photos here.
Melted Mountain at a Glance
Access: Index Creek Trailhead
Round Trip: TBD
Elevation Range: 1240′-5520′
Gear: snowshoes
GPS Track: available
Dog-Friendly: with guidance
Index Creek Trail
I put on snowshoes at a quarter of a mile from the trailhead. Snow quality wasn't ideal, so the hiking became laborious after a while. But the snow had made route finding more manageable.
Using snow, we could then cross Index Creek to the south side more smoothly. Meanwhile, we avoided lots of brush from before. But the views were minimal in the dense forest.
See more trip photos here.
Melted Mountain East Ridge
The route up the steep east ridge was direct. But we sometimes needed to bypass a large number of down trees. They later dwindled at 3000′ as the ridge steepened for the next 200′.
Snow conditions were hit-or-miss past that point. But it could've been firmer for the ease of traveling. Later terrain flattened a bit as we went out into the clearing at 3400′. Soon, it steepened again between 3600′ and 4000′.
See more trip photos here.
Melted Mountain Summit Views
The final 200′ up to the top was enjoyable. Cornices were north and west of the broad summit, with far apart trees to see more. The best views were to the east and northeast, where I saw Baring Mountain, plus the Gunn Peak group.
I also saw Mount Index, Frozen Mountain, and Palmer Mountain. But trees were in the way of Philadelphia Mountain, Crosby Mountain, and Red Mountain. It was another vantage point to view the Skykomish River spanning the valley.
See more trip photos here.
Outro
On the way out, we backtracked the way we came. Then we made it down to the lower forest in no time. Soon, we crossed Index Creek and hiked back to the car.
See more trip photos here.