We had a do-over on Revolution Peak last weekend. Then this week, we went up to Blag Mountain. A year ago to the date, we were across the canyon on Humility Hill. We attempted both trips two weeks earlier. But we couldn't drive far enough on the road in the snow.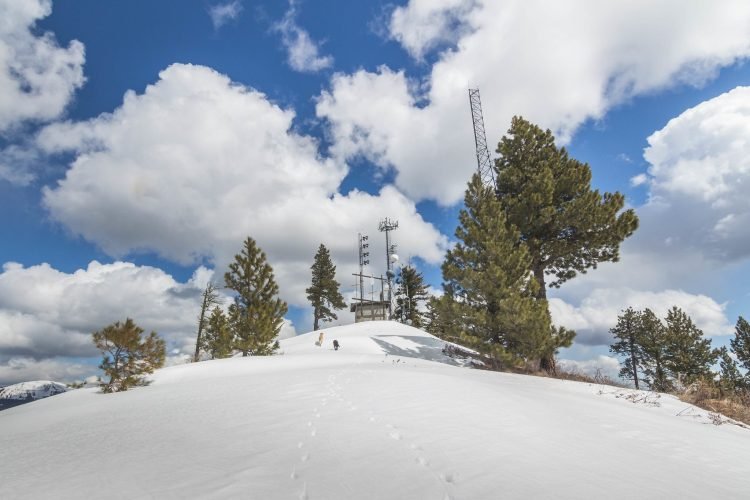 See more trip photos here.
Blag Mountain at a Glance
Access: Derby Canyon Road
Round trip: TBD
Elevation Range: 840′-3881′
Gear: none
GPS Track: available
Dog-Friendly: yes
Derby Canon Road
Half a mile before the Derby Canyon/NF-125 road junction was the snowmelt. The water had taken over the roadway. Then it created a long stretch of mud bed. Two big dips filled with mud made the path look impassable.
So I parked the car before the pile of mess. I also didn't want to walk through mud. So the pups and I crossed the unnamed creek to the south side. Then we went up a minor rib and reached NF-125 at 2400′.
See more trip photos here.
The Road Walk
We first went around Point 2847 from the south. Then we made a left at the junction onto an abandoned road. The goal was to scramble up Blag Mountain's west ridge. So we could cut through long switchbacks on the roadway.
In another half a mile at 3000′, the road ended abruptly. From here, I could see the bazillion service roads outlined by the snow on the north side. It was dizzying. Then we went up on a steep, minor rib and came out onto the upper roadway at 3500′.
See more trip photos here.
Blag Mountain Summit
Then from the junction with NF-317, we left the roadway and went north onto the west ridge at 3800′. The last part of the ridge walk was in decent snow. We stepped through a few times. But nothing significant to have needed snowshoes.
The forecast was mostly sunny. So it had been sunny and warm all morning. It was just a bit breezy. Though shortly after we reached the top, clouds in the Icicle Creek Canyon area slowly moved in. Soon, it snowed for half an hour. What the wuuuh mid-April?
See more trip photos here.
Outro
The bad weather continued north over our heads during our descent. Then there was the sun again. At 3700′, we plunged stepped down the same steep minor rib. Later, we reached NF-125 a few hundred feet before the junction with Derby Canyon Road.
I didn't think we would go through the mud on the way back. But we did. So for the next half a mile, we wrestled our way through the mess. Then we were right back to where we started.
See more trip photos here.