Another rainy weekend meant another trip away from the Cascade crest. So today, we visited Tiptop in the Wenatchee Mountains. We went up to Blag Mountain last week.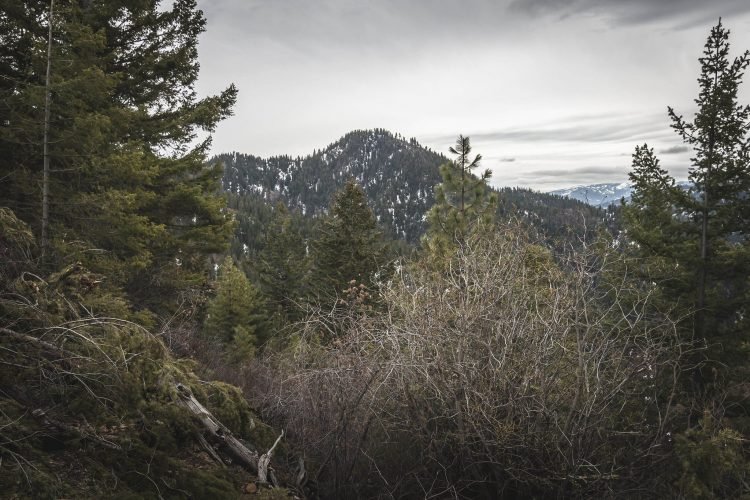 See more trip photos here.
Tiptop at a Glance
Access: NF-7204
Round Trip: TBD
Elevation Range: 2280′-4760′
Gear: snowshoes
GPS Track: available
Dog-Friendly: yes
Road 7204
It was our first time on Mission-Naneum Ridge. It's also the area between Peshastin Creek and Mission Creek drainages south of Highway 2. The old logging roads strewed this place. Plus, the visible recent logging activities.
There was a bit of sunshine when we arrived at Road 7204. Then we parked at a pullout in half a mile above Ruby Creek. Later we left the road and went north on a steep rib. Then we went up to 3000′ on the west ridge off Tiptop's northern ridgeline.
See more trip photos here.
Road 7201
We continued on the ridgeline while crossing several logging roads. Then we took a break on Point 4038. Views weren't too terrible here. But the weather in Teanaway to the west of here looked gloomy. It also worsened with every passing minute.
We got on Road 7201 at 4000′ and encountered snow there. Then we walked east for a while. Later the road veered south at Point 4135. Then it would make its way up to the radio towers from the south side. But we left the roadway on the north saddle and scrambled.
See more trip photos here.
Tiptop Summit Plus Outro
Eventually, the clouds drifted in from Teanaway just as we reached the top. Then the rain soon followed for 20 minutes or so. Shortly after the rainfall, dark mists dispersed to make way for some blue sky. So we were able to enjoy the much-needed sunshine.
I opted not to go back the way we came. So we could avoid the road walk. Then from the top, we went straight down the west ridge. Later we came upon an old roadway at 3400′. Then we walked north for .25 mile, and crossed a stream, to the road's end.
See more trip photos here.
Last Bit of Road Walk
From the end of the path, we went down on the ridge to 2800′. Then we moved north through the forest on heather slopes and dropped down to 2500′. Before long, we were back on Road 7204. Then it was just half a mile road walk back to the car.