Green Mountain by Mount Teneriffe has slowly become an off-season go-to for many in recent years. It's a great place to avoid the mass likely visiting nearby hot spots like Mailbox Peak. The closeness to Middle Fork Snoqualmie River makes the peak an ideal short day trip also.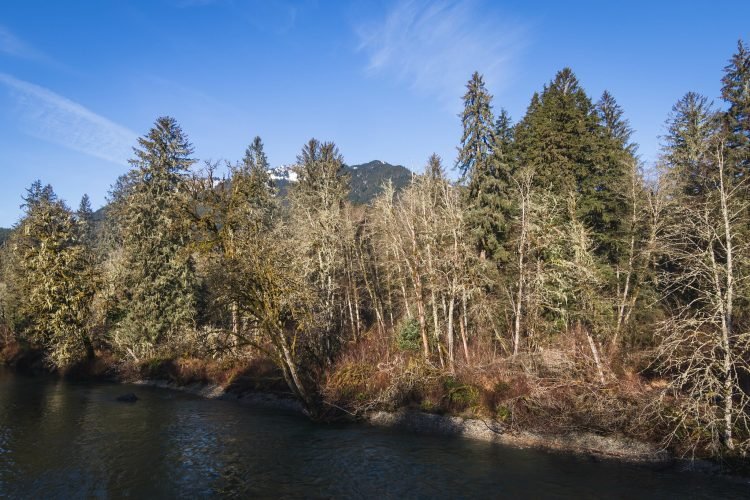 See more trip photos here.
Green Mountain at a Glance
Access: Sitka Spruce Trail
Round Trip: 8.7 miles
Elevation Range: 840′-4824′
Gear: Microspikes, snowshoes
GPS Track: available
Dog-Friendly: with guidance
The Hike
Of the 11 Green Mountains in Washington State, we've been to three so far. Because of time, we paid another visit today for a better shot at solitude. I parked south of Middle Fork Snoqualmie River and walked across the bridge.
We instantly dropped onto the forest floor from the hidden trail north of the bridge. The muddy path wound its way through the lush forest as we walked past several large spruce trees. After going over a minor ridge, we soon reached the CCC Road.
See more trip photos here.
The Climb
So far, we've taken the southeast route for all our visits. Another option would be to continue on Green Mountain Road over several gullies and go up on the east ridge. Then from the saddle between the two summits, move south to finish the climb.
The trail continued on the other side, and we reached Green Mountain Road shortly. East views appeared as we gained moderate elevation. After making five switchbacks, we were up by Last Chance Promontory and took a break.
See more trip photos here.
The Final Stretch
The third option would be taking the left fork 1000′ before the viewpoint and walking to the road's end. Judging from one group's GPS track, they went up between the main and the middle summits to finish the climb.
We gained the bulk of the altitude on the southeast ridge, at 1800′ over one mile on the forested crest. We bypassed most snow lower down before seeing continuous snow in the final 600′. I only used microspikes as postholing was tolerable.
See more trip photos here.
Green Mountain Summit Views
A windy summit, the worst it's ever been! It wasn't cold, but the wind chill was insane! The pup and I spent most time west of the crest in tge trees. I'd sometimes go up to take photos but went right back down in between shots.
Walking up and down on the summit ridge, I could see Mount Rainier and Mount Baker. If we had more time today, I'd consider checking out the north peak for a different perspective.
See more trip photos here.
Outro
On the way down, I stumbled upon a small clearing in the forest and took a photo of Mount Teneriffe. We reached the viewpoint at sunset and then hiked the rest of the way out in the dark.
See more trip photos here.