We stayed close to home last weekend. Then this week, the pup and I tackled the Shelokum Slam. Our late afternoon start time was precisely the same as our trip six years ago.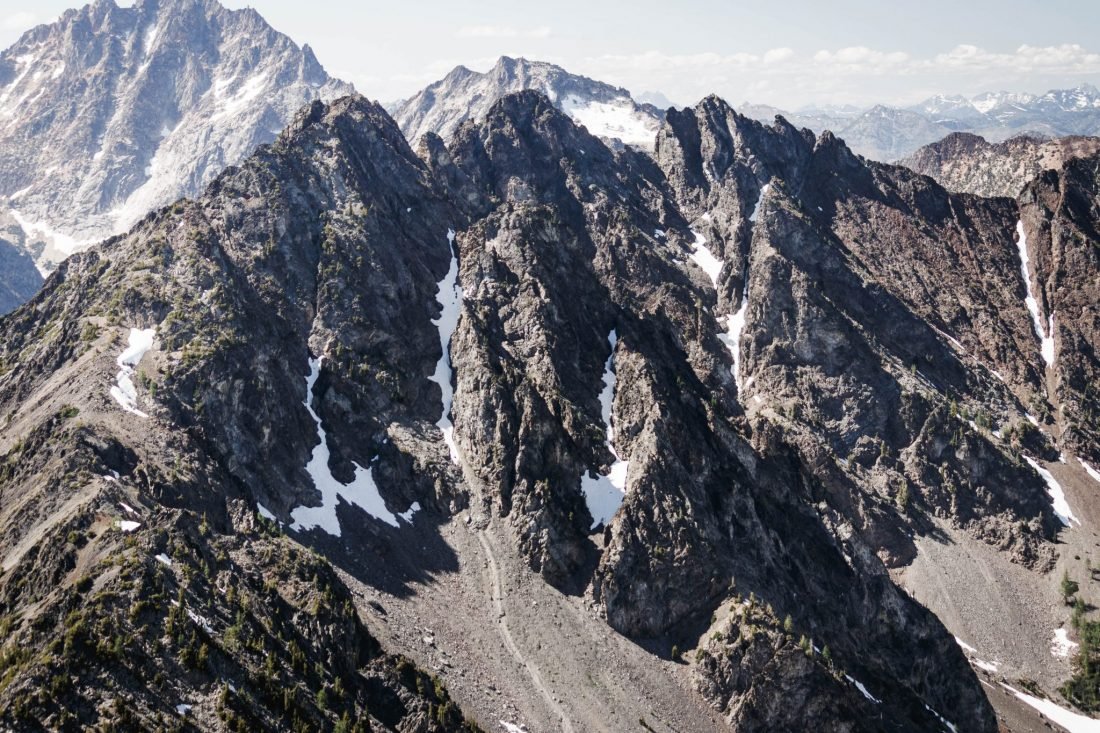 See more trip photos here.
Shelokum Slam at a Glance
Shelokum Slam = Shelokum Mountain + Lamont Mountain (aka Wolfhead)
雪洛庫姆滿貫 = 雪洛庫姆山+拉蒙特山 (綽號狼頭)
Access: Wolf Creek Trailhead
Round Trip: 28 miles
Elevation Range: 2920′-8082′
Gear: helmet, crampons
GPS Track: available
Dog-Friendly: no
Wolf Creek Trail
I vividly remembered the uneventful hike to camp. Only a couple of miles before the Gardner Meadows did views begin to widen. There was a short, rutted section of the trail up higher. But the path was decent overall.
Gardner Meadows had a dozen tents just off the main path. There we stopped to find the owner of a snow basket I found on the trail. Afterward, we went past the fields while staying to the right of Wolf Creek. Then I found an area with down trees at 6400′ and set up camp. Then we turned in shortly after dinner.
See more trip photos here.
Shelokum Mountain Climb
We started hiking at 6 AM the next morning. So we could make good use of the cooler temperatures. Then we moved northwest through down trees in the forest. We aimed for the 7700′ saddle between Lamont Mountain and Point 8784.
From the pass, we had our first look at the impressive Shelokum Mountain. Then we went down on the northern slopes via talus and snowfields. Soon, we were moving west toward the 7300′ notch between Shelokum Mountain and Lamont Mountain.
We stayed at 7200′ in the Shelokum Creek Basin. But we should have dropped even lower to 7000′. Then the terrain would have been less steep. That way, we would also bypass the northeast-trending buttress more comfortably. So we did that on the way back.
See more trip photos here.
Shelokum Mountain Southeast Ridge
From the 7300′ saddle, we got our first look into the South Fork Cedar Creek Basin. We turned around there two weekends ago because of bad weather. Then I saw many of the highest peaks of Washington. Silver Star Mountain was one of them.
After stashing snow gear, we scrambled north over the long-running ridge. We would stay either on or west of the ridge crest. Along the way, we climbed over and bypassed several ridge knobs. But the rock quality worsened the closer we were to the summit.
See more trip photos here.
Shelokum Mountain of Shelokum Slam
The final stretch to the top involved climbing up a steep gully on the west. But to get in there, we first needed to drop 100′ from a visible notch marked by a cairn. There were many loose rocks en route. But by going this way, we avoided cliffs higher on the ridge.
The summit was flat and elongated. The steep east side dropped into Shelokum Creek Basin below. While on the west were the steep gullies. The abounding views included North Gardner Mountain. It towered overhead by nearly 900′.
See more trip photos here.
Lamont Mountain East Route
We took a long lunch break. Then we retraced our steps back into the basin. Later at 7000′, we made a rising traverse toward Lamont Mountain's east saddle at 7700′. But at 7300′, we veered to the right up to the higher notch at 7920′.
By doing so, we saved some time bypassing the high point east of the summit. Then with another 150′ climb, we were soon on top of Lamont Mountain. It was our second and final goal of the Shelokum Slam.
See more trip photos here.
Lamont Mountain of Shelokum Slam Outro Plus Outro
Views up here were as excellent as Shelokum Mountain. But at a slightly different angle. Since we still needed to go back to camp and pack up, we didn't stay long. So we quickly ate and took some photos before leaving the summit.
After packing, we meandered down through Gardner Meadows. Then we stopped by the campsites. There I chatted with folks who had climbed Gardner Mountain earlier. Afterward, the pup and I then went on our merry way.