We spent the day out east yesterday. So today, we were back in the Cascades in beautiful weather. I first came across Howson Peak while researching Sasse Mountain. After waiting for weeks, we had a decent weather window to check out the peak.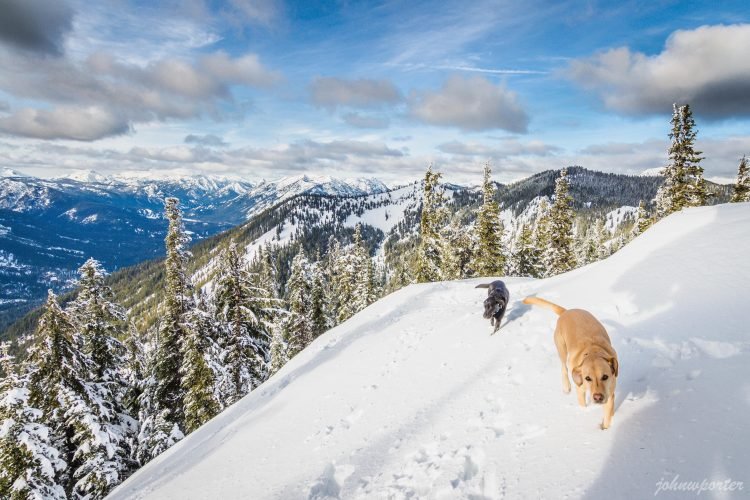 See more trip photos here.
Howson Peak at a Glance
Access: Howson Creek Trail
Round Trip: TBD
Elevation Range: 2280′-5440′
Gear: microspikes
GPS Track: available
Dog-Friendly: yes
Howson Creek Trail
The pups and I didn't start until noon. So I scratched the idea of combining Howson Peak with Sasse Mountain. But I was happy to see that some parties were here recently. So there wasn't a whole lot of route finding to do.
Despite the warm afternoon weather, the snow stayed firm. But I carried snowshoes just in case conditions changed later.
See more trip photos here.
Howson Peak Northwest Ridge
Recent snowshoe tracks looked a few days old. They went straight up the northwest ridge to Point 5159. It was an excellent vantage point to see Cle Elum Lake and the river valley. Mount Rainier would also be visible had it not been for the low clouds.
From there, we continued east to finish the final three-quarters of a mile. The terrain from there up to the summit was mild. Despite soft snow, it wasn't too deep to need snowshoes. But the microspikes were very useful for traction during the entire trip.
See more trip photos here.
Howson Peak Summit Plus Outro
By the time we went up on top, the area clouds had cleared up quite a bit. But it was very windy! So to avoid the wind, we spent our time on the west slopes below the summit. I waited for the low clouds to move away a bit. So I could photograph of the big mountains in the Alpine Lakes Wilderness.
The views up and down the Cle Elum Lake Valley with the sunset light were pretty awesome.
See more trip photos here.