Last weekend, I went up a few more Teanaway 20 peaks. Then this week, the pups and I came to climb Gardner Slam in the Lake Chelan-Sawtooth Wilderness. We were also here two weeks ago.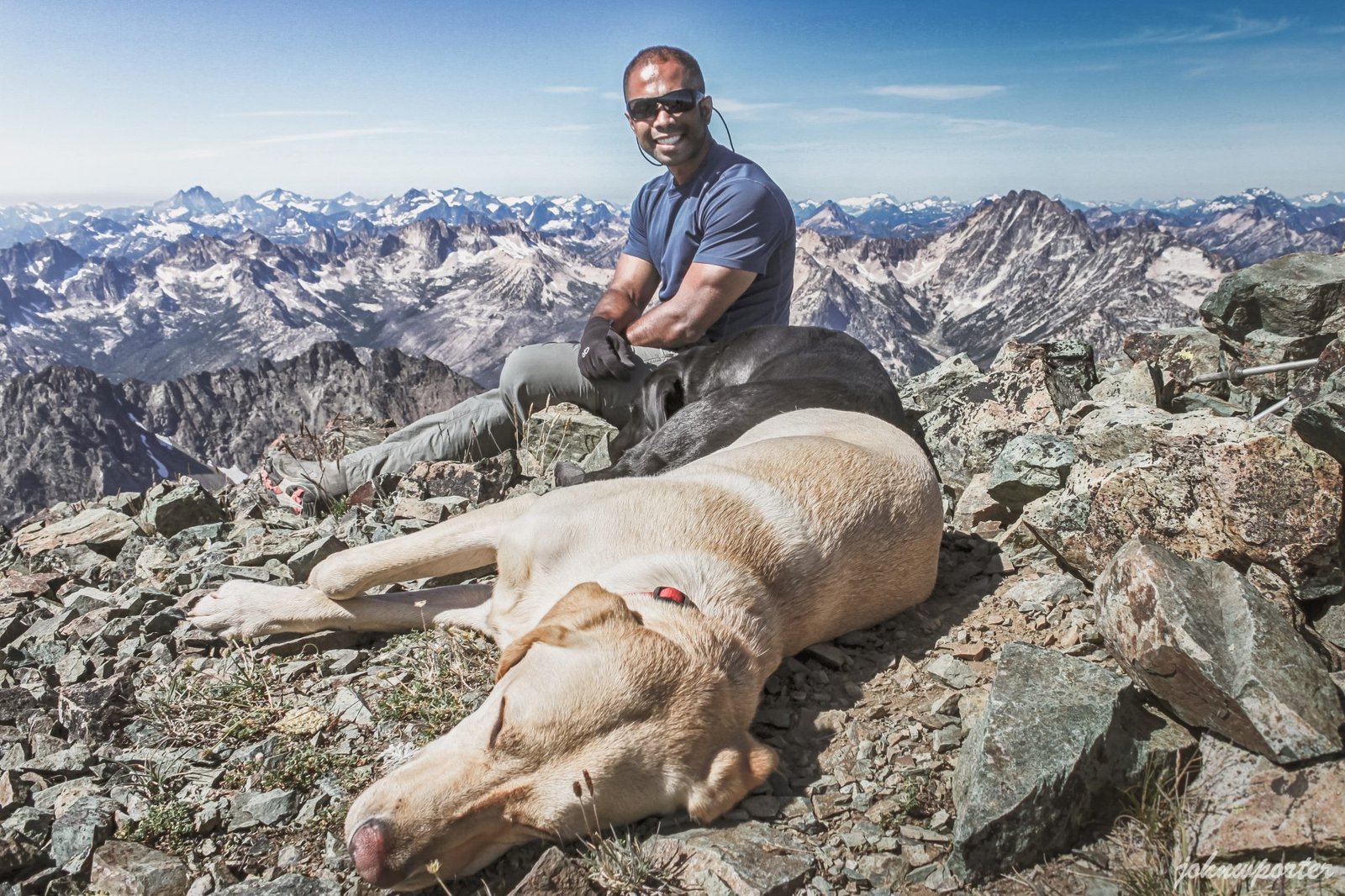 See more trip photos here.
Gardner Slam at a Glance
Gardner Slam = Gardner Mountain + North Gardner Mountain
加德納滿貫=加德納山+北加德納山
Access: Wolf Creek Trailhead
Round Trip: TBD
Elevation Range: 2920′-8956′
Gear: helmet
GPS Track: available
Dog-Friendly: with guidance
Wolf Creek Trail
It was our final backpacking trip before the fall. So we went to tackle both Gardner Mountain and North Gardner Mountain of the Gardner Slam. The weather was gorgeous during the entire trip.
We had to go through many down trees in the lower parts of the trail. So it took forever to get up to camp. But we managed to entertain ourselves along the way. It was surprising to be the only party here this weekend.
See more trip photos here.
Going up to Gardner Meadows
On our way to camp, from the trail, I spotted two bear cubs down by the river. Glad that the pups didn't notice them. But right away, I put a leash on leash them and continued hiking. It was our second bear sighting since we began visiting remote places in the Cascades.
We eventually reached camp at dusk. But by then, it was too dark to get a good look at our surroundings. So we went to bed right after dinner.
See more trip photos here.
Garnder Mountain of Gardner Slam
We woke up early the next morning. So we could prepare for a long day ahead. I looked at the book Summit Routes before the trip. It mentioned that the climbing on these two mountains was straightforward.
As it turned out, we had no issues in going up Gardner Mountain. The weather was also glorious. So we took an extended break on top to savor the views. But most of the peaks looked unfamiliar to me.
See more trip photos here.
North Gardner Mountain of Gardner Slam
Later we walked down the connecting ridge toward North Gardner Mountain. Along the way, we bypassed Point 8487. And that part ended up being better than I expected. But the final stretch seemed to take forever.
I would sometimes look over to Gardner Mountain. It looked so much shorter from here. The views were still gorgeous. But other than Black Peak, I couldn't name the rest of the high points.
See more trip photos here.
Outro
The climb and the extended ridge traverse wore out the dogs. So the black pup wasn't too happy about having to carry out his pack. But I held it part of the way.
Our other wildlife sighting on this trip was a group of nine mountain goats. They were down in one of the gullies below the ridgeline. But they instantly moved away the minute they saw us.
See more trip photos here.
So long, Lake Chelan-Sawtooth Wilderness. We will be back to visit next summer!