It has been seven years since the black lab, and I first visited Davis Peak. Though, this time we went up to the old fire lookout. Somehow, we ended up on the southwest peak before.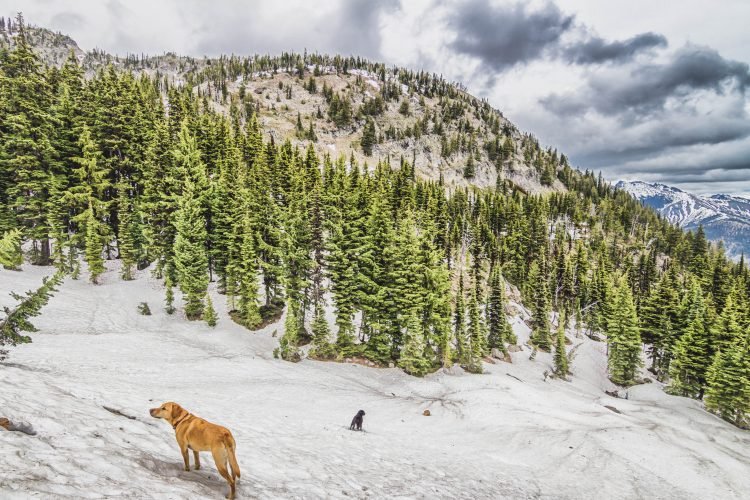 See more trip photos here.
Davis Peak in Salmon La Sac/Alpine Lakes Wilderness. For Davis Peak in the North Cascades National Park, check out this post.
Davis Peak at a Glance
Access: Davis Peak Trailhead
Round Trip: TBD
Elevation Range: 2600′-6426′
Gear: microspikes
GPS Track: available
Dog-Friendly: yes
David Peak Trail
As we drove to the trailhead on Salmon La Sac Road, I scoped out the snow line. It looked pretty high up from below. So I decided to leave the snow gear behind to save some weight.
We easily bypassed many down trees lower down in the forest. Then the path was free of snow until just past the old burn. There the steep terrain flattened a bit. Soon, we had a full view of Cle Elum River Valley.
See more trip photos here.
Davis Peak West Basin
Snow patches led through the southeast ridgeline of Point 5988. But they didn't pose any concerns. I did step through a few times in thinning snow. Meanwhile, it kept an eye on the small cornices higher up on the ridge.
The west basin wasn't visible until we were on the south ridge. But it was still full of snow. Then I spotted old boot tracks presumably left by the party of the previous trip report.
See more trip photos here.
The Final Stretch
The pups and I used the track and moved below cliff bands. Then we went up to the bottom of Davis Peak's southwest ridge near the basin's head. Here snowshoes would have been helpful. But it wouldn't have been worth the effort to haul up for this bit.
Then from the minor ridge's base, it just was a straight walk up to the top. We never encountered any significant postholing issues.
See more trip photos here.
Davis Peak Summit
The views on top were generally good. We could see the western Teanaway mountains east of here. They included the Stuart Range, Harding Mountain, Goat Mountain, and The Cradle. There was also the expansive view of the Cle Elum River Valley to the south.
Views to the north and northwest were spotty because of the higher ridgeline in front of us. Despite the low-hanging clouds over the Hyas Lake area, I got a glimpse of Mount Daniel and the nearby peaks.
See more trip photos here.
Outro
It was rather windy on the summit. So we took refuge beside the remnants of the old lookout. There was enough space to double as a camp spot! We spent over an hour on top. Then we slowly made our exit down the mountain.
But of course, that's when the wind began to die down.
See more trip photos here.