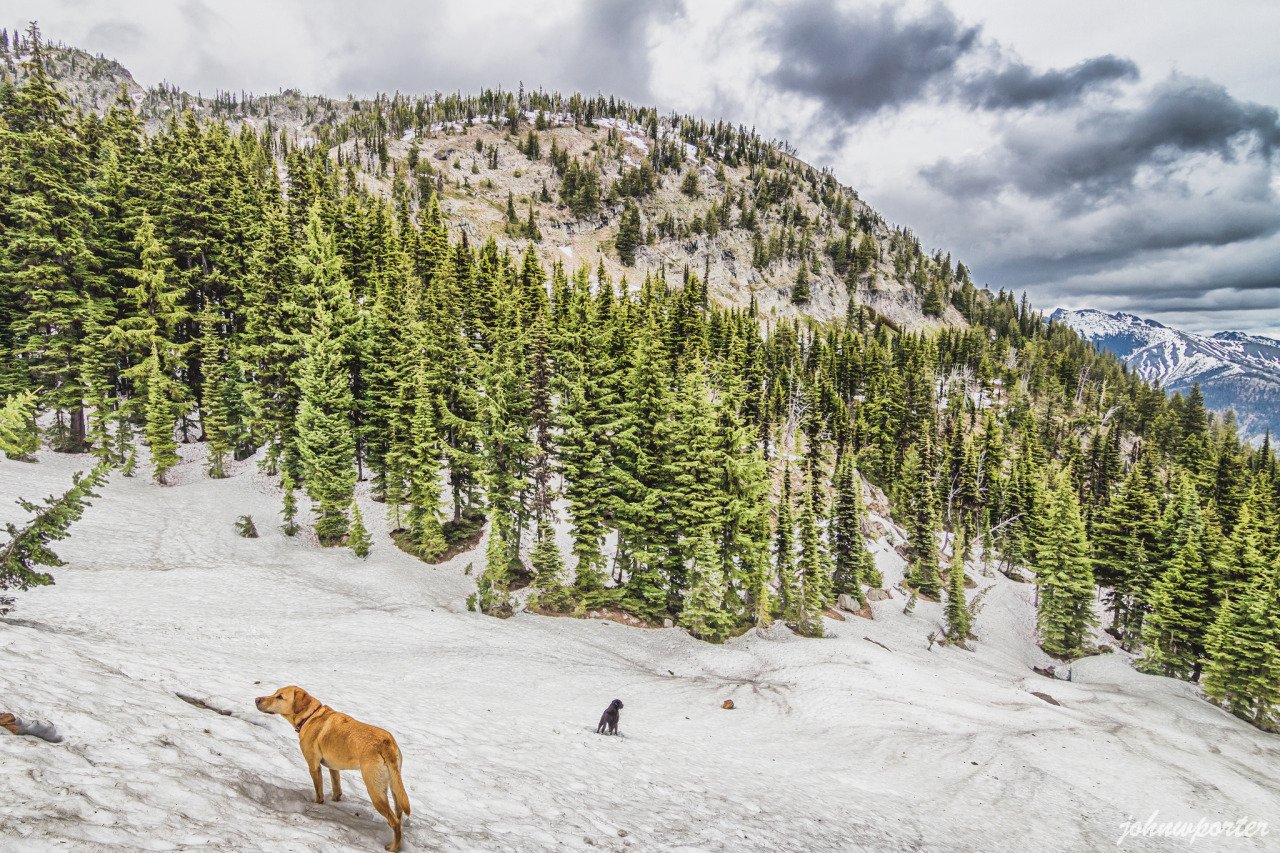 Photos from this trip can be found here.
Davis Peak in Salmon La Sac/Alpine Lakes Wilderness. For Davis Peak in the North Cascades National Park, check out this post.
Three months shy of seven years since our initial visit (minus the yellow lab) back in 2009. This time we went up to the old fire lookout, still not sure how we ended up on the Davis Peak Northwest the first time. While driving to the trailhead on Salmon La Sac Road I scoped out the snow line and it looked pretty high up, so I decided to leave the snow gear behind to save the dead weight.
Many down trees on the trail but could all >be easily negotiated. Trail was free of snow until just past the burn section where steep terrain slowly eased up and view of the impressive Cle Elum River Valley began to come into full view. Some snow patches lead up to south ridge of northwest peak and they didn't pose any major issues. I did manage to punch through a couple of times as the snow layer was running thin. Upper basin wasn't visible until we made our way onto the south ridge, and the basin was still full of snow. Minor cornices along east of the ridge, and I spotted a faint boot track presumably left by the party from previous trip report.
Pups and I followed the track, traversed below cliff bands, and got onto the base of Davis Peak's southwest rib near head of the basin. Snowshoes would have been helpful to make the traverse, but certainly wouldn't have been worth all the effort to haul them up just for this. From base of the rib it was just a walk up to the summit with no major postholing issues.
Views atop were mostly good, with western Teanaway mountains (including Stuart Range, Harding Mountain, The Cradle, etc.) visible to the east and Cle Elum River Valley to the south. Views to the north and northwest were limited and mostly blocked by Davis Peak High Point and the Northwest Peak. Even with low clouds hovering from Hyas Lake area down to Waptus Lake, I managed to get a glimpse of Mount Daniel and a few nearby peaks.
Mostly windy on the summit, and we took refuge inside the old lookout's foundation, which could have doubled as a bivy/single-tent spot! After spending over an hour atop we slowly made our exit down the mountain. Of course the wind started to die down then.