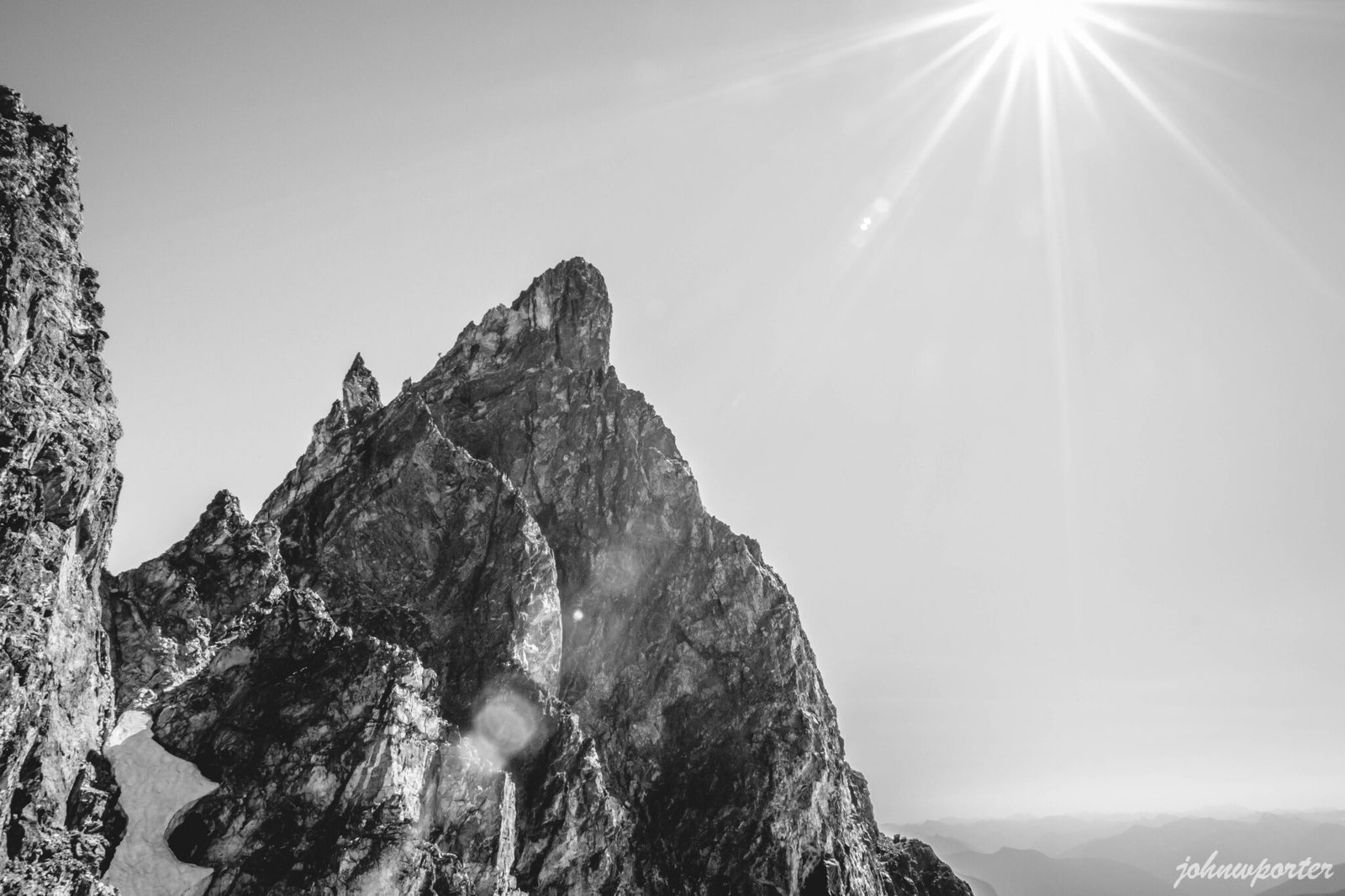 Photos from this trip can be found here.
Chilliwack Slam = Mount Spickard + Mount Rham + Mount Custer + Mount Redoubt + Mox Peaks (NW Spire) + Mox Peaks (SE Spire)
奇利瓦克滿貫=斯皮卡德山+拉姆山+卡斯特山+多面堡山+馬克斯峯 (西北尖塔)+馬克斯峯 (東南尖塔)
Logistics Overview
Overview > Day 1 > Day 2 > Day 3 > Day 4 > Day 5 > Day 6
Day 1 – Tuesday, June 30
Approach to Ouzel Lake
Mount Spickard
Night 1 – Ouzel Lake
Day 2 – Wednesday, July 1
Mount Rahm + Mount Custer
Night 2 – Ouzel Lake
Day 3 – Thursday, July 2
Mount Redoubt
Night 3 – Redoubt Glacier
Day 4 – Friday, July 3
NW Mox Peak
Night 4 – Redoubt Glacier
Day 5 – Saturday, July 4
SE Mox Peak
Night 5 – Redoubt Glacier
---
Last year Kenny and I attempted Mox Peaks, but turned around after spending one night at Ouzel Lake due to bad weather. It was mostly cloudy with visibility reaching as far as the lake, nothing above and beyond.
I enjoy a big(ger) climbing trip over Fourth of July weekend, so this definitely was the big trip of this weekend. Weather could be extremely unpredictable in this part of the Cascades unless absolutely bluebird. I couldn't have imagined spending a week climbing in poor weather conditions and feeling miserable. I kept my fingers crossed for good weather.
Kenny, Patrick, and I met in summer 2014 and climbed Chickamin and Bonanza slams together. This year we teamed up again to tackle the two notorious Mox Peaks. While they had they eyes set on just the Mox Peaks, I was determined to get all six peaks on the Bulger List in one trip.
Day 1 – Approach to Ouzel Lake + Mount Spickard
Overview > Day 1 > Day 2 > Day 3 > Day 4 > Day 5 > Day 6
Photos from this trip can be found here.
Started the approach bright and early after car camped by Chilliwack Lake Road the night before. Big down tree on the road forced me to park half a mile before end of drivable road where I started walking southeastward toward the border. Road on the Canadian side was mostly free of brush but muddy in some places. International crop line was a sight to see, could only imagine the manpower put into carving it out.
After entering North Cascades National Park trail got brushier on the US side, with enough down trees and short shrubs for anyone to be off route. A ton more water coming down Depot Creek Falls compared with a year go. I got pretty soaked going through it not once, not twice, but three times on the way up while looking for my GPS device. Another steep section to get through above waterfalls before views began to open up in the upper basin. From there the route to Ouzel Lake on a mile-long moraine became much more apparent.
Photos from this trip can be found here.
Set up camp by the lake, which seemed to have doubled in size but could just be the great weather and lighting. After resting a bit I filled my pack with the essentials and started walking northeastward up talus/scree gully toward the 7,000′ flat area below Mount Spickard's west face. From there I traveled southeastward on steep, icy slopes toward the 8,000′ notch on southwest ridge. I encountered a steep, icy snow field on the south face, but conveniently was able to avoid getting on by walking through the moat. Views on the ridge kept getting better the higher I went. I couldn't help but turning around every minute to check out the imposing Mount Redoubt and Mox Peaks.
First things I wanted to see when I got to the top were Mount Rham and Mount Custer, and see just how far I would have to travel to climb them the next day. They sure looked farther in person than on maps! Only a small portion of Silver Lake was visible from the summit. Through thick clouds, lighting on surrounding mountains an hour before sundown was incredible. Sunset over Canadian mountains were simply beyond words! After soaking in the views and got all the photos I wanted, I slowly made it down the mountain and got back to camp just before dark.
Photos from this trip can be found here.
Day 2 – Mount Rahm + Mount Custer
Overview > Day 1 > Day 2 > Day 3 > Day 4 > Day 5 > Day 6
Photos from this trip can be found here.
Today's objectives were Mount Rham and Mount Custer, the two northernmost peaks on this trip. To get there, I first retraced my route up the same talus gully to Spickard the evening before, then continued alongside Depot Creek drainage to the Spickard-Custer Ridge col around 7,400′. The anticipation of seeing Silver Lake in its entirety had been building up till now, and it did not disappoint when I finally saw it from the col. From there I more or less stayed at the same elevation and traversed below Custer Ridge to near north end of Silver Lake. Climbed up the exposed class 3 gully on far right to the meadow around 7,800′. Snow was still present below south face, but south ridge was snow free for an enjoyable final finish.
Second closest peak to Canadian border (.5 mile) I had ever been, closest being Cathedral Peak, .25 mile to the border. The making of the international crop line continued to fascinate me. Silver Lake was bluer than any Cascade alpine lakes I have ever seen, totally stole the show from surrounding peaks. Hozomeen Mountain and Jack Mountain looked incredible from here. Hard to leave the views behind, but I needed to allow enough time to get to Mount Custer on other side of the ridge.
Photos from this trip can be found here.
Ridge traverse to Mount Custer wasn't as bad as I had read in some reports, perhaps because absence of snow made things less complicated. Although rocks got progressively worse the closer I got to the mountain. Crux on this side was getting from Custer Ridge onto upper northeast ridge. And after some scouting, I located the exposed ramp mentioned in some reports that allowed me to attain the ridge rest. From there I slowly worked my way up the east face and scrambled to the top.
Silver Lake seen from yet another great vantage point, even bluer and more vibrant in evening colors. Staring back at Mount Rham and having one of the many "Did I really just come from there?" moments. Canadian mountains stood solemnly as the sun dipped lower in the sky behind them.
Photos from this trip can be found here.
Descending Custer's south ridge was…interesting, worse rocks and more slippery slopes. After walking on top of the cliffy east face and bypassing Point 8385, the remaining crux was to get off Custer Ridge, to reconnect with my tracks, and to make it back to Spickard-Custer Ridge col. A snow field leading to the ridge made the transition that much easier.
Spotted a few weather towers while going down east face, cool to see them in person. I reconnected with my tracks at 7,400′ and side-stepped back to the col. I made good time today in getting both peaks and got back to camp with plenty of daylight left. Lots of mosquitoes at camp this evening.
Photos from this trip can be found here.
Day 3 – Mount Redoubt
Overview > Day 1 > Day 2 > Day 3 > Day 4 > Day 5 > Day 6
Photos from this trip can be found here.
All packed up before sun got too warm and headed for head of Redoubt Glacier where I'd call home for the next two nights. Crossing the raging Depot Creek was time-consuming, but made up for the loss time with a fairly efficient ascent to the glacier on nice granite slabs and minor buttresses.
From edge of the glacier I carefully navigated through crevasses on steep terrain that eventually flattened out around 7,000′. Views were so spectacular along the way, and I couldn't help but constantly turning back to look around for photos. A mile or so over 400′ elevation gain later and I was at the head of Redoubt Glacier. Several nice bivy spots with views on both sides, one of the best places I've ever stayed on a climbing trip. It got really warm really fast, so after setting up camp I took a break inside the tent and studied the route to Mount Redoubt. Flying Buttress was a sight to see from camp.
Photos from this trip can be found here.
Approach first involved walking up rest of the glacier to a notch below Redoubt's south ridge and getting over the notch with some mixed climbing. Then a short snow traverse on the other side and I was at the bottom of a few rocky gullies. Of course I picked the first one with a big moat at the bottom, but managed to slowly get on rock without much struggling. Gullies merged at the bottom of a big snow field before entrance to upper gullies.
Even with several reports and photos in hand, I still wasn't entirely sure of the standard route when I stood below the upper gullies. I picked the gully that looked to have a faint footpath leading into it and started working my way up the steepness. The gully worked albeit a little more technical than necessary. I knew I wasn't in the right one since I had to move one gully east for the final rock scramble. Only crux in this gully was trying to get around a steep snow finger from its top.
Photos from this trip can be found here.
Other than the wind, summit was really quiet until a couple of ravens showed up to "check" on me. Words simply couldn't describe the views all around me, and everything looked beyond gorgeous. This was the only summit out of the six on the list where I could get a shot of the other five peaks. Four peaks down, one tomorrow, and one day after tomorrow on Fourth of July to finish off the trip. For now I needed to get myself back down to camp in one piece, glad I brought a rope with me.
Back at camp I noticed two tents not far below me and thought Kenny and Patrick had made it in to join me while I was on Mount Redoubt. Still light out but getting late, so I didn't say hi in case they were already asleep. At dinnertime I enjoyed some delicious golden hour lighting on northern peaks and then went straight to sleep.
Photos from this trip can be found here.
Day 4 – NW Mox Peak
Overview > Day 1 > Day 2 > Day 3 > Day 4 > Day 5 > Day 6
Photos from this trip can be found here.
Got up at sunrise and wondered why I hadn't heard anything for a while. I went down to check on the two tents but didn't see any climbing gear. For a minute I thought the guys had left without me. Got back inside the tent and pondered my next move, then poked my head out to see two figures on Redoubt Glacier slowly approaching camp. It was them, they just got here, as I excitedly shouted to myself. The two tents below belonged to another climbing party of four and not my partners. Kenny and Patrick decided to spend previous night at Ouzel Lake after the long approach from car.
After they set up camp and rested for a while, we geared up and headed back down glacier for NW Mox Peak. We maintained elevation at about 7,300′ to get around first buttress coming off NW Mox Peak's west ridge. Second buttress extended farther down on the glacier and none of us felt like dropping below 7,000′ to get around it. After some scouting we found a ledge with small moat around 7,200′ and took big steps (or rather, hopped) to get back on snow.
Photos from this trip can be found here.
We traversed to east edge of glacier at 7,400′ where snow had already slowly begun to peel away from our route at bottom of the rock wall. This could easily have been our turnaround spot had there not been enough snow to get onto lower ledges. From there we climbed two pitches to saddle at 7,600′ and started working up northeast ridge of NW Mox Peak. The ridge was narrow in most places, at times it felt as if I were straddling a horse. The imposing SE Mox Peak was our primary view on the ascent, hard not to keep staring at it in awe.
The higher we climbed, the more rockfalls we heard coming off SE Mox Peak. It certainly was nerve-racking to say the least! Somehow we dropped down onto southeast face too early, and soon found ourselves at dead end of a scree ramp. After some scouting, we retreated to the ridge and climbed another 200′ feet higher and spotted the correct ramp. We dropped down via a chimney onto the southeast face and traversed on a ramp to bottom of another access chimney. One pitch of climbing brought us higher up on the ridge, and finished with final scramble to the top.
Photos from this trip can be found here.
It was hot but breezy, and views were just beyond breathtaking! Rocks continued to fall from SE Mox Peak's north face, tumbling down onto the northeast couloir below. Good thing we won't be going up that side tomorrow! After a much-needed long break on top, we slowly made our way down the peak and got back on snow. A long glacial traverse later we finally arrived at camp well before sundown.
Couple more climbing parties had arrived since we left camp this morning. What a pristine place to be hanging with other mountaineers folks on this beautiful holiday weekend!
Photos from this trip can be found here.
Day 5 – SE Mox Peak
Overview > Day 1 > Day 2 > Day 3 > Day 4 > Day 5 > Day 6
Photos from this trip can be found here.
Last day of climbing, my final and sixth peak on this trip. The infamous SE Mox Peak we'd been hearing isht about was supposedly hardest to climb on the Bulger List, but we'd soon find out for ourselves. I very much looked forward to the challenges and everything that was to be thrown (no pun intended) at us.
Shortly after breakfast, we left camp early enough to have plenty of daylight at our disposal. Traverse to Col of the Wild was consisted of mile-long side stepping through talus, scree, and snow, with more choss before reaching the col. After regrouping on the col and checking out our route, as well as NW Mox Peak which we climbed the day before, we started heading up toward Ridge of the Gendarmes on loose rocks.
Photos from this trip can be found here.
Got our first glimpse of SE Mox Peak summit from the ridge. East face was full of nothing but more loose rocks and scree, with wide enough ledges and steps used to down climb. There weren't any good places to use protection or to belay, so we took extra caution. Snow finger in the first gully looked to be permanent, hard to dig into with my ice ax. We spotted a fixed anchor above the snow, backed it up with more webbing, and rappelled on double ropes down to a good stopping place. Then we worked our way around the bottom to a platform east of the gully.
From the platform we could see into the access gully to get up to just below the summit block. A party of two who started hours before us were just coming down the gully when we arrived. Hard to put into words, but rocks were virtually flying everywhere as they made the descent. This was not a place to be knocked down by one of those fast flying rocks. We waited until they safely arrived at the platform before taking our turn to go up.
Photos from this trip can be found here.
This gully was much steeper and rockier than anticipated, thus explained isht flying all over the place. We took our time getting up to the notch at top of the gully and made sure no one was climbing directly above anyone else in the process. Merely a couple more pitches of rock climbing from the notch before we made it the top. Patrick had graciously offered to lead while I stayed behind taking photos of the climb. Rocks along the wall on first pitch felt a bit shaky, not sure if the protection did us any good, but better to have it than nothing.
We decided to forego second pitch and scrambled freehand on the super-exposed ramp to the summit instead. This was not the place to lose footing for sure! After hearing all the rumors and various accounts by various climbing parties about this peak, we finally stood atop the summit. The day coincided with our national holiday, so I prepared mini flags for our summit celebration. Man, what an exhausting climb this was, more mental than physical in my opinion. SPECTACULAR VIEWS ALL AROUND, photos simply couldn't capture true essence of the Chilliwack peaks. We spent a loooooong time on the summit soaking in the views, hard to leave the views behind after making all that way to get up here.
Photos from this trip can be found here.
The descent was everything we've already been through just in reverse, more rappels, more down climbing, and more *itching and moaning all the way back to camp.
Day 6 – Exit
Overview > Day 1 > Day 2 > Day 3 > Day 4 > Day 5 > Day 6
Photos from this trip can be found here.
Alas. Now that we've had our fun, today was the day to make the long exit back to our cars in Canada. I wanted to bypass Ouzel Lake and moraine by keeping north on Redoubt Glacier, while Kenny and Patrick went down the usual way. Shortcut worked out fine, managed to get down to the forest above the waterfall. I wasn't crazy about down climbing in steep gullies full of raging snow water. The guys showed up 20 minutes later to join me. One last group photo in the meadow before we proceeded climb back down to Depot Creek Falls, and hiked/bushwhacked our way back to the other side.
My poor toes…
Photos from this trip can be found here.
Overview > Day 1 > Day 2 > Day 3 > Day 4 > Day 5 > Day 6
Access: Depot Creek Road
Gear: rock and snow