The Chilliwack Slam is a group of six peaks rising above Depot Creek Valley. Among them is the classic Mount Spickard and Mount Redoubt. Northern North Cascades National Park provides the most direct route because of its proximity to the Canadian-US border.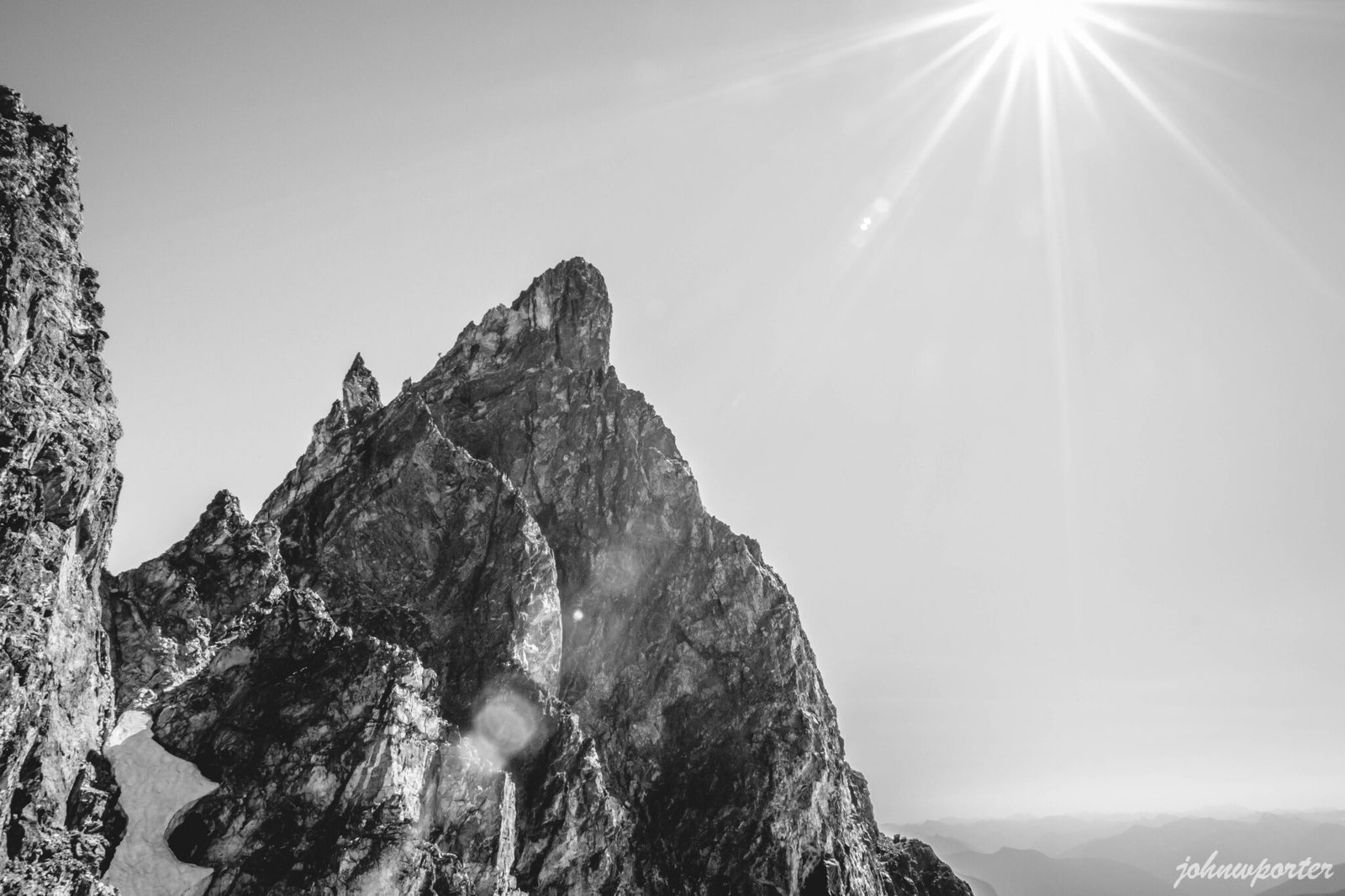 See more trip photos here.
Chilliwack Slam at a Glance
Chilliwack Slam = Mount Spickard + Mount Rham + Mount Custer + Mount Redoubt + Mox Peaks (Northwest Spire) + Mox Peaks (Southeast Spire)
奇利瓦克滿貫=斯皮卡德山+拉姆山+卡斯特山+多面堡山+馬克斯峯 (西北尖塔)+馬克斯峯 (東南尖塔)
Access: Ouzel Lake
Round Trip: 45 miles
Elevation Range: 2200′-8979′
Gear: rock, snow, multi-night
GPS Track: available
Dog-Friendly: no pets
Logistics Overview
June 30 – July 5, 2015
Overview > Day 1 > Day 2 > Day 3 > Day 4 > Day 5 > Day 6
Day 1 – Tuesday, June 30
Approach to Ouzel Lake
Mount Spickard
Night 1 – Ouzel Lake
Day 2 – Wednesday, July 1
Mount Rahm + Mount Custer
Night 2 – Ouzel Lake
Day 3 – Thursday, July 2
Mount Redoubt
Night 3 – Redoubt Glacier
Day 4 – Friday, July 3
Northwest Mox Peak
Night 4 – Redoubt Glacier
Day 5 – Saturday, July 4
SE Mox Peak
Night 5 – Redoubt Glacier
---
Chilliwack Slam
Last year, Kenny and I came into the area to climb Mox Peaks. But the weather was terrible. And the visibility reached as far out as Ouzel Lake. So we left the following day. Afterward, I decided to return and climb all sox peaks in one trip.
I have looked forward to this trip to be away from the city for a few days. Kenny, Patrick, and I first met in 2014 to climb Chickamin Slam and Bonanza Slam. But this time, we teamed up to tackle the two infamous Mox Peaks of the Bulger List.
Day 1
Approach to Ouzel Lake + Mount Spickard
Overview > Day 1 > Day 2 > Day 3 > Day 4 > Day 5 > Day 6
Depot Creek Trail
I slept in the car by Chilliwack Lake Road. Then in the morning, I drove up Depot Creek Road. Later a down tree over the road stopped me in my tracks. But I was only half a mile before the end of the drivable part.
The trail on the Canadian side was largely brush-free. But it was muddy in places. The international crop line was a sight to see. And I could only imagine the work put into carving out the border.
See more trip photos here.
Depot Creek Falls
We later entered the North Cascades National Park, where the trail became brushy fast. There were many down trees and short shrubs to get off the route quickly.
Compared to last year, more water came down Depot Creek Falls this time. With the water constantly going into my eyes, it was tough to see clearly. My clothes also were soaking wet.
See more trip photos here.
In Search of the GPS Device
With the help of the same fixed rope, I went above the slippery slabs safely. But just past the waterfalls, I realized I'd lost my GPS device. So I went back to the other side of the water and found it in the dense brush.
Terrain steepened past the waterfalls. But with a more defined path, I moved more quickly. Once in the upper basin, the views opened instantly. Then it was only another mile to reach Ouzel Lake through moraine and lots of boulders.
See more trip photos here.
Chilliwack Slam: Mount Spickard
Later I set up my camp by the shore. The water looked like it's doubled in size. After some rest, I started walking northeast up the talus and a scree gully. Soon, I reached the 7000′ flat area below Mount Spickard's southwest face.
From there, I moved east through steep and icy slopes. Meanwhile, I aimed for the 8000′ notch on the southwest ridge. Later I bypassed the icy snowfield on the southwest face in the shallow moat. Views improved with elevation gain. At times, I looked over my shoulder at the impressive Mount Redoubt and Mox Peaks.
See more trip photos here.
Mount Spickard at Sunset
The first things I wanted to see form the top were Mount Rham and Mount Custer. But I also saw the length I needed to travel on the connecting ridge tomorrow. They sure looked much farther apart in person! Only a small section of Silver Lake was visible from here.
The golden hour lighting on the mountains through thick clouds was incredible. But the sun setting over the Canadian mountains was simply beyond words! I enjoyed an extended summit stay to soak in the views. I also wanted to photograph as much as possible on the trip of a lifetime. Then I made it back to camp just before dark.
See more trip photos here.
Day 2
Mount Rahm + Mount Custer
Overview > Day 1 > Day 2 > Day 3 > Day 4 > Day 5 > Day 6
See more trip photos here.
Mount Rahm, Mount Custer, and Silver Lake
Mount Rham and Mount Custer were my two goals for the day. They were also the two northernmost peaks on this trip. But to reach them, I first needed to get through the same scree gully I went up the evening before. Then I would continue alongside Depot Creek drainage to the Spickard-Custer col at 7400′.
The joy of seeing the entire Silver Lake had been building up until now. And when I finally saw the water from the col, it was everything I had expected. From there, I stayed at the same elevation and traversed beneath Custer Ridge to the north end of Silver Lake.
See more trip photos here.
Chilliwack Slam: Mount Rham
I climbed up the exposed class 3 gully on the far right of the 7800′ meadow. The snow was still present below south face, but the south ridge was snow-free for an enjoyable final finish.
Mount Rham was the second closest peak to the Canadian border (.5 mile) I had ever been. The closest was Cathedral Peak, .25 mile from the boundary. The making of the international crop line continued to fascinate me. Silver Lake was bluer than any Cascade alpine lakes I have ever seen, totally stole the show from surrounding peaks.
Hozomeen Mountain and Jack Mountain looked incredible from here. So hard to leave the views behind. But I still needed to get to Mount Custer on the other side of the ridge.
See more trip photos here.
Chilliwack Slam: Mount Custer
Ridge traverse to Mount Custer wasn't as bad as I had read in some reports. But perhaps it was due to the absence of snow that made things less complicated. But the rocks gradually became worse the higher I went up the mountain.
The crux on this side was getting from Custer Ridge onto the upper northeast ridge. After some scouting, I located the exposed ramp that allowed me to attain the ridge rest. From there, I carefully worked my way up the east face and ultimately scrambled to the top.
Mount Custer was another excellent vantage point to view Silver Lake. It looked even bluer and more vibrant in evening colors. Staring back at Mount Rham and I had a, "Did I just come from there?" moment. Canadian mountains stood solemnly as the sun dipped lower in the sky behind them.
See more trip photos here.
Back to Ouzel Lake
Descending Custer's south ridge was arduous, with worse rocks and slippery slopes. After bypassing Point 8385, the final crux was getting off Custer Ridge. Then I would reconnect with my up tracks and back to Spickard-Custer col. Thankfully, a moderate snowfield coming down the ridge made the transition easier.
I spotted a few weather towers while getting down the east face. Then I reconnected with my tracks at 7400′ and sidestepped back down to the col. I climbed both peaks and got back to camp with plenty of daylight remaining. There were lots of mosquitoes tonight.
See more trip photos here.
Overview > Day 1 > Day 2 > Day 3 > Day 4 > Day 5 > Day 6
See more trip photos here.
Redoubt Glacier Camp
I packed up before the sun got too warm. Then I headed for head of Redoubt Glacier, where I'd call home for the next two nights. Crossing the raging Depot Creek was time-consuming. But then I made up for the lost time with an efficient ascent on granite slabs to the glacier.
From the edge of the glacier, I carefully navigated through crevasses on steep terrain that eventually flattened out around 7000′. Views were so spectacular along the way, and I couldn't help but continually turning back to look around for photos. A mile or so over 400′ elevation gain later, and I was at the head of Redoubt Glacier.
Several excellent bivy spots had views on both sides of the ridge. My campsite was one of the best places I've ever stayed on a climbing trip. It got warm fast during the day. So after setting up the tent, I took a break inside the tent while studying the route to Mount Redoubt. From camp, the Flying Buttress was a sight to see.
See more trip photos here.
Chilliwack Slam: Mount Redoubt
The approach to the mountain first involved walking to the top of the glacier. Then I got over to the other side with mixed climbing from a notch below Redoubt's south ridge. Then a short snow traverse on the other side and I was at the bottom of several gullies. Of course, of all the available options, I picked the first one with a big moat. The paths merged at the bottom of a big snowfield before entering the upper terrain.
Even with reports and photos in hand, standing below the upper gullies, I couldn't locate the standard route. So, I picked the one with a faint footpath and started working my way up the steep terrain. This way worked, albeit a little more technical than necessary.
It became clear that I wasn't on the right track when I got higher on the mountain. So I moved one gully east and got back on the standard route for the final rock scramble. The real crux in this gully was bypassing a steep snow finger from the top.
See more trip photos here.
Chilliwack Slam: One Step Closer to the Finish Line
The summit was windy. Until a couple of ravens showed up to "check" on me, it was pretty quiet. Words could not describe the views all around me, and everything looked beyond gorgeous. Of the six summits on the itinerary, this was the only one to see the other five together.
Four peaks down and two more to go! My partners on their way in, and I would join forces on Northwest Mox Peak tomorrow. Then we would climb Southeast Mox Peak on the Fourth of July to finish the trip. But I still needed to get my arse back down to camp in one piece for now. So glad I brought a rope with me just in case.
Back at camp, I noticed two new tents not far below mine. So I thought Kenny and Patrick came in while I was still on Mount Redoubt. It was light out but already late, so I didn't bother to say hello in case they were already asleep. I enjoyed some delicious golden hour lighting on northern peaks before turning in.
See more trip photos here.
Overview > Day 1 > Day 2 > Day 3 > Day 4 > Day 5 > Day 6
See more trip photos here.
Climbing Partners
I woke up to an eerily quiet morning. So I went down to check on the two tents but didn't see any climbing gear nearby. For a minute, I thought the guys had left to climb without me. I got back inside the tent and took a short nap. The next time I poked my head outside, I saw two figures on Redoubt Glacier moving toward the camp.
Whew! It turned out those two were Kenny and Patrick; I was beyond ecstatic! It turned out that the two tents below me belonged to another climbing party of four. Kenny and Patrick decided to spend the night before at Ouzel Lake after the long approach from the car.
See more trip photos here.
Chilliwack Slam: Northwest Mox Peak
Shortly after Kenny and Patrick settled in, we geared up and started heading back down the glacier. We needed to move efficiently, as it was beginning to get warm in the late morning. At 7300′, we maintained our elevation and bypassed the first buttress coming off the west ridge of Northwest Mox Peak.
The second buttress extended farther down the glacier, and none of us felt like dropping below 7000′ to bypass it. So we decided to get onto the buttress and find an alternative solution. With some careful scouting, at 7200′ we came upon a ledge with a small moat. Then we all took a big step (or instead, a big leap) to be back onto the snow.
See more trip photos here.
Adrenaline Rush on Northwest Mox Peak
We traversed across the glacier to the eastern edge at 7400′. The snow at the bottom of the rock wall had started to recede. I read that some groups have turned around at this moat. So it was the making or breaking point. But fortunately, we were able to get ourselves onto the lower ledges via a receding snow bridge.
From there, we climbed two pitches to the 7600′ saddle. Then we started traversing the beautiful northeast ridge of Northwest Mox Peak. At times, scrambling up on the narrow ridgeline felt like straddling a horse. The impressive Southeast Mox Peak was our main view on the ascent. So hard not to keep gazing at it in awe.
See more trip photos here.
Getting off Route on Northwest Mox Peak
The higher we climbed, the more noticeable the sounds of rockfalls from Southeast Mox Peak. It was a pure adrenaline rush and nerve-wracking all at the same time. We dropped onto southeast face too early and soon found ourselves at the dead-end of a scree ramp.
After some scouting, we retreated to the ridge and climbed another 200′ feet higher. Then we located the right way to continue. First, we dropped down through a chimney onto the southeast face. Then we traveled on a ramp to the bottom of another access chimney. One more pitch put us on the ridge, where we finished the climb with a short scramble.
See more trip photos here.
Northwest Mox Peak Summit
It was hot and breezy, with views beyond breathtaking! Rocks continued to fall from Southeast Mox Peak's north face and tumble down into the northeast couloir below. Glad we wouldn't need to go up that side tomorrow! We enjoyed an extended break on the summit and then slowly made our way down. After we got back on the snow, a slow traverse got us back to camp well before sundown.
A couple more climbing parties had arrived since we left camp this morning. Glad to be with other climbers in this gorgeous area on the beautiful holiday weekend.
See more trip photos here.
Overview > Day 1 > Day 2 > Day 3 > Day 4 > Day 5 > Day 6
See more trip photos here.
Chilliwack Slam: Southeast Mox Peak
It was our last day of climbing and my sixth and final peak to tag on this trip. The infamous Southeast Mox Peak we'd be hearing about was reportedly the hardest to climb on the Bulger List. Either way, we'd soon find out for ourselves. I very much looked forward to the challenges that were to come our way.
Shortly after breakfast, we left camp bright and early, so to have plenty of daylight at our disposal. The mile-long sidestepping traverse to Col of the Wild consisted of crossing a considerable amount of talus, scree, and snow. Lots of choss as we made our way up to the col.
We regrouped on the col and then checked out the route toward our next stop–Ridge of the Gendarmes. Today the awe-inspiring Northwest Mox Peak dominated the view of our climb. So hard to believe we had just climbed it the day before.
See more trip photos here.
En Route to Southeast Mox Peak
From the ridge, we finally got our first look at the Southeast Mox Peak summit. The east face looked to be full of nothing but more scree and loose rocks. There were ledges and steps wide enough to downclimb but nowhere to project and belay. So we took our time an extra caution through here.
It was tough to dig our ice axes into the permanent snow fingers in the first gully. We immediately spotted a fixed anchor above the snow. After backing it up with more webbing, we rappelled on double ropes down to a safe stopping point. Then we got around the bottom of the snow and onto a platform east of the gully.
From there, we finally were able to peek into the access gully below the summit block. A party of two who started hours before us were descending. So hard to put it into words, but rocks were virtually flying everywhere as they came down. The gully was not the place to meet those fast-flying rocks! So we waited for the climbers to come down to the platform before we started moving.
See more trip photos here.
Keeping Focused on Wild Terrain
Unlike other steep gullies, this one was steeper and rockier. Before we knew it, rocks began to move all around us. We took our time getting up to the notch above the gully. In the process, we also made sure no one was climbing directly above anyone else in the group. We were only a couple more pitches below the top.
Patrick had graciously offered to lead while I stayed behind to take photos of the climb. Although many loose rocks on the first pitch, there were still good holds along the cliff wall. And though I wasn't sure if the protection did the job, it was better to have something than nothing.
See more trip photos here.
Fourth of July Celebration on Southeast Mox Peak
We decided to forego the second pitch. So instead, we scrambled up to the top of the exposed ramp. Not the place to lose our footing for sure! Alas. We finally stood atop the summit after hearing the good and the bad about this peak. Because today was our national holiday, I prepared mini flags for our summit celebration.
Man, what an exhausting climb this was. It was more mental than physical. Spectacular views all around us, but the photos couldn't capture the true essence of the Chilliwack peaks. We spent a long time on the summit while soaking in the views. But it hard to leave it all behind after putting in all that effort to get up here.
See more trip photos here.
Back to Redoubt Glacier Camp
The descent was going through everything we just went through but in reverse. The process involved several rappels, more downclimbing, and more b*tching and moaning before getting back to camp. On the way down, we met another team of two at the top of the deadly gully.
A couple more climbing groups showed up back at camp. Everyone was either part of a Mountaineers group or an acquaintance. What a great place to see other like-minded folks and to celebrate the holiday!
Overview > Day 1 > Day 2 > Day 3 > Day 4 > Day 5 > Day 6
See more trip photos here.
Exiting the Chilliwack Slam
Alas. Now that we've had our fun, today we made the long exit back to the cars. I bypassed Ouzel Lake and moraine by keeping north on Redoubt Glacier. Kenny and Patrick went back through the lake. The shortcut worked out okay, and I eventually got down to the forest above the waterfall. But I wasn't crazy about downclimbing in steep gullies full of raging snow water.
The guys showed up 20 minutes later to join me. Then we took one last group photo in the meadow before going back down through Depot Creek Falls. Then we hiked and bushwhacked our way out. My poor toes!
See more trip photos here.