We went up to Teanaway Ridge after yesterday's trip. The initial plan was to go to the Chelan Mountains after a night in Wenatchee. But the forecast didn't look too promising. So I opted for somewhere new, and dry, in Teanaway.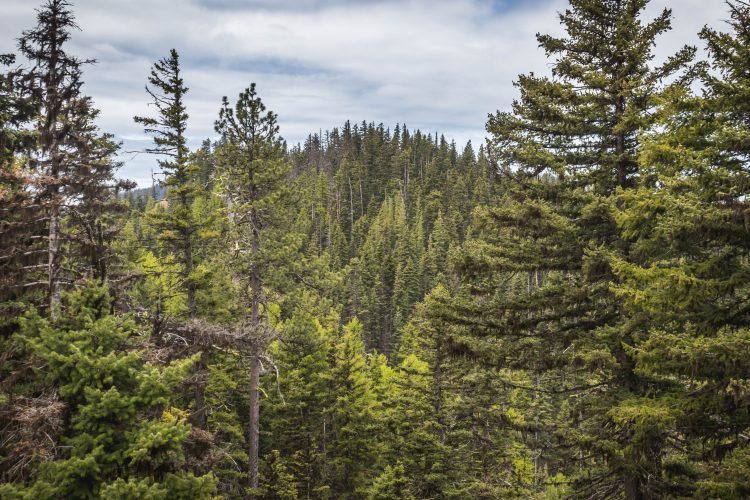 See more trip photos here.
Teanaway Ridge at a Glance
Access: NF-9714
Round Trip: 4.2 miles
Elevation Range: 3580′-4943′
Gear: none
GPS Track: available
Dog-Friendly: yes
Road 9714
Apart from Teanaway Peak and Teanaway Butte, there was now Teanaway Ridge. So we just needed Teanaway Point and Teanaway Mountain to complete the group. This ridge was also close to Bearjack Ridge, where we visited two years ago.
The road to the Iron Bear Trailhead was in decent shape. But it was a little dusty. Then we parked by the roadway a quarter of a mile before the trailhead. So we could avoid the trail and the later comers.
See more trip photos here.
North-East Ridge
We crossed the small Iron Creek to the south under a cloudy sky. Then we went up on one of the minor ribs through the light brush. The goal was to reach Point 4465 on the ridge coming off the main ridgeline.
The open forest made for a more efficient climb. Before long, we went around Point 4465 and continued west. From there, it was just a short scramble to reach the Teanaway Ridge Trail.
See more trip photos here.
Teanaway Ridge High Point
From the trail, we then hiked south toward the Teanaway Ridge high point. I had expected to see people on the trail. But since it was still early, we probably wouldn't see any until later. Views were spotty in the forest.
We reached the top after hiking for a little over a mile. Views were more open to the east. So I could see places like Table Mountain and Lion Rock. But to see Miller Peak and parts of the Stuart Range, I had to peek through branches.
See more trip photos here.
Outro
While we took a break on the eastern slopes, a couple came up from the south. But they didn't stay long before leaving. I walked around the trail, hoping to see more on the south side. But the only place visible there was Red Top Mountain.
Soon, we made our way back down the ridge. Then we met another couple with their pup coming up the trail. Before long, we left the path and headed east toward Point 4465. Then from there, it was just a quick drop down to Iron Creek.
See more trip photos here.