I came across Fools Day Peak during a recent search. So after yesterday's trip out east, we came to Salmon La Sac to look for sunshine. We were also here right after the onset of the outbreak.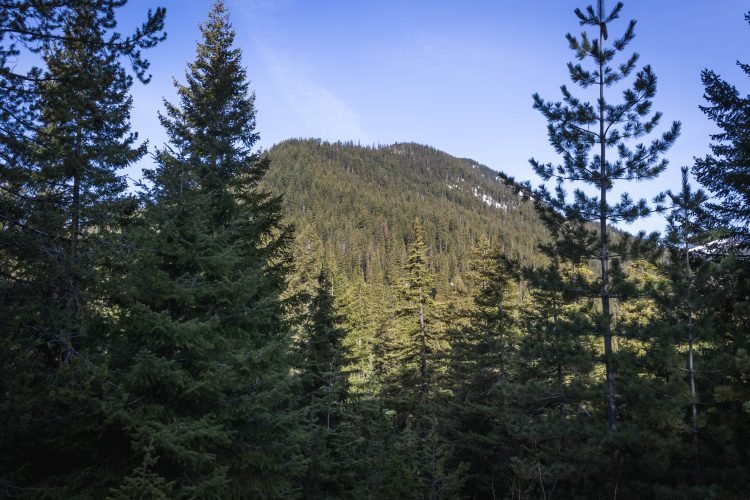 See more trip photos here.
Fools Day Peak at a Glance
Access: NF-4308
Round Trip: 4.1 miles
Elevation Range: 3200′-5203′
Gear: snowshoes
GPS Track: available
Dog-Friendly: yes
Road 4308
Winter recreation was still underway. So I expected to start walking from Salmon La Sac Road. But glad that the roads have since been clear of snow. So we were able to drive through to 3200′. Then I pulled into an ample open space before the snow patch.
Two guys had tried to drive through the snow but became stuck. Then they tried digging out the car with bare hands and tree branches. It looked like they were close to removing most of the snow. So I left them with my shovel before we left.
See more trip photos here.
The Starting Point
Half a mile ahead at the junction with NF-4312 was an RV. Judging by the amount of snow around the vehicle, it became stuck also. A girl looked out and waved. But then she looked away. So I assumed that help was on the way.
There was still quite a bit of snow past that point. So we made a right and walked NF-4312 to the next fork. Shortly, we took a sharp left onto NF-4312-111 and went south. Later I found what looked like a trail at the ridge crest.
See more trip photos here.
Fools Day Peak East Ridge
Earlier I saw Fools Day Peak from the road. The top looked woodsy. So I thought it would be another viewless summit. Oh well. But at the least, we would get in our exercise. It was still great to be away from everyone.
There were lots of down trees in the lower forest. So we stayed south of the crest. But as the terrain steepened, we slowly moved back onto the ridge. Later I put on snowshoes at 4000′. By now, the snow had become slightly slushy.
See more trip photos here.
The Final Stretch
There wasn't much route-finding on this peak. All we had to do was following the ridgeline up to the top. During which, we passed a few clearings. Skookum Peak and The Louvre first came into view. Then higher up, the Stuart Range appeared.
The terrain flattened past 4800′. So we were able to move more efficiently in the soft snow. We spent the final 300′ back in the forest. Then the terrain steepened and widened in the last 100′. Hooray! We would have views, after all!
See more trip photos here.
Fools Day Peak Summit
The forest ended abruptly. It also created an open space between the trees and the summit. Judging from Google Earth, a road goes through here when bare. But there was still feet of snow on top. So we stayed away from the corniced south side.
We had great views of the Kachess Ridge. The top of Mount Rainier also poked out from behind the ridge. Trees covered much of the westerns slopes to see anything down below. Thorp Mountain was just to our west. Then Stuart Range and Sasse Ridge were over on the east.
See more trip photos here.
Outro
This outing was relatively short without the extra road walk. On the way down, we moved slightly to the north of the crest. So I could keep snowshoes on for a while. But I took them off just before we went back onto the road. Then we shortcut down to NF-4308.
The RV now had two shovels next to it in the snow. So it looked like someone had dug some while we were away. There were still people inside. But they avoided eye contact with me. Another .25 mile of the road walk, and then we were back at the car.
See more trip photos here.