Last week we went up to Fools Day Peak. Then today, we visited Beehive Mountain out east. We were going to stay in because the gloomy weather forecast kept changing. But then we went to check out the mountain at the last minute.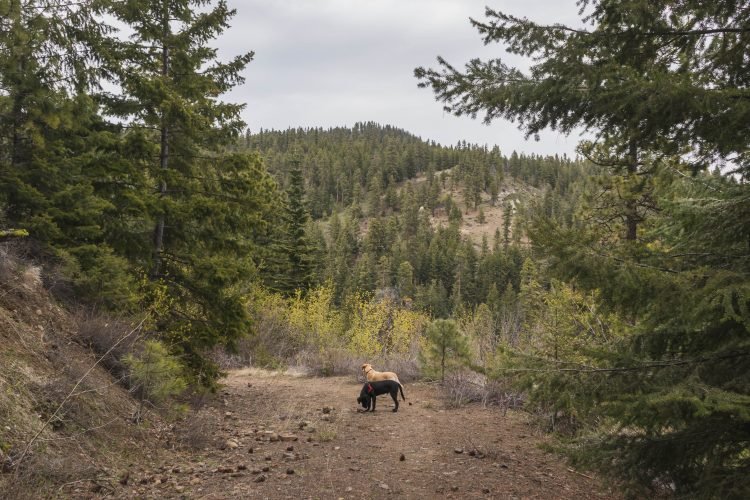 See more trip photos here.
Beehive Mountain at a Glance
Access: NF-9712
Round Trip: 3.5 miles
Elevation Range: 3340′-4560′
Gear: none
GPS Track: available
Dog-Friendly: yes
Road 9712
I thought we would see a closed gate. But it was wide open when we drove up to the entrance. So it meant that there would be lots of drive-ups. Yikes. We should have visited when there was still snow. Then I looked at the map for ways to bypass the road.
The main road didn't look like it went up to the summit. The fact that there were two reservoirs below the mountain was also a good sign. So most people would likely make the big ponds their stopping point.
See more trip photos here.
South Direct
With a late start of 1:30 PM, I wasn't in the mood to walk on the road. I also had no desire to share the roadway with a ton of cars. So we walked 1000′ from the gate to the first road bend. Then we went into the forest and climbed up by a gully.
At 350′ above was a deserted service road. It also sat right next to the main roadway we had bypassed. So we followed the path and went north. Soon, we walked past a small creek. Then we went right back into the forest and moved uphill.
See more trip photos here.
Beehive Mountain Summit
In 300′, we reached another old road. So we crossed it and continued. Soon, we strolled through a flat area before the final 300′. There we found a rocky trail and then followed it up to the top. The remnants of the old lookout marked this flat summit.
Glad people stayed down by the ponds, as I had predicted. But we heard all kinds of noise coming from the water. From here, I could see parts of the Columbia River Plus South Wenatchee. To the north was Horse Lake Mountain. Then west of us was Mission Ridge.
See more trip photos here.
Outro
Our route came out to be just under 1.5 miles. So we added a little bit of distance on the way back. Once we reached the old road at 4000′, we moved east to the southeast ridge. Then we followed the ridgeline and intersected the lower roadway.
From there, we then hiked back west to the other side of the broad gully. Soon, we walked past the same tiny stream. Before long, we were back in the forest and went down to the starting point.
See more trip photos here.