We visited Mount Finlayson on San Juan Island last week. Then today, we went up to Ryegrass Mountain. We've covered much of the desert over the years. So it's become more challenging to find a new place.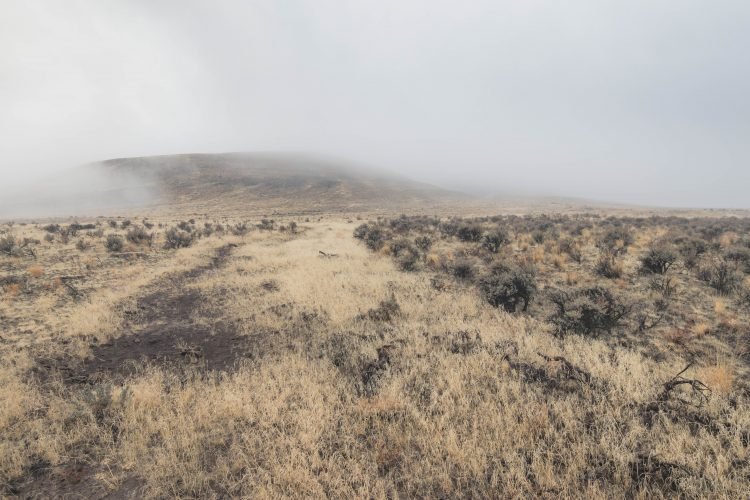 See more trip photos here.
Ryegrass Mountain at a Glance
Access: Huntzinger Road
Round Trip: 5,2 miles
Elevation Range: 2500′-4224′
Gear: none
GPS Track: available
Dog-Friendly: yes
Driving East to Vantage
Snow and ice over Snoqualmie Pass called for traction tires. But the weather looked more promising after we went down the eastern slope. Unfortunately, clouds closed in just as we drove through Ellensburg. So the odds of having views today were low.
The summit of Ryegrass Mountain sat inside the Yakima Training Center. But 95% of the hike was inside Ginkgo Petrified Forest State Park. After exiting the freeway, we made a right onto Huntzinger Road. The real Vantage is to the north of the exit. Not sure how the name became synonymous with the climbing area in Frenchman Coulee.
See more trip photos here.
Ryegrass Mountain East Ridge
I thought perhaps we'd at least get the partly sunny weather. But instead, low clouds had filled the region even before we arrived. From the exit, we drove south for under a mile. Then I parked just past the small gravel pit on our right. Soon, we were hiking in the mist on flat terrain.
We followed some unnamed dirt roads while traveling west. The elevation gain was gradual. And just past the 1600′ elevation, we came upon the main road. So then we followed it for a short while before reaching an unlocked gate. It marked the boundary of the Yakima Training Center.
See more trip photos here.
Ryegrass Mountain Summit Plus Outro
There wasn't anything to see on top. So the pup and I stayed just long enough to take our selfies before taking off. Clouds had cleared up a bit at the bottom of the hills. So we got to see some of the Columbia River and the Vantage Bridge.
Conditions over the mountain pass had improved since this morning. So there were no spin-outs to delay the westbound traffic!
See more trip photos here.