My only highlight in Spokane last weekend was Iller Creek Trail in the Dishman Hills Conservation Area. While out east, I kept wondering how great it would've been to be in the mountains instead. Anyway, Baldy sounded like a good idea for today.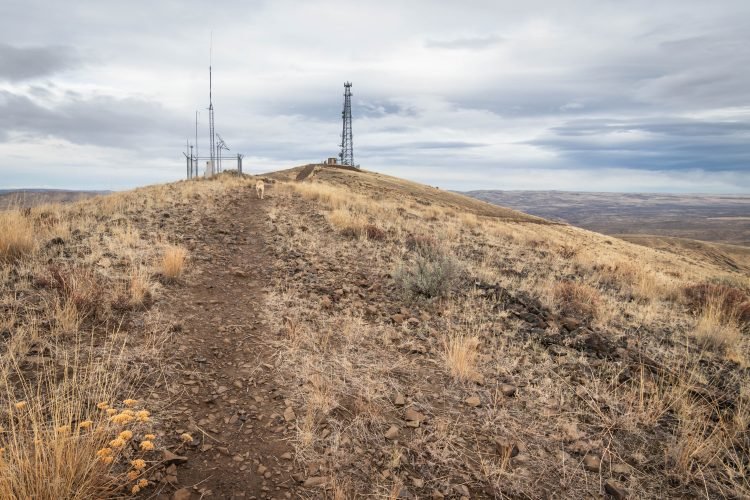 See more trip photos here.
Baldy at a Glance
Access: TP Jim Trailhead
Round Trip: TBD
Elevation Range: 1260′-3225′
Gear: none
GPS Track: available
Dog-Friendly: yes
East of the Cascades
After taking the pup to the dog park, I decided to do a short hike out east. But morning snow and spin-outs over Snoqualmie Pass had forced freeway closure. When I rechecked the conditions after the park, the pass was now open. The weather east of the mountains also looked a lot better.
My initial plan was to walk around Frenchman Coulee. But with a late start, I didn't want to lose more daylight by going farther east. As I drove past Ellensburg, WA, I decided to shorten the drive by going up to Baldy instead. It had been over two years since our last trip. So it was time to revisit one of our rainy day favorites.
See more trip photos here.
Baldy West Ridge
We parked just outside of the Big Pines Campground. Then we crossed the road and followed the defined trail toward the west-northwest ridge. However, the path we took didn't take us up to the crest. But instead, it went up through a gully to reach the west shoulder at 2100′. This part was perhaps the steeper part of the entire climb.
From the shoulder, the trail then merged with the one from the west-northwest ridge. The expansive view of the river canyon was gradually forming. We continued to follow the path on the crest while enjoying the landscape. This trip was our fifth time on this peak. Yet, I always managed to discover new angles to savor the scenery.
See more trip photos here.
Baldy Summit Plus Outro
The weather had been cloudy and somewhat windy up to this point. At one hour before sunset time, the sun finally graced us with its presence. It never ceased to amaze me the difference in lighting with the evening sunshine. I especially loved the lights and shadows created by the massive undulating ridgelines to the north.
We got a late afternoon start past 3 PM. So we stayed through the golden hour before heading back down. The soft yet vibrant evening colors were a real treat. It's such a drastic change from the usual harsh lighting I get at the height of the day.
See more trip photos here.