We had a successful outing last weekend. Then this week, I explored the Spokane area. Iller Creek Trail was the only highlight of the otherwise lackluster trip. But my mind was on the Cascades the whole time while visiting.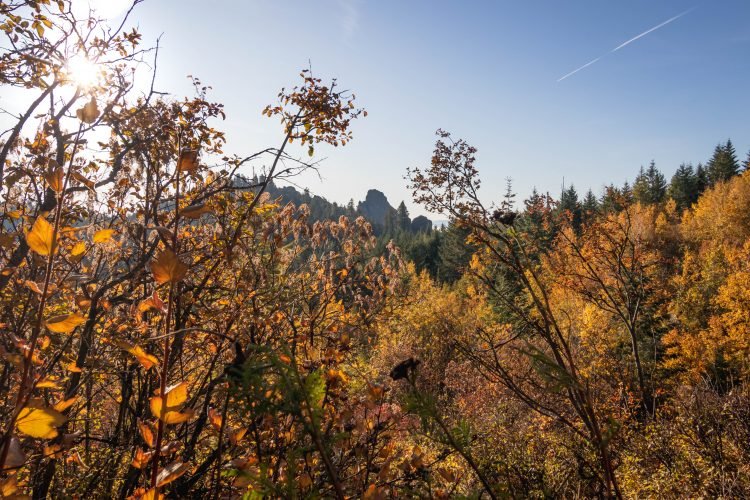 See more trip photos here.
Iller Creek Trail at a Glance
Access: Iller Creek Trailhead
Round Trip: 4.8 miles
Elevation Range: 2380′-3225′
Gear: none
GPS track: not available
Hiking the Iller Creek Trail
Only a handful of cars were in the parking area when I arrived at the trailhead. It could've been either the early morning hour or the cold temperatures. But it felt incredibly quiet for an easily accessible and heavily trafficked trail, according to online reports.
The initially flat trail followed the dry creek bed on its west. Then at some point in the forest, the path crossed over to the east. It continued south while gaining moderate elevation. Just before getting up the slopes, the route crossed the creek one more time.
See more trip photos here.
The Big Rock of Rocks of Sharon
Slowly, the windy trail made its way up the northeast-trending ridge above 3100′. Here I got my first glimpse of the rocks across the basin. Then the path traveled southeast toward the Big Rock summit area while bypassing Point 3662.
Along the way, there were some rock features on the ridge. I didn't take a closer look, but they looked like they'd be excellent for sport climbing. Views soon began to open up after I took the Rocks and Sharon Trail to the summit.
See more trip photos here.
Big Rock Summit Plus Views
I passed two hikers earlier on the trail as they made their way down. Otherwise, there was no one around. It was surprising to be alone in a place as popular as this one. Somehow, I had this image of an overcrowding summit while I was still down in the forest.
I didn't see a path leading up to Big Rock. But making it to the top involved a bit of exposure. Even with the morning haze, views to the south were excellent. The rock overlooked the expansive plains, and perhaps even Idaho on a clear day.
See more trip photos here.
Outro
The summit area was woodsy to the north. I managed to peek through tree branches to get a glimpse of the east. This trip was my first time hiking in the Spokane area. So I couldn't name any of the nearby hills.
On the way down, I followed the north ridge and went to more grassy terrain. Then there I was able to get the full view of Spokane Valley. Then the trail made its way back down to Iller Creek right before reaching the trailhead.
See more trip photos here.