We attempted Oakes Peak three months ago. But as luck would have it, it snowed the day before. So we spent hours going through fresh powder. Later we turned around and snowshoed on the roads near Oakes Creek.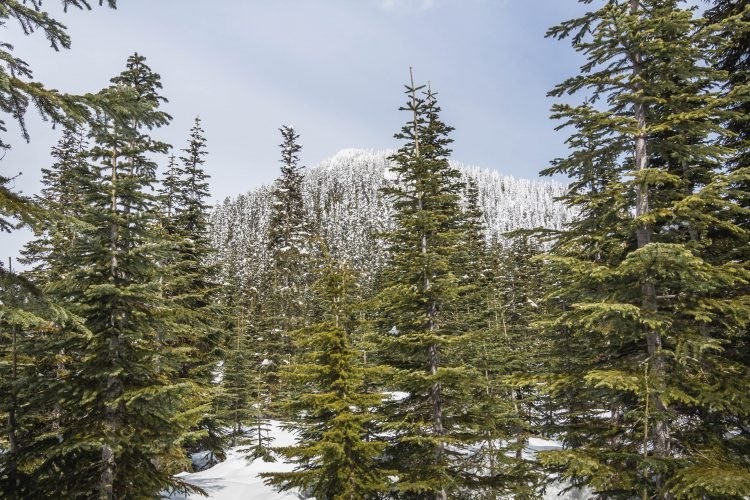 See more trip photos here.
Oakes Peak at a Glance
Access: NF-1060
Round Trip: 6.2 miles
Elevation Range: 660′-5681′
Gear: snowshoes
GPS Track: available
Dog-Friendly: with guidance
Oakes Peak
I first saw Oakes Peak from Damnation Peak less than a year ago. It was the first peak between Goodall Creek and Bacon Creek drainages we had ever climbed. Though, it was only a matter of time before we went up to Oakes Peak. So we could get a slightly different perspective.
See more trip photos here.
Southwest Ridge Approach
Despite my effort to get on the road early, we still got a late morning start. But we were able to scramble up efficiently through the snow-free slopes in the lower altitudes. But we stayed farther away from Oakes Creek this time so we could be on mossy terrain. At one point, we followed a game trail up to 2800′. Then it dwindled under snow patches.
We began to posthole at the 3500′ road crossing. So I put on snowshoes here for the rest of the climb. Like on the previous trip, snow conditions were poor. Even in the shade, the snow wasn't as firm as I had hoped. Although snow quality slowed us down, we were able to stay afloat better.
See more trip photos here.
Oakes Peak Plus Views
Views came in at 5000′. But to avoid the steeper terrain at 5400′ with potential avalanche danger, we moved to the southeast face. Then in another 200′, we slowly got up onto the summit ridge. Northeast views including Mount Triumph and Thornton Peak. The last 100′ to the top felt sluggish as we continue to posthole with every step.
Views were gorgeous and abounding on this broad summit. There were too many peaks to name. But the photos will speak for themselves. Many familiar high points included Davis Peak and Mount Ross above Newhalem. The visible parts of Picket Range included Mount Challenger, Mount Fury, and Mount Terror.
See more trip photos here.
Outro
We enjoyed an extended stay and soaked in the much-needed heat. Then we bid our farewell to the summit and the sweeping views. Quickly, we followed our tracks back down the mountain. It was another afternoon full of sunshine.