It has been several years since our first trip to Jolly Mountain. Last weekend, we escaped out to the east. So today, with a better forecast ahead, I decided to pay the mountain a second visit.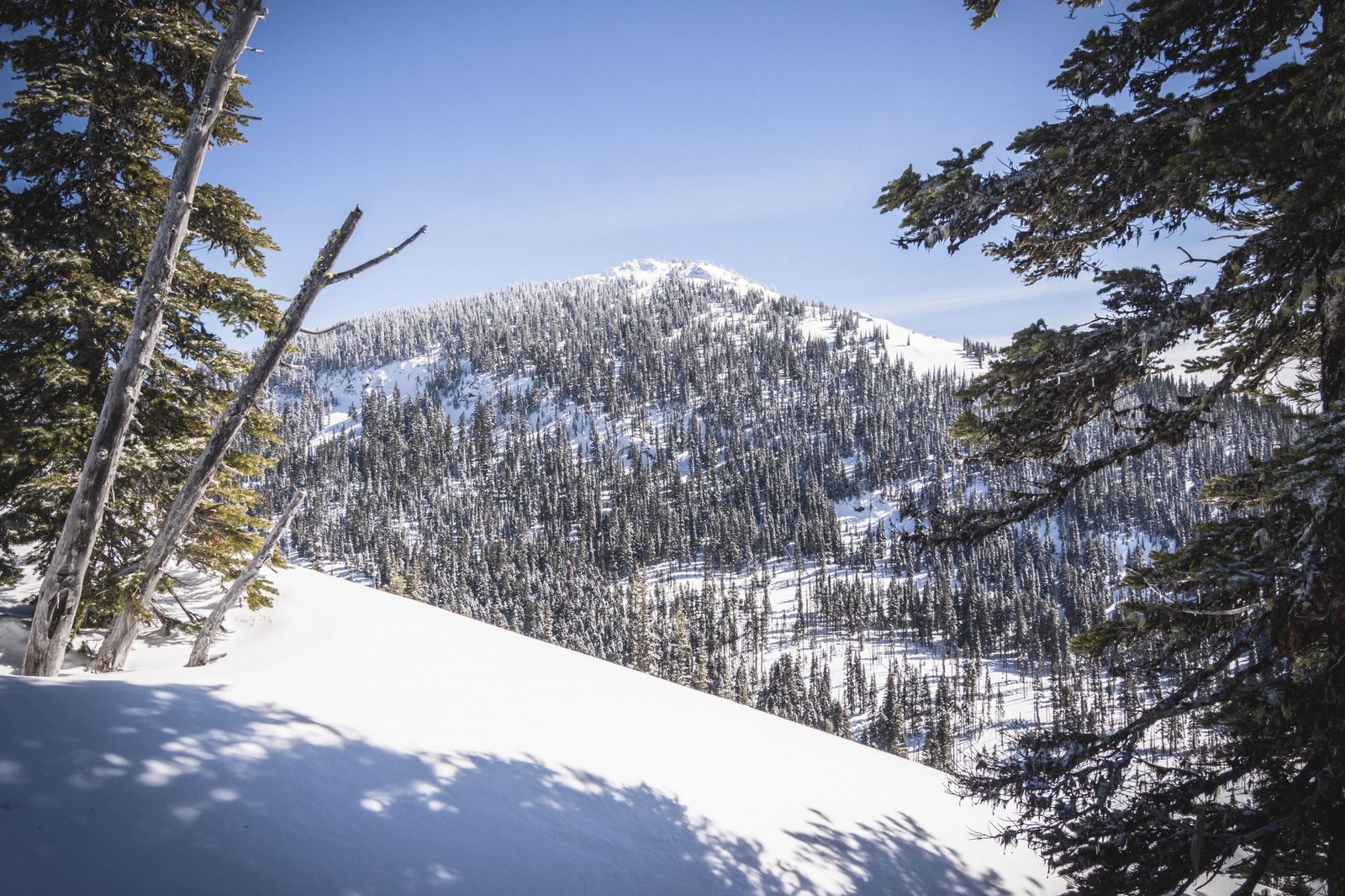 See more trip photos here.
Jolly Mountain at a Glance
Access: Cayuse Horse Camp
Round Trip: TBD
Elevation Range: 2400′-6443′
Gear: snowshoes
GPS Track: available
Dog-Friendly: yes
Salmon La Sac
Salmon La Sac Road was free of snow to the turnaround by Cayuse Campground. But the camp itself was still inaccessible by car. I put on snowshoes past the buried stop sign. Then we reached the summer trail past the trail detour sign shortly.
There were a few inches of packed snow between 2600′ and 4000′. We followed the winding trail and went through the road in several places. Later the path intersected the roadway one last time. Then we re-entered the forest by the 4000′ clearing at the road's end.
See more trip photos here.
Sasse Ridge Bound
The snow softened past the Salmon La Sac Creek bridge crossing at 4400′. Then we began to break trail there. The terrain steepened past the junction at 4600′. Later it flattened at the top of Salmon La Sac Creek Basin.
The final couple of hundred feet up to the 5600′ pass on Sasse Ridge was even steeper. Then from the saddle, we had our first glimpse of Jolly Mountain's impressive northwest face.
See more trip photos here.
Jolly Mountain Climb
The pups and I traveled clockwise in the direction of the summer trail. At the same time, we contoured Jolly Mountain's northwest basin. What felt like the starting of Cascade Concrete had us slowly plowing through sticky snow. Meanwhile, we steered clear of the corniced ridge crest.
Later we made our way south toward Jolly Mountain. Along the way, we bypassed a couple of high points from the west. Snow arête on the north ridgeline slowly flattened as we neared the summit. So we were able to go on the ridge to finish the final stretch.
See more trip photos here.
Jolly Mountain Summit
The narrow summit dropped off steeply on both east and west. Then the flat top went for about 10 yards before dipping down on the south ridge. It ended up being a bluebird day. There was the occasional light breeze with temperatures in the high 40s.
Views were drastically different from our first visit. The then black pup and I went up on a hot summer day six years ago. Glacier Peak, Mount Rainier, Stuart Range, and peaks in the Snoqualmie Pass area were all visible.
See more trip photos here.
Outro
The cool-looking lookout pit was now under feet of snow. But back then, the massive ladybugs crawled all over the place. This trip marked our final winter outing of the season. So here's to a happy spring tomorrow!