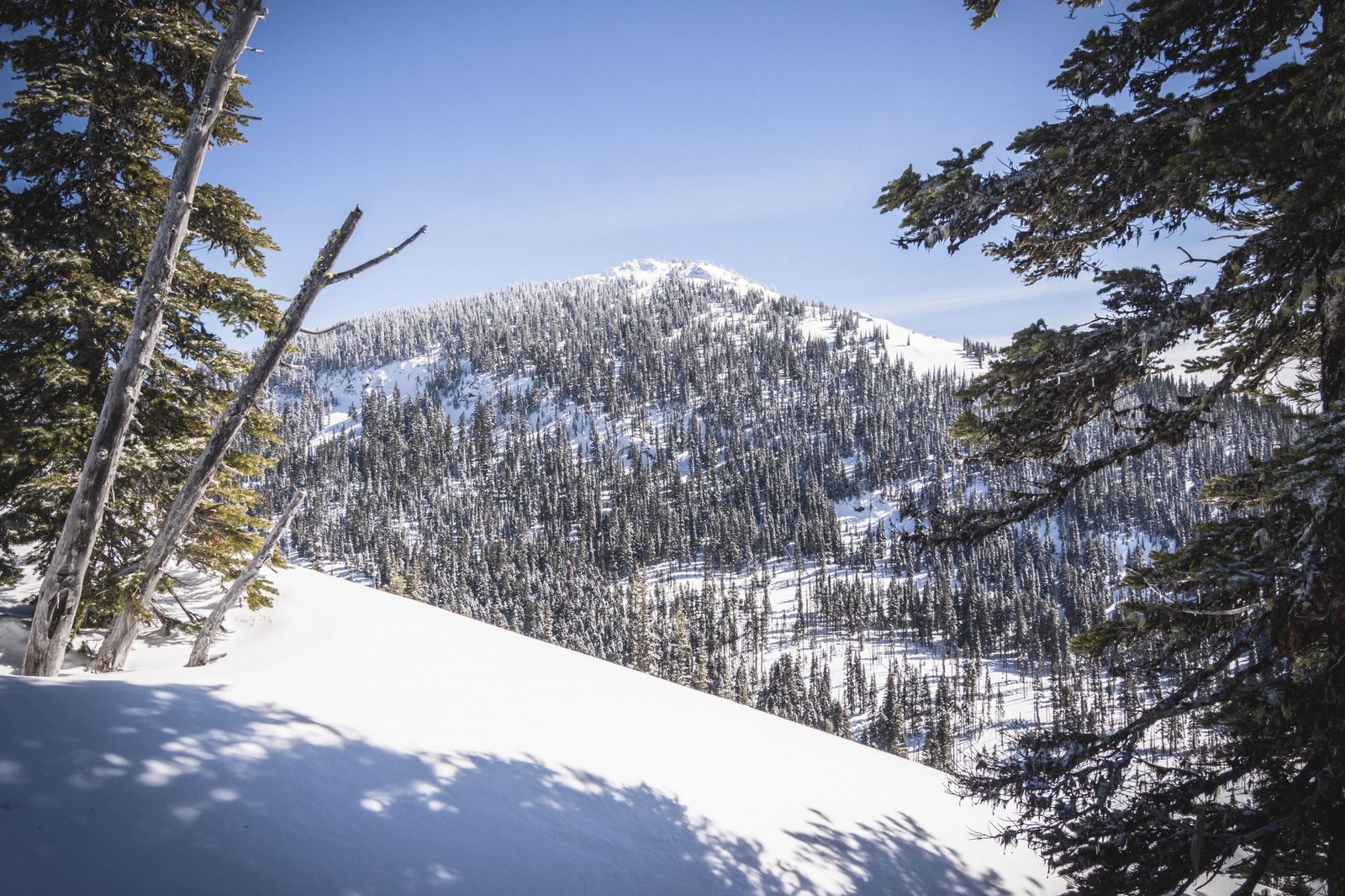 Photos from this trip can be found here.
Salmon La Sac Road was clear up to the turnaround outside of Cayuse Campground, which was still inaccessible by car. Put on snowshoes past the mostly buried stop sign and reached the summer trail beyond the trail detour sign shortly after.
Few inches to a few feet of packed snow between 2,600′ and 4,000′ elevation, as trail wound its way through service road in several places. Trail intersected the road one last time before the 4,000′ clearing at road's end, then re-entered the woods.
Softer snow past Salmon La Sac Creek bridge crossing at 4,400′, the starting point of trail breaking. Terrain steepened past trail junction at 4,600′ and flattened out at head of Salmon La Sac Creek Basin. Last couple hundred feet getting up to the 5,600′ saddle on Sasse Ridge was steeper. From the saddle we got our first glimpse of Jolly Mountain's impressive northwest face.
Pups and I traversed clockwise in the direction of the summer trail contouring Jolly Mountain's northwest basin. What felt like the starting of Cascade Concrete had us slowly plowing through sticky snow while steering clear of the heavily corniced ridge crest. We negotiated a couple of high points from the west just north of Jolly Mountain. Snow arête on north ridge leading to the summit was dull enough to snowshoe atop to finish off the last bit of scramble.
Narrow and snow-packed summit with steep drop-offs both east and the west, stretched across 20-30 feet before sloping downward onto the south ridge. Gorgeous bluebird day with occasional light breeze on top; temperatures in the high 40s. Views were very different compared with my first visit on a hot summer day nearly six years ago. Glacier Peak, Mount Rainier, Stuart Range, and peaks in the Snoqualmie region were all visible.
No sightings of the wind-shielding lookout pit with massive ladybugs crawling all over the place. Last winter ascent of the season…and happy spring tomorrow!
Gear: snowshoes