West of Keechelus Lake and directly south of Snoqualmie Pass lies the double-peaked Roaring Ridge. In the years past, the southeast peak housed several lookout towers. Then the removal of the last structure took place as late as 1968.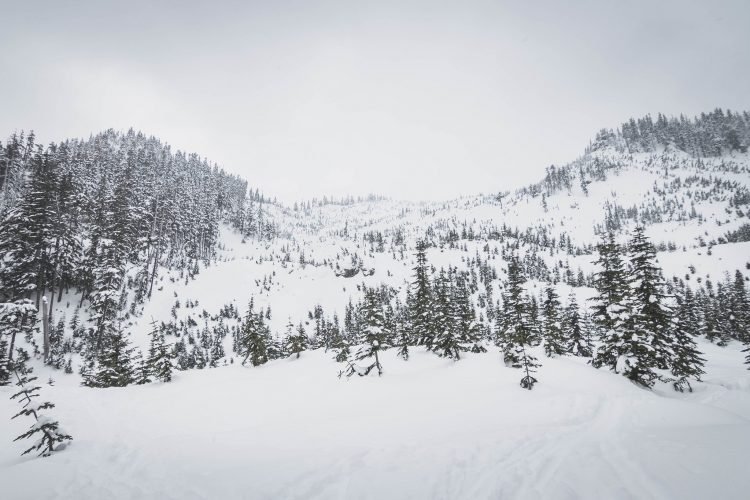 See more trip photos here.
Roaring Ridge at a Glance
Access: End of Rampart Drive
Round Trip: 7.5 miles
Elevation Range: 2600′-4988′
Gear: snowshoes, ice ax
GPS Track: available
Dog-Friendly: yes
Exit 54 (Hyak & Gold Creek)
Somehow the "mostly sunny" forecast never came. Instead, the steady flurries and evening snow showers filled the day. But I kept my hopes up for decent views like four years ago.
It was a super late arrival at Exit 54. Then the pups and I started hiking at a quarter to noon. Since I didn't park in the ski parking, I didn't know about the no-dog policy on groomed trails.
See more trip photos here.
Cold Creek Road
To be out of the way of skiers, we went into the forest parallel to Cold Creek Road. Then we went back onto the road at Mill Creek right before intersecting Road 115. But not before I broke the bindings on one snowshoe.
Shortly, we crossed Cold Creek by the power lines. Then I put on snowshoes and went up the northern slopes. Later I came across old ski tracks in the forest. So I followed them up toward the ridge.
See more trip photos here.
First-World Problem
It had been snowing all morning. So there was more snow higher on the hills. But the broken snowshoe couldn't help me through the powder. Instead, it slowed me down significantly.
Somehow I thought the good snowshoe would be enough to help to keep a good pace. But I ended up spending more time trying to straighten the broken shoe with every step.
See more trip photos here.
Roaring Ridge Summit and Out
Later the snow came down even harder on the summit. We had the occasional views down to Keechelus Lake. But there were no signs of Mount Catherine.
I wasn't in the mood to check out the northwest peak because of the poor weather. So we only stayed long enough to take selfies before going back down.
See more trip photos here.