Long Mountain was one that we would visit once and call it good. The climb was just over 5000′. But our late morning start made it feel like all-day ordeal.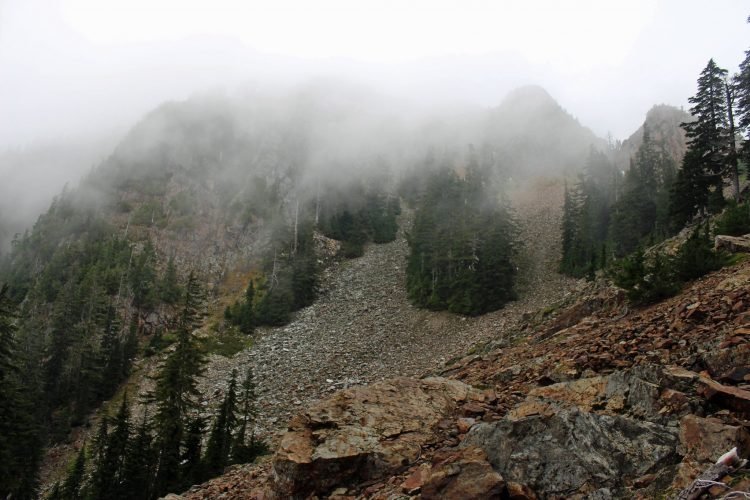 See more trip photos here.
Long Mountain at a Glance
Access: Marten Creek Trailhead
Round Trip: TBD
Elevation Range: 1400′-5113′
Gear: helmet
GPS Track: available
Dog-Friendly: no
Marten Creek Trail
The best part about the climb was that it was direct. We started from the Marten Creek Trailhead off Mountain Loop Highway. Then it was a shot in the dark to find the right place to leave the trail.
But that wasn't the worst part. Right away, we found ourselves swimming in stingy nettle and slide alder lower down. Snow would have been nice to have there. But not up high!
See more trip photos here.
The Western Approach
The gully I read in a report was still dry. So we didn't need to deal with the snow finger. Instead, it was full of loose rocks. But there were many decent holds to get us up to the summit area.
We found one class 3/4 section with large steps below the north ridge. So we went through this section with care. From there, we made the short scramble up to the misty summit.
See more trip photos here.
Long Mountain Summit Plus Outro
The top was cloudy during our stay. So the views of nearby peaks like Anaconda Peak and Bald Mountain were nonexistent. But we had glimpses of Mountain Loop Highway below us to the south.
The weather forecast was iffy. So I had mentally prepared myself despite not seeing anything up top. Oh well, better luck next time! That is IF there is going to be the next time.
See more trip photos here.