Yesterday we went up to Saddle Mountain on the Olympic Peninsula. Despite the morning rain, we enjoyed an afternoon full of sunshine. Today, we went up to Bee Sting Hill in Plain as a last-minute plan.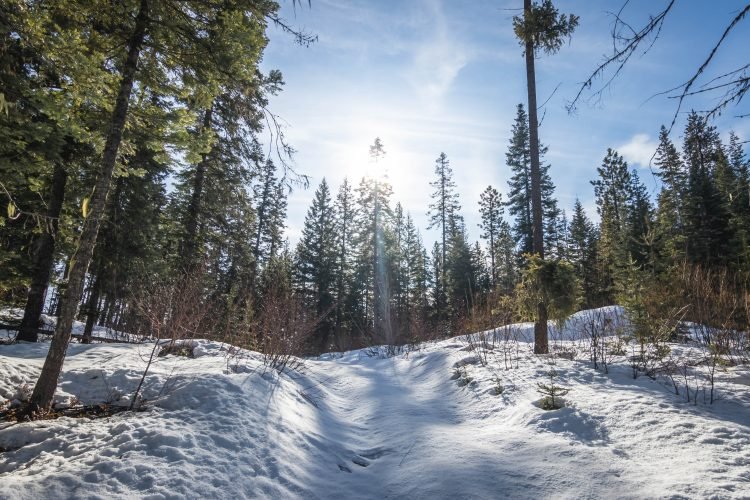 See more trip photos here.
Bee Sting Hill at a Glance
Access: Shugart Flats Road
Round Trip: 3.5 miles
Elevation Range: 1960′-2665′
Gear: snowshoes
GPS Track: available
Dog-Friendly: yes
Third Time Is a Charm
This morning, it took three tries to settle on a hike. I had hoped to stay closer to home after yesterday's trip. So I checked out two places down by Interstate 90. But we ended up not reaching the first one because of ice and unplowed roads.
The other one, unbeknownst to me, was inside a private community. But looking at the sign by the gated entrance, one could still get inside as a guest. Though, without another backup plan close by, we spent the next 1.5 hours driving up to Plain.
See more trip photos here.
Back to Plain, Washington
We were here last weekend under the same weather conditions. We explored Beaver Hill and Plain Ridge to the south. Views were decent in both places, but more so on Beaver Hill. But on Plain Ridge, I had to peek through branches to see anything.
On a beautiful like today, I would have liked to go up a taller mountain. But we were waiting until the recruit has adequate insulation and strength. So for now, we limited our trips to shorter distances and lower vertical gains.
See more trip photos here.
Going up Northern Slopes
There were snow berms along the street. So I couldn't park the car by the starting point. Instead, I left it by the stop sign. Then we started hiking through the neighborhood on the northern foothills. But for a short and mild climb, the extra half a mile walk wasn't much.
We crossed the snow berm and then snowshoed up to the top. The only opening on the woodsy summit provided views down to Plain. Behind the town were Tumwater Mountain and Icicle Ridge. Two Enchantments peaks also poked out from behind the ridgeline. Natapoc Mountain was to the west of here.
See more trip photos here.
Bee Sting Hill Summit
The scenery was similar to Beaver Hill. So I was thankful for another sunny day! This summit seemed to be on the private property despite what the map showed otherwise. But I couldn't quite tell by the location of the sign down at the junction.
It was breezy up on top. But the low 40s temperatures didn't feel as cold thanks to the sun. Even with people living nearby, we didn't see any tracks in the snow. I thought it was odd not to see anyone up here. But if all this land were in my backyard, I probably wouldn't come up too often.
See more trip photos here.
Outro
We followed the road on the way down. So it didn't take too long to get back to the bottom. Before the trip, I looked for "no parking" signs nearby. But I didn't see any. So I was glad that the car was still intact when we came back.
So off to the 59er Diner, we went!
See more trip photos here.