More snow arrived this week! The overnight snowstorms resulted in numerous spin-outs over Snoqualmie Pass. I didn't want to deal with the mess or even put on snow chains. So another loop hike through Deception Pass was in order. At the time of writing this post, notifications for pass closures continued to come through.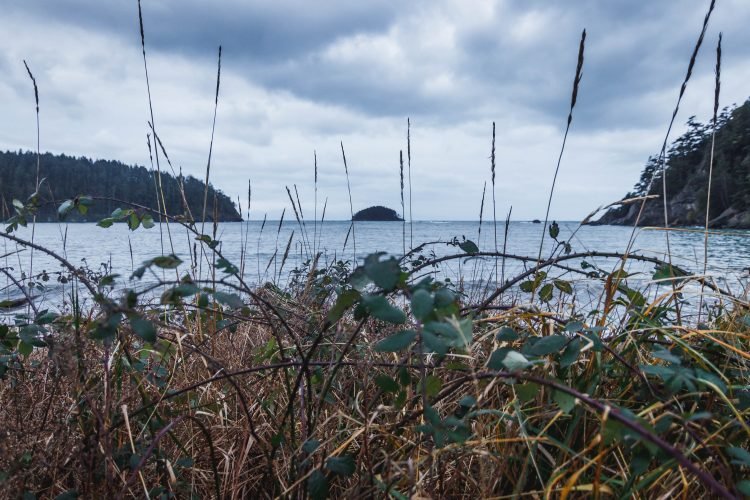 See more trip photos here.
Deception Pass State Park at a Glance
Access: Bowman Bay (official park map)
Round Trip: 10 miles
Elevation Range: 0′-484′
Gear: none
GPS Track: available
Dog-Friendly: yes
Late Morning Arrival at Bowman Bay
There was an 80%-plus chance of rain across the western region. Then just before dawn, it lowered to 50% for northern Puget Sound. That was way more promising! So I decided to go through with last weekend's plan to Deception Pass State Park. It was still raining on our way to Fidalgo Island.
Luckily, the drizzles stopped just as we drove past Marysville. Hooray! We arrived at the Bowman boat launch before 10 AM with one other car in the parking lot. It was a late start for us. But I knew it was possible to visit most, if not all, points of interest by sundown.
See more trip photos here.
Deception Pass State Park Loop Hike
We made a loop trip through the park last time as well. It was a terrific way to connect all of the points of interest we had visited on separate occasions. Though, this time we left out the Pass Lake loop. And instead, we made a side trip out to West Beach and the inlet of Lottie Bay.
Getting Mr. Connor to start walking took some effort, and treats. It was almost as hard as getting him to drop a small rock from his mouth. But then he became curious and started moving once Mr. Cody started sniffing around. In the end, we got him to follow us to the top of the first hill. That's a quarter of a mile victory!
See more trip photos here.
Deception Pass Bridge Traverse
Mr. Connor was ready for me to carry him. Otherwise, at the rate we were going, we would never get to any of our destinations. Shortly, we climbed over the barrier onto Highway 20. The construction had fenced off parts of the shoulder for pedestrians. But the location of the call buttons was terrible. The crosswalk was not visible to the bridge traffic.
The three of us went over to the other side of the road. Then we traveled southbound through Pass Island. Compared with the last time, today's wind was much calmer. I glanced over at Bowman Hill. "We should check it out next time," I thought. Getting through the narrow walkway was nerve-racking, especially with the oncoming traffic in our faces. So it's best not to topple over!
See more trip photos here.
Goose Rock Summit
I wanted to check out the rest of the Goose Rock Perimeter Trail this time. It's happened to be part of the Pacific Northwest Trail system. So we walk toward the east end of the peninsula. Along the way, we passed a group of early hikers as they came out. We didn't hike to the Goose Rock Summit Trail junction. But instead, we took a direct route by scrambling northwest through the thin brush.
The terrain eventually flattened at 400′. So I let Mr. Connor out of my pack to get some exercise. He's been my training weight for all of our recent trips. He was excited to explore the rest of the way up to the summit. The views were hazy. And the noise of the crashing waves was especially loud. It began to rain just then.
See more trip photos here.
Onward to West Beach
Another hiker and I greeted each other. Then we waited under the trees for the rain to stop. Once it turned into drizzles, we then quickly left the summit. The park had closed a tiny portion of the North Beach Trail. But people still made their way down to the water. The closed area had fallen rocks and small down trees. We hiked west while checking out views through clearings.
Eventually, we made it to West Beach. I had planned on hiking the trail. But the gusts made it unbearable even to start. Plus, we wouldn't have been able to enjoy the view. Instead, we hung out by the logs for a quick minute. Then we turned around to go back. Earlier, I saw a surfer heading out to the water. So we hiked around the northern tip to watch him.
See more trip photos here.
Crossing Back to the Other Side
Highway 20 awaited our returning. But first, we stopped in North Beach. It had quit raining a while ago. But the wind persisted. So I opted to take our photos with the bridge through the forest. A couple of hikers showed up after us. We chatted briefly, and then they went on their merry way. Soon, we were back up on the road.
We waited for the two people to come off the bridge in fear of congestion. By then, the high wind had turned into a gale. So it was challenging to keep my center of gravity. The walkway couldn't have been much narrower! The pups also felt the effect as they both hugged closer. The group that started behind us couldn't stand the wind and turned around.
See more trip photos here.
Lighthouse Point Plus Lottie Bay
Back on the Fidalgo Island side, we were immediately out of the wind. Whew! Soon, we were down on the trail to Lighthouse Point. It's another touristy spot. Though, today's weather had turned away many people. We followed our usual route through the rim of the peninsula. Then we reconnected with the lower path in the northeast end.
On the way back to Bowman Bay, I decided to go and check out Lottie Bay. It looked woodsy from Lighthouse Point. But if there's an established trail, then there must be views! The quarter of a mile hike to the top didn't take long. Then we dropped down to the clearing on the southeast end. There was a more impressive view of the Deception Pass Bridge.
See more trip photos here.
Rosario Head and Out
The day went by too fast! It was nearing sunset when we got back to Bowman Bay. But there was still plenty of daylight. So we made a quick excursion out to Rosario Head. It was the very first trip we'd ever taken here. We saw a couple by the Maiden of Deception Pass statue. Then another group with pups arrived at the top shortly after us.
One thing I love about Deception Pass State Park is its vastness. More often than not, visitors gather around areas with a direct view of the bridge. But I only needed to ogle over it a couple of times. So for those of us seeking solitude, there is no shortage of tucked-away places to dodge the crowd.
See more trip photos here.
This trip was the windiest of all our Deception Pass State Park outings. We got back to the car at 45 minutes after sunset. And it was still light out.