MacGregor Mountain by Goode Mountain sits atop Stehekin Valley. It ranks the third highest in the North Methow Mountains after Reynolds Peak and Mount Gibbs (Ba Peak). The closeness to High Bridge also makes the peak doable in a day.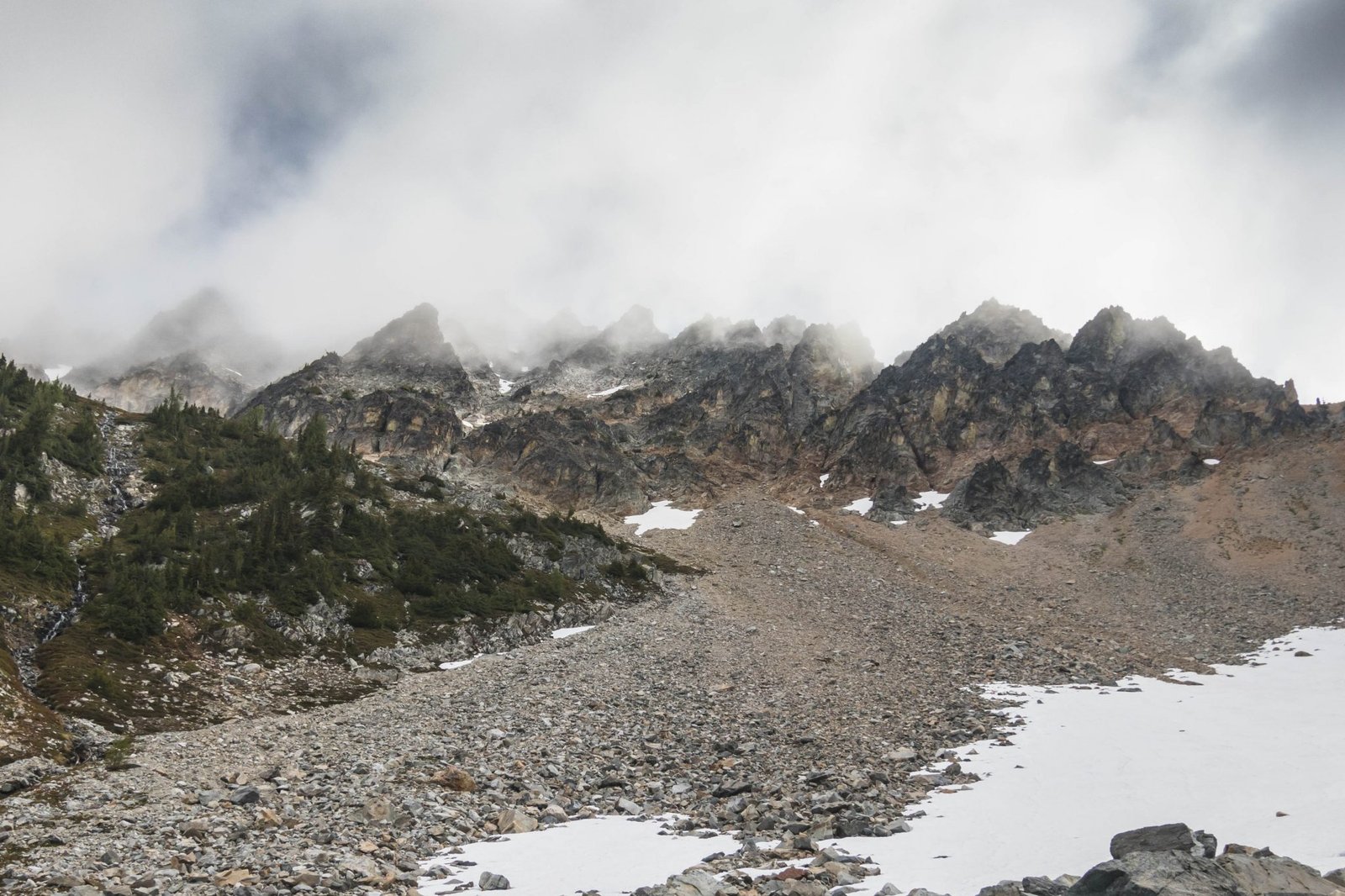 See more trip photos here.
McGregor Mountain at a Glance
Access: Stehekin, Washington
Round Trip: 17.5 miles
Elevation Range: 1600′-8122′
Gear: helmet, crampons, ice ax
GPS Track: available
Dog-Friendly: on the standard route
The Preface
McGregor Mountain marked my fourth time going through Stehekin to a climb. The first time I went climbing Storm King. The second and third times, I climbed Dark Peak and the Devore Slam, respectively.
I had initially scheduled three days for the outing. But we ended up having only two days to spare. Then I revised the itinerary at the last minute.
See more trip photos here.
Lady of the Lake II Ferry
Once again, we started from Fields Point Landing. While boarding the ferry, I came upon two Seattle Mountaineers folks. I also saw Eric, a fellow climber working on the T200 list. Meanwhile, the pup got lots of attention from other passengers.
The three-hour ride went by in the blink of an eye through chats. I also got to talk to Eric more than just a hello in passing over the years. The last time I saw him was on my way to West McMillan Spire.
See more trip photos here.
Stehekin Red Shuttle to High Bridge
The Mountaineers folks got off the boat at Moore Point for their leisurely hike into Stehekin. Later Eric landed in Lucerne to climb in the Fourth of July Basin. Then it was only another half hour to Stehekin.
Once there, we went right up to Golden West Visitor Center for a permit. But unfortunately, another party had claimed the only spot at Heaton Camp. High Bridge wasn't available. So Tumwater Campground was our only option.
See more trip photos here.
A Change in Plans
Since we didn't get to High Bridge until 3 PM, we needed a different plan. Not camping higher up on the mountain didn't leave us much time to spare. So we would start walking much earlier.
In turn, we would summit at a decent hour. Then hopefully, we could make it back to camp before noon. So we would make the red shuttle back to Stehekin in time for the ferry. Damn logistics!
See more trip photos here.
A Evening at Tumwater Campground
Tumwater Campground had just two large campsites. So the pup and I took the more secluded one away from the road. Then we spent the rest of the time hanging out and went to bed early.
Judging from other reports, it would take 6 to 6.5 hours to reach the top on average. So it meant that our 11:30 PM start time would put us on top at roughly 6 AM. But that's without any mishaps en route, of course.
See more trip photos here.
Alpine Start on McGregor Mountain
We first hiked north on the road and went across the Tumwater Bridge. Then we took the connector over to Pacific Crest Trail (PCT). From there, we backtracked to near Howard Lake (formerly Coon Lake).
Soon, we were on McGregor Mountain Trail. Then just past the lake in the meadow, a pair of eyes in the distance startled me. But it was only a deer, whew! But no shortage of switchbacks on this trail, it seemed!
See more trip photos here.
See more trip photos here.
The Base of McGregor Mountain
The sky started to brighten a bit when we got to the talus in the lower basin. After hiking 5.5 miles and gaining 5200′, we were finally at the base of the mountain. But we somehow missed Heaton Camp on the way up. I knew it was cloudy up higher. But I didn't realize how weak the visibility was until after sunrise. I started having doubts about the clouds burning off any time soon.
It was windy in the south basin. So we chilled behind a big rock. Then we spent the next hour waiting out the clouds. But they never moved an inch! I wasn't sure where the reported red-painted arrow would be since I couldn't see much. I was also unsure of the access gully's whereabouts. So we followed recent boot tracks up the snowfield.
See more trip photos here.
Route Finding in the Mist
The tracks were going away from the summit. So we reoriented ourselves once the path disappeared right below the talus. It looked like people who left us the trail decided to turn around here. We continued uphill as the terrain steepened. Then we followed a steep snow finger up into a gully. But I knew we were still off-route at this point. So the goal was to start veering right toward the summit block.
I knew if we continued on the snow finger, then the cliffs would stop us up at the notch. So halfway up the snow, we followed a ramp and went east onto a minor ridge. I hoped this way would get us to somewhere more promising, and it did! Just around the corner, I noticed a short cairn. Then I realized we were off the route by one gully to the west.
See more trip photos here.
McGregor Mountain Summit Plus No Views
With the help of cairns and some red painted arrows, we quickly went up on the west ridge. Since the clouds persisted, we missed the view of the magnificent Sandalee Glacier from here. Damn. Afterward, we got back on the snow and went toward the summit. Even with weak visibility, the path was still easy to follow. Amazing how many arrows I saw all of a sudden.
The only thing visible during our 45-minute stay on this summit was the lone radio tower. Clouds drifted away a few times, but not long enough to get any views. Too bad we couldn't stick around and wait out the mist. But we still needed to get back down to catch the shuttle. I was hoping to see Lake Chelan from up here. Alas, maybe next time.
See more trip photos here.
Descending Back to Tumwater Camp
Now that we knew the way, it didn't take long to get back down to the big snowfield. As we proceeded to hike down the defined path, I noticed Heaton Camp nicely tucked in among trees. Not sure how we'd miss it on the way up since it's practically right next to the trail. I was glad not to have carried everything up here for the climb. We traveled much lighter by leaving the overnight gear behind.
Once we got below the mist, views to the south began to form. Many familiar high points like Tupshin Peak and Devore Peak were going in and out of the clouds. For the most part, the glaciated Agnes Creek Valley looked very beautiful. I even got a glimpse of Agnes Mountain and Bonanza Peak when clouds moved away briefly.
See more trip photos here.
Getting Back to Stehekin on Red Shuttle
We made it back to camp in time to break camp. Afterward, we hiked half a mile back to High Bridge. While killing time before the shuttle arrived, I chatted with a couple from Florida. They had set out to visit all of the US national parks as a married couple. What an impressive goal! I also got to talk to a couple of WSU students who came out after us. They were the ones who studied marmots at Heaton Camp. How cool!
One thing about Stehekin is that you're likely to run into the same people. After the shuttle arrived, two more couples we met the day before were just getting off. One couple went to see the Agnes Creek Gorge. The other quickly checked out High Bridge then headed back down to Stehekin with us. On the way back, we made a pitstop at the Stehekin Bakery. One simply could not leave this place without paying a visit!
See more trip photos here.
Ferry Ride Back to Fields Point Landing
Back at the dock, we met up with Carolyn and Carry. They had a fabulous time hiking and camping by Lake Chelan. They even rented bikes to ride up the road after getting to Stehekin. The ferry ended up getting in late. So we had plenty of time to kill before finally leaving at 2:30 PM.
This area makes an excellent getaway for people who want to escape the city chaos. I will come back again, even if only for the bakery.
See more trip photos here.