Today we went on a recovery trip after yesterday's excursion. I had wanted to go up to Cowboy Mountain for years. But finding the time to go up before the start of the ski season was always a challenge. So with the closing of the resort, now it was an even better time to visit.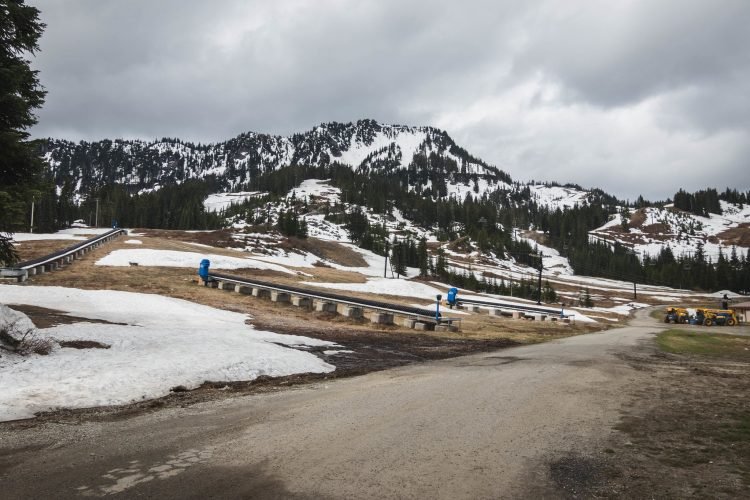 See more trip photos here.
Cowboy Mountain at a Glance
Access: Stevens Pass Ski Resort (trail maps)
Round Trip: 3 miles
Elevation Range: 4040′-5853′
Gear: microspikes
GPS Track: available
Dog-Friendly: with guidance
Hiking Through the Ski Resort
The pup and I arrived at the resort with one other car parked in Lot A. We were also here back in March, going up to Big Chief Mountain. Today's trip made for a perfect spring outing on an otherwise busy mountain.
For context, Cowboy Mountain marks the highest point on the ridgeline at the head of Tye River. The mountain also houses four chairlifts on its northern slopes. We walked through empty lodges and got on the roadway for a short while. Then we headed uphill in the direction of the Blue Trail.
See more trip photos here.
Blue Trail to Cloud 9
Blue Trail hugged along a minor ridge before it eventually ended at the top of the Hogsback Express chairlift. From there, we followed Cloud 9 to where it stopped at the top of the 7th Heaven lift. I didn't pack snowshoes today as the snow conditions were generally excellent by this time of the year.
Cowboy Mountain Summit Ridge
Right next to the 7th Heaven chairlift was a minor rib. So we climbed the steep slopes to reach the west ridge of the summit. Then from the ridgeline, it was just a short east traverse to get to the highest point of Cowboy Mountain. It was windless on top.
See more trip photos here.
Cowboy Mountain Summit Plus Views
I thought the southern half of the summit had a better view. But due to the number of trees, I had to piece things together by gazing through small openings. Even though there were also trees on the north side, the scenery was much broader.
High clouds today, so I could see many of the usual familiar high points from the top. They included Big Chief Mountain, Jim Hill Mountain, Glacier Peak, Rock Mountain, Lichtenberg Mountain, Mountain Daniel, Chiwaukum Mountains, and K9.
See more trip photos here.
Early Afternoon Outro
We met a Mountaineers group on the way back down to the basin. So the pup felt compelled to distract people from the field trip by making everyone pet him.
Next stop, Sultan Bakery!
See more trip photos here.