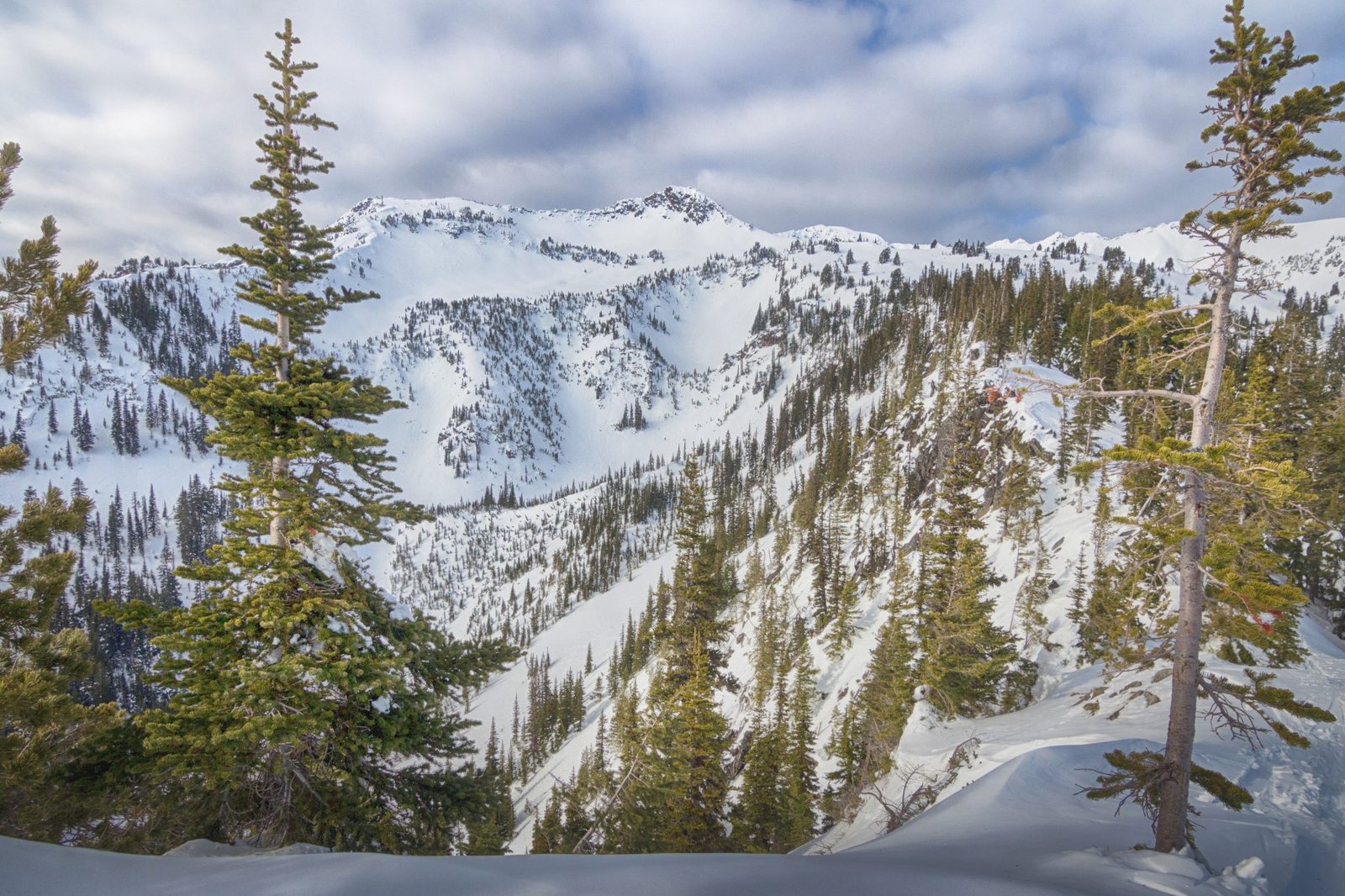 Photos from this trip can be found here.
One more holiday scramble before returning to work and avalanche danger being raised to high the following day.
A great winter scramble to weed out weekend mountain crowds for those who seek solitude. One nice thing about ski tracks is that skiers tend to make longer switchbacks on steep terrain and they're generally headed to the same place–the summit.
Our first real winter ascent on this mountain; previous trips were done in summer and late fall. Trailhead was inaccessible by car, so I parked at the Hwy 2 pullout just west of the stop sign, which wasn't far from summer parking lot. Morning started with sunny weather and clear blue sky, temperature was 10°F in shaded areas.
Because of recent foot traffic, I was able to wait to put on snowshoes at end of the road below the start of summer trail around 3,000′. Pups and I then followed old ski tracks, as well as the occasional snowshoe tracks, up steep slopes to the 4,800′ shoulder on semi packed snow. Snowshoe tracks petered out there, but ski tracks continued to head up the ridge west of Schilling Creek. Temperature in low 30s, south side was virtually windless in late morning thanks to north wind.
Only crux was getting around Point 5490 outcrop from the east on steep snow. An ice ax would benefit even though mine stayed strapped on my pack. Just tip of the summit was visible visible from the ridge, I mistook south peak for the summit every time.
At 5,900′ the summer trail normally heads north for a bit before taking a turn due west on east ridge of Rock Mountain's south peak. Instead we cut northwestward and attained east ridge at 6,300′. Then cut across east slopes of south ridge bypassing Nason Ridge Trail junction, attained the ridge at 6,640′, and finished with a short walk-up west of the ridge away from cornices to summit.
Wind direction switched to the west in the afternoon, with a temperature reading at 35°F just a tad above freezing point. High clouds everywhere, so views were generally good except on the northeast side toward Poet Ridge.
We spent an hour on top, and were able to avoid the wind behind a big snow pile. Descent took less than half the time it took us to get to the top thanks in part to fresh powder.
Gear: snowshoes