Change Peak offers comparable views to its taller neighbor, Mount Washington. It also sees less traffic than the nearby hot spots like Mailbox Peak and Mount Si. So one can still find solitude on this hidden gem right off the beaten path.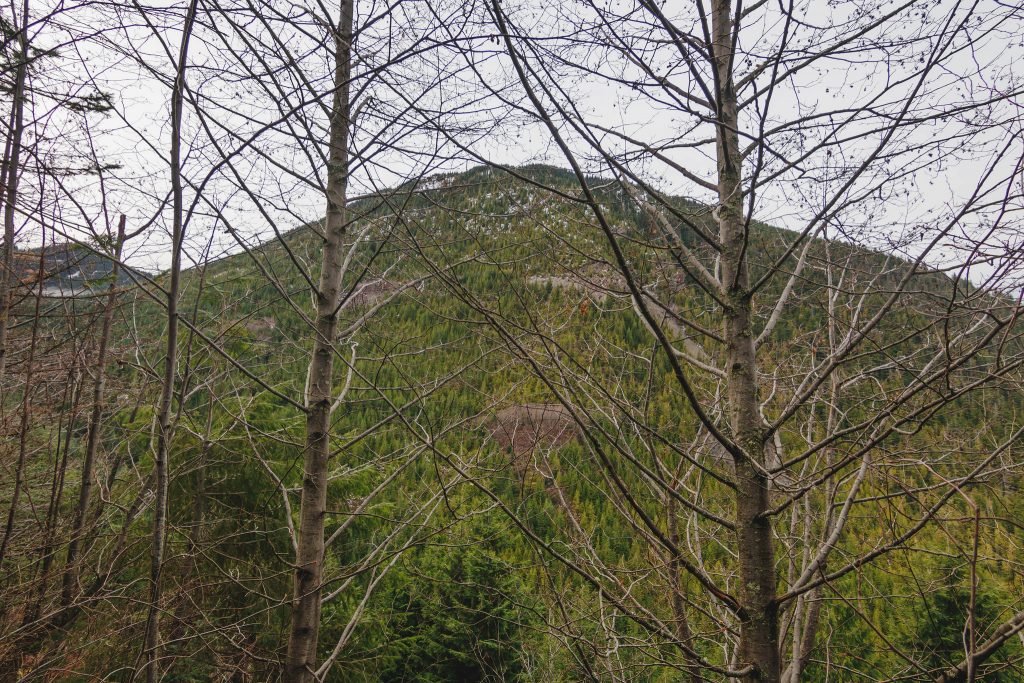 See more trip photos here.
Change Peak at a Glance
Access: Hall Creek Trail
Round Trip: 10 miles
Elevation Range: 1240′-4320′
Gear: microspikes, snowshoes
GPS Track: available
Dog-Friendly: yes
A New Way to Change Peak
While researching recent outings, I came upon an alternate route to Change Peak. It's a little longer way through Olallie State Park, but not by much. Who knew all roads would actually lead to Rome?
In the past, we would go in through the Mount Washington Trailhead. But that trail would always have more people than I cared to see. So today, I thought we'd seek out a new route.
See more trip photos here.
Palouse to Cascades State Park Trail
We started at the gated entrance. Soon, the incredible view of Hall Creek Trestle greeted us from above. Then it suddenly dawned on me that I've seen it a gazillion times from the freeway.
I haven't explored the area between Change Peak and McClellan Butte. I also had no idea that the structure was part of the Palouse to Cascades State Park Trail. But I sure learned something new today!
See more trip photos here.
Finding the Correct Path
Later the trail made its way up to the trestle. Then we crossed to the west side and saw two people preparing to climb "We Did Rock." It's also part of the Deception Crags Climbing Area off Exit 38. Again, who knew?!
I forgot to load the GPS track onto my device. So we spent the next hour trying to find a way into Change Creek. We followed a hidden trail before going over the second bridge for no reason.
See more trip photos here.
Technology Interference
Shortly, we went back out to the main road and talked to the climbers. They were kind to let me use their phone since I usually don't bring mine on a hike. Otherwise, we would've had to go back to the car and look up the info there.
The actual trail was only a few hundred feet east of the hidden path. Overall, we lost one and a half hours because of our late start and the unplanned route-finding. So that put us even closer to sunset time.
See more trip photos here.
Change Creek Trail
The snow-free and scenic trail took us up through east of MMM Ridge. Then at 2600′, the path moved to the west of the ridgeline with snow patches. Later we walked up to the top of the basin.
Soon, I put on microspikes before crossing Change Creek at 2800′. There was more snow up ahead, and it slowly became slick.
See more trip photos here.
Change Peak Summit
The rest of the 3.2 miles in deep powder was slow going. But it was more scenic than the basin by Mount Washington. Later at 2900′, I switched to snowshoes when hiking in boots became tedious.
We reached the summit 45 minutes to sunset. By then, the wind had significantly increased. So we didn't enjoy our visit as much. The sky had also darkened considerably with the increasing clouds and the approaching rain.
See more trip photos here.
Outro
We avoided the wind in the forest by the opening north of the summit. Then we left at sunset time as it began to snow. But with the drop in elevation, flurries soon turned into rain.
Later we hiked a little over two hours in the dark back to the car.
See more trip photos here.