Cadet Peak was my first trip to the Monte Cristo area this season. Since I wanted to bike to the ghost town, I left the pup at home. But I bet he enjoyed having more time off after last week.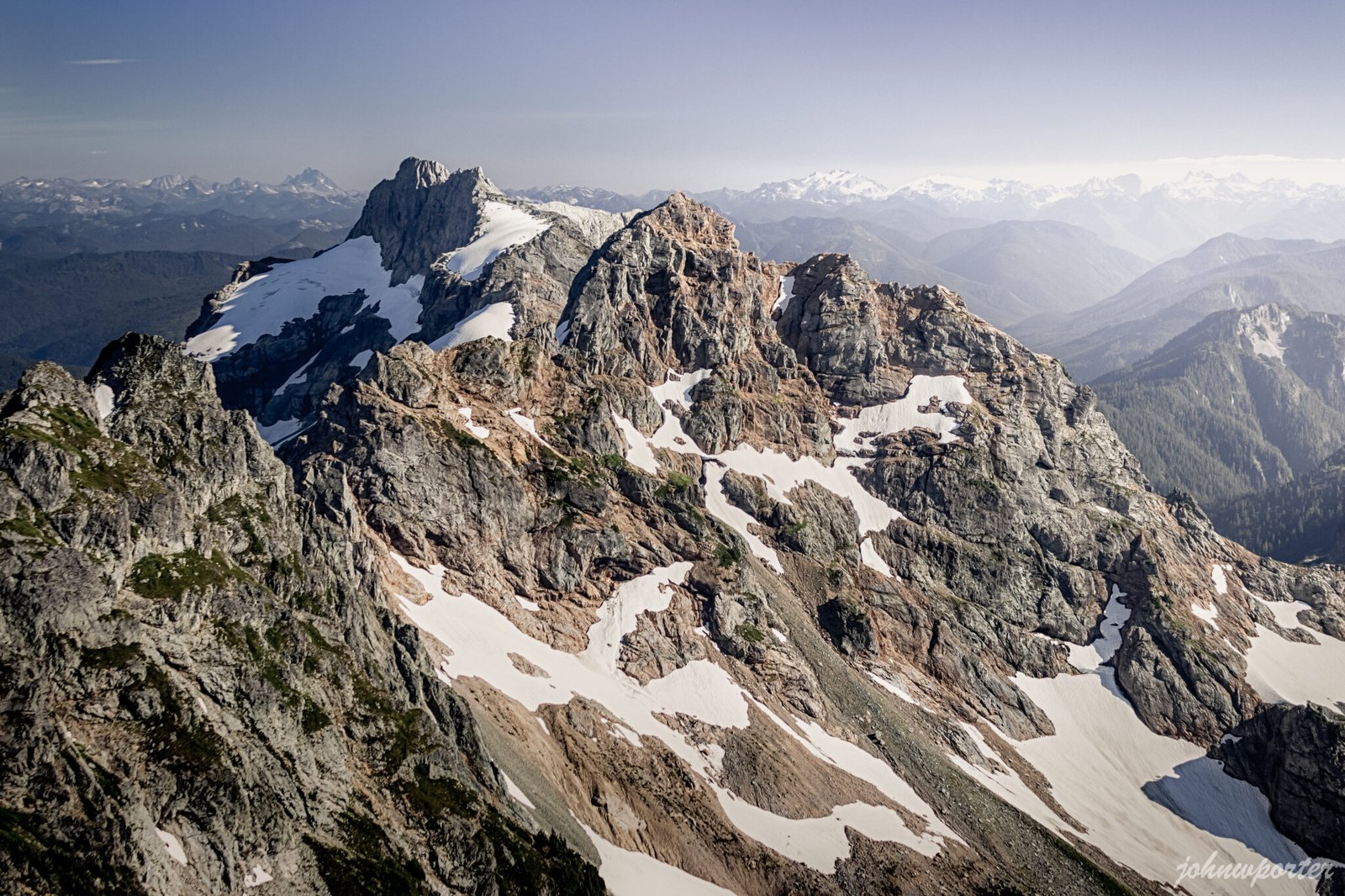 See more trip photos here.
Cadet Peak at a Glance
Access: Gothic Basin Trailhead
Round Trip: TBD
Elevation Range: 2340′-7186′
Gear: helmet
GPS Track: available
Dog-Friendly: on the trail
Getting to Glacier Basin
The crux of the climb was crossing the South Fork Sauk River with a bike. But without a bike, the road walk to Monte Cristo Ghost Town would have taken me a while. The pups and I walked the entire way when we visited the ghost town.
The hike from Monte Cristo to the Glacier Basin was straightforward. Even after the trail disappeared for a while, there were cairns to guide my way. But once in the drainage, the trail reappeared beside Glacier Creek. It then took me up to the upper basin.
See more trip photos here.
Cadet Peak Southwest Slopes
Soon, the trail dwindled. Then at the head of the basin, I started moving northeast up the steep southwest slopes. I was also moving up along the landmark red gully. So my goal was to get up on the southwest ridge to finish the climb.
There were cairns and flagging guiding the way. Then at 6600′, I went north on the class 3 terrain under cliffs. Later, I swung back around and moved southeast toward the summit.
See more trip photos here.
Cadet Peak Summit
I probably could have continued on the southwest ridge for the rest of the climb. But that would have involved unnecessary class 4 to low 5th moves. The final stretch up to the summit was on loose, rocky terrain.
This trip was also the closest I ever saw Sloan Peak. It was by far the best angle to view the peak. Then there was the entire lineup of the Monte Cristo group was just south of here.
See more trip photos here.
Outro
I went back to Monte Cristo at sunset. Then a quick bike ride took me back to Barlow Pass right before it became dark.