Last month I met a hiker on the way to Bandera Mountain. Then he and his friend invited me to climb Black Peak in NCNP. We didn't make it because of the weather. But we would later go back in the fall and summit the peak.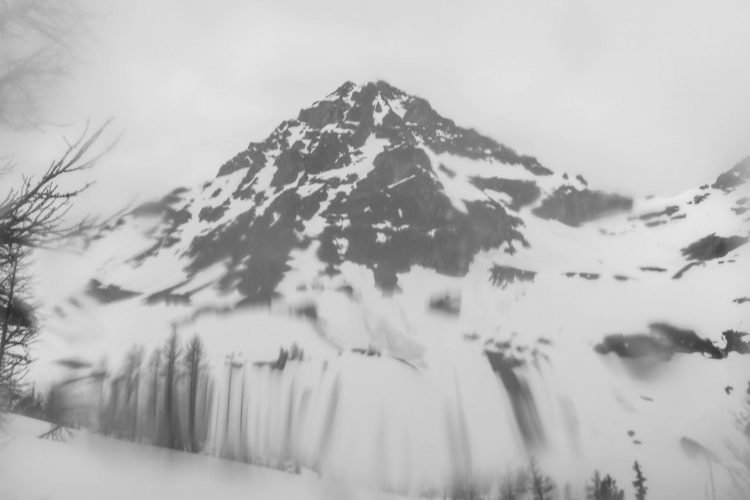 See more trip photos here.
Black Peak at a Glance
Access: Rainy Pass Trailhead
Round Trip: 12 miles
Elevation Range: 4880′-6905′
Gear: helmet, ice ax, crampons
GPS Track: not available
Dog-Friendly: no pets
First Time in the North Cascades
It was my first time venturing into the North Cascades. So I didn't know what to expect. But I went for the ride anyway. The drive up to Rainy Pass was long. Then the dire weather made everything look frightening.
The clouds and rain obscured the visibility greatly. So much for my first visit to the area. At first, we were able to hike the summer trail. But later the path faded into the snow. Then we scrambled the rest of the way.
See more trip photos here.
A Glimpse of Black Peak in NCNP
Later we got a glimpse of Black Peak in NCNP when the clouds shifted. Plus, we saw some nearby high points. Though, soon, they all went back into the mist. We never saw Wing Lake clearly. But we did see Lake Ann and Lewis Lake from the trail earlier.
We know it would be foolish to continue in the dire weather. So we turned around after taking some photos and playing around in the snow. We had hoped for the mountains to show up again. But that never happened.
See more trip photos here.
Outro
On the way back, we tried practicing self-arrest. But we didn't know the proper techniques. I had bought all the snow gear for this trip. So I should at least figure out how to use it. Though, I still wasn't sure about this "ice ax" thing.
It was an enjoyable outing with two new friends despite the terrible weather.
See more trip photos here.