Yesterday we came upon the washed-out bridge crossing on Thunder Creek Trail. After a few attempts to ford the creek, we had no choice but to turn around. But I wanted to make the best use of the last day of the long weekend. So we sought out Bald Eagle Peak closer to home.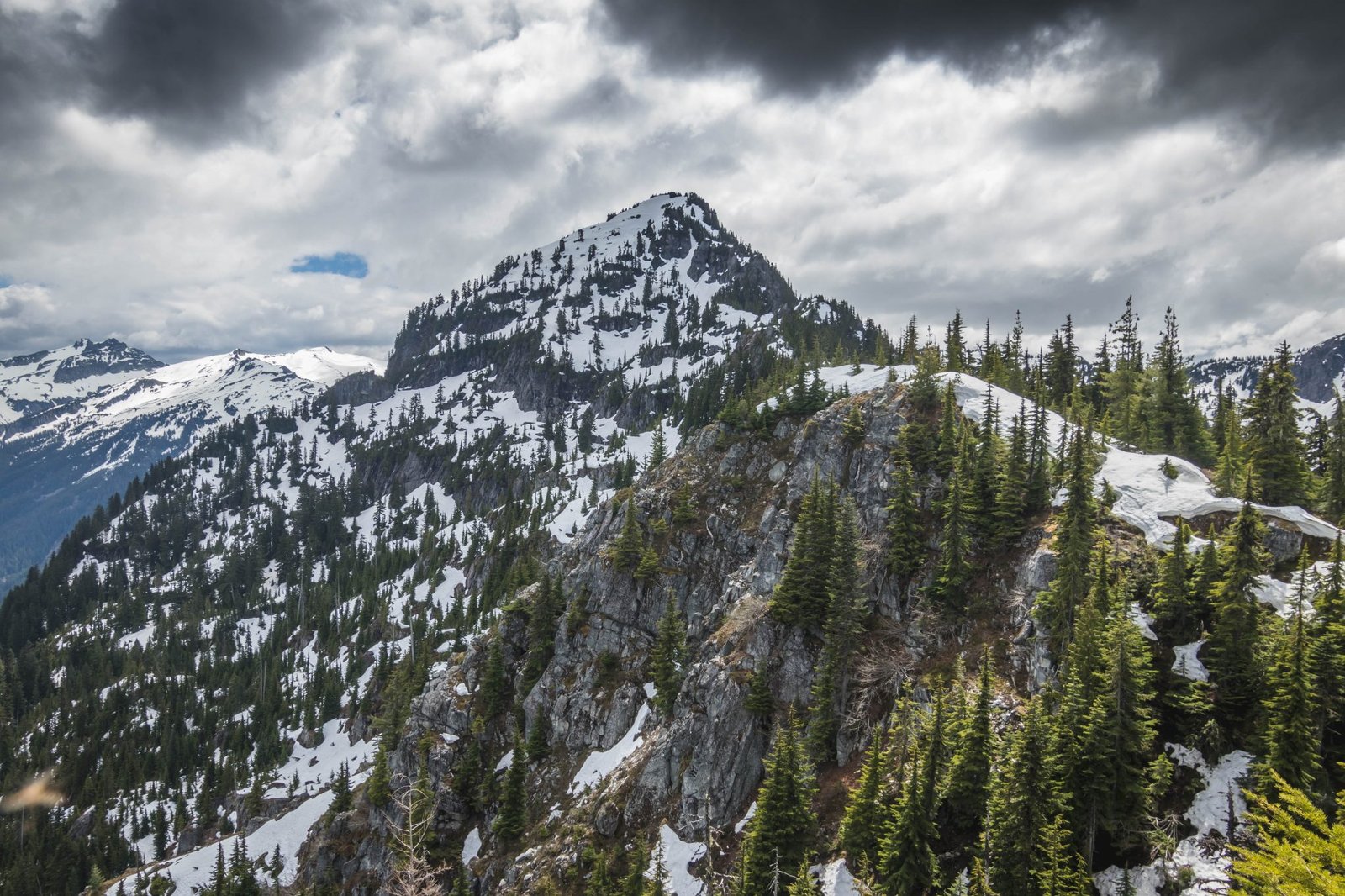 See more trip photos here.
Bald Eagle Peak at a Glance
Access: Foss River Road
Round Trip: 6.6 miles
Elevation Range: 1280′-6259′
Gear: helmet, snowshoes, ice ax, crampons
GPS Track: available
Dog-Friendly: no
Bald Eagle Peak via North Ridge
While many scrambles involve some road walk or trail hike or both, this peak had neither. Just after crossing the bridge over East Fork Foss River, I parked off to the side of Foss River Road. Then the pup and I crossed the road and immediately dove into the forest.
User Puzzlr on nwhikers.net has a highly detailed report with a generous amount of information. Southbound traverse on the long-running north ridge seemed never-ending. Despite having sufficient beta, a good deal of route finding was necessary to keep on track.
See more trip photos here.
Open Forest Through to 4500′
Many down trees strewed the forest bed from the car to 2500′-2600′. This section turned out to be more sloped than ridgy and quite comfortable to weave our way through the debris. But yes, it did get annoying quickly on this steeper terrain.
As down trees began to thin out, we gradually entered the old growth. Sometimes I can't quite tell the difference between the old-growth and secondary growth forest. We'd occasionally bypass dense brush and groups of down trees from the west. Though, for the most part, we were able to stay on the ridge crest.
See more trip photos here.
Bald Eagle Peak Crux
As mentioned in other reports, the most brushy section on this ridge took place between 4500′ and 5200′. This section also happened to be more pointy with steep drop-offs on either side. Despite having to fight through small trees continuously, it was more comfortable to try and stay on the crest.
Swarms of mosquitoes came out and joined us while we were trying to get through the 700′ of dense brush. They were so annoying that I eventually broke out insect repellant for the first time this season. We started seeing snow patches throughout this section.
See more trip photos here.
Getting up to 5400′ Outcrops via the Ridge
The views finally opened up beyond the section of brush. All the nearby high points valleys started to form and became more recognizable. Up until now, Silver Eagle Peak to the southwest of the ridge was the main attraction. From Point 5267, we finally got our first good look at today's object–Bald Eagle Peak. Mount Hinman and Mount Daniel were at the head of the Necklace Valley.
By now, there was more snow on the ridge but with most of it on the east of the ridgeline. The crest was mostly bare but rocky. In some places, it was much easier to traverse on the east slopes to bypass minor outcrops. At 5,400′ we finally came upon a cliff wall straight ahead.
See more trip photos here.
Upper Basin to Bald Eagle Peak Summit
I put on crampons and helmet before the wall. Then we veered left and dropped down into a small gully to bypass the cliffs. With excellent snow coverage on northern slopes, we were able to make a rising traverse up into the upper basin. From there, one of the several steep snow options got us back onto the north ridge at 6100′.
With a short ridge walk, we finally made it to the reported outcrop crux below the summit. I left snowshoes and crampons here and continued with my ice ax and microspikes for traction. Then I found the exposed ledge on the west and tested it out before getting the pup to follow me.
See more trip photos here.
Bald Eagle Peak Summit Plus Views
On the other side of the crux was more steep snow. But we were able to get through most of it in a shallow moat. Ice ax and microspikes came in handy in the last 20′ through small trees to be back on rocks. The snow-free summit had just one big snowfield on the east face.
Bald Eagle Peak was an excellent vantage point to see into the two forks of Foss River Valley. Views to the hundreds of summits in Alpine Lakes Wilderness were still grand despite low clouds. Though, big mountains like Mount Daniel, Summit Chief Mountain, and Chimney Rock were gradually succumbing to clouds.
Outro
As always, it took less than half the time it took us to get up. The 700′ brushy section went by in the blink of an eye on the way down!
See more trip photos here.