I love my coulees. But so far this year, we have been in Eastern Washington one time too many. I couldn't find a new place to visit on this rainy day. So we made another trip out to Potholes Coulee. It's just north of the famous climbing area Frenchman Coulee.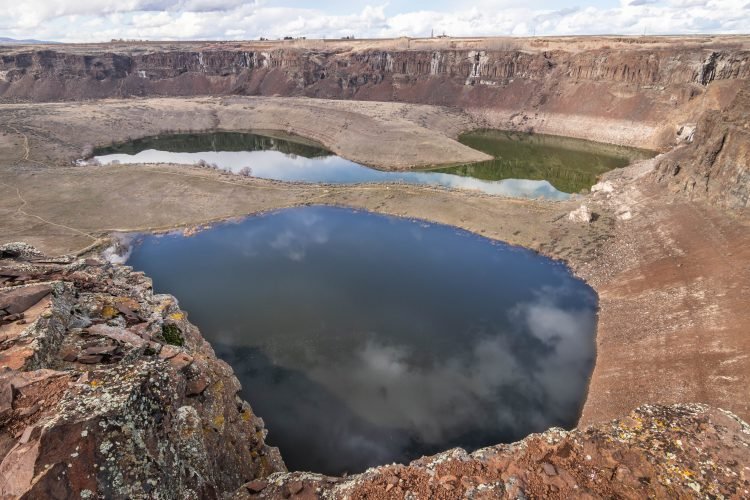 See more trip photos here.
Potholes Coulee at a Glance
Access: Ancient & Dusty Lake Trailhead
Round Trip: 10.4 miles
Elevation Range: 840′-1300′
Gear: none
GPS Track: available
Dog-Friendly: yes
Potholes Coulee
We got a late start this morning. So by the time we drove up to the trailhead, there were a dozen cars in the lot. It was busier than usual. Shortly, we walked south on one of the many trails. Some see more foot traffic, while the rest are more obscure.
Just like before, we made a counterclockwise loop through the coulee rim. But as we walked toward the southwest edge, I spotted a few runners on the trails. Not sure if I ever saw anyone running here before today.
See more trip photos here.
Dusty Lake
Shortly, we reached the southwest. Then we scrambled up to the notch through the steep west slopes. From the top of the plateau, we then walked east toward Dusty Lake. For our recent visits, we have stopped on the same high point just south of the lake.
Dusty Lake doesn't get as much traffic as Ancient Lakes. Most people prefer the latter. Perhaps it's because of the number of pools. But I enjoy this side more for the solitude. Even with an ultra-wide lens, I couldn't fit the entire lake inside the frame.
See more trip photos here.
Onward to the Upper Coulee
After a break, we continued east on the rim. Then we dropped down to Cliff Lake and walked around the eastern shore. Two hikers were on a break there. Later, we walked above Dusty Lake up to the notch north of the water. Then we went down the other side and entered the northern coulee.
Right away, we went back up to the plateau. Then from there, we walked toward one of the high points along the rim. It's just south of the southernmost Ancient Lake, and the best spot to see all three lakes.
See more trip photos here.
Outro
As I looked down, I saw many groups coming and going. There were even two tents by the lakes. It was busy today, indeed! Most people tend to hang out by the water. So it was better just to stay up here and enjoy the views and solitude.
Later, we went down to the bottom of the coulee. Then we got on the old roadbed just south of the main trail. I let the pups cool off in one of the small ponds first. Soon, we continued west on the path. Then we hiked north back up to the trailhead.
See more trip photos here.