Devils Mountain by Little Mountain has enormous prominence, covering over 80% of its height. Cultus Mountain is the nearest higher point, five miles away. Some refer to this peak as a "dumpster dive" or the backup plan on a rainy day.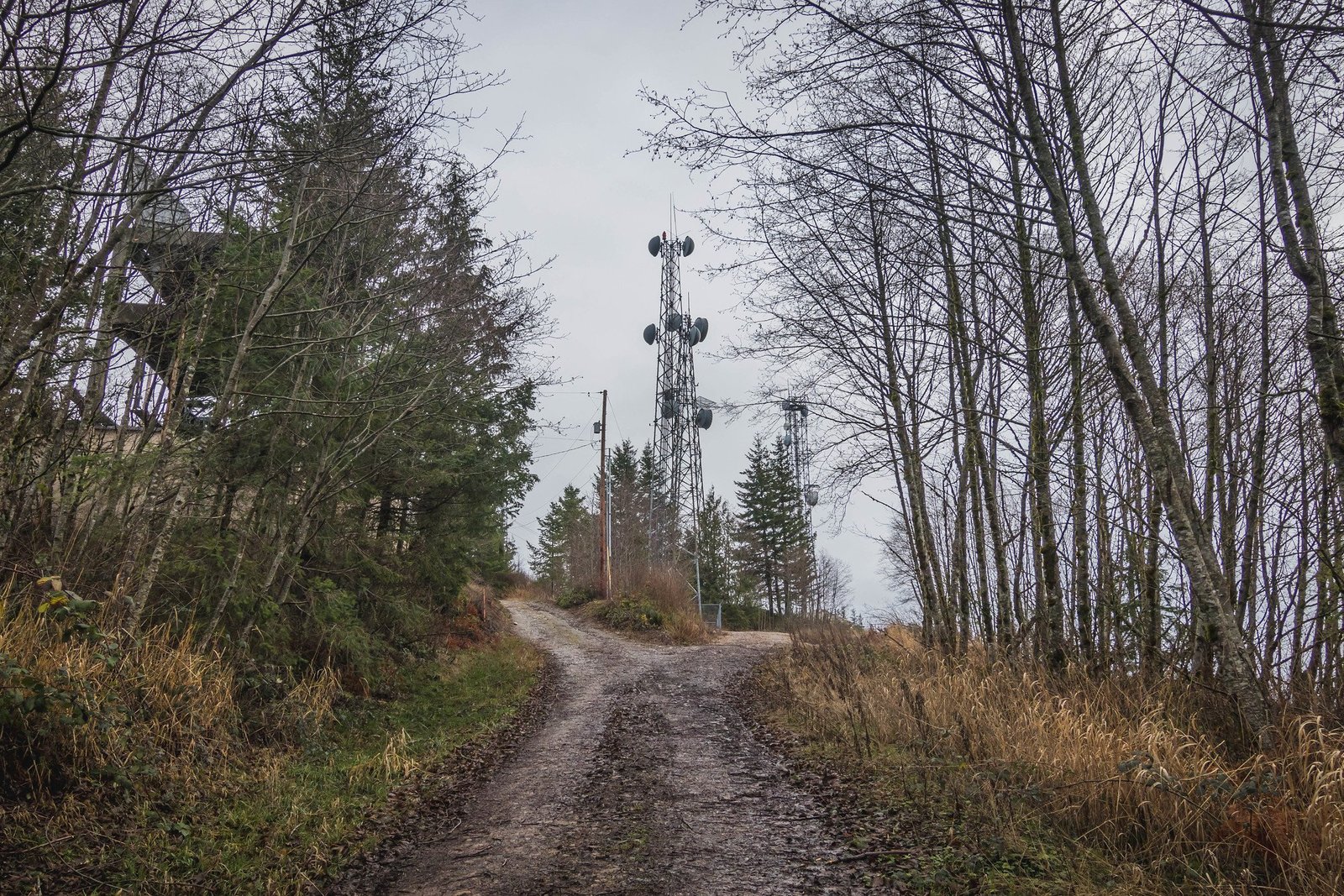 See more trip photos here.
Devils Mountain at a Glance
Access: Devils Mountain Road
Round Trip: 4.3 miles
Elevation Range: 760′-1727′
Gear: none
GPS Track: available
Dog-Friendly: yes
Amick Road
We pulled off to the side of Amick Road by the Devils Mountain Road turnoff. As we were getting ready, a man and his dog left in the only car by the gate. So we were likely the only ones here.
A neighborhood dog skittishly crossed the street toward us just as we took off. So the pup and I waited for a bit until the owner showed up minutes later. Then we chatted a bit before leaving.
See more trip photos here.
Devils Mountain Road
There wasn't much to see on the road, mainly because of the cloudy weather. But we were also in the forest as well. Later I spotted a tiny, abandoned house by the roadway that came with a treehouse.
The hike was only two miles each way, to and from the radio towers. So it didn't take very long before we were up by the northwest saddle. From there, Scott Mountain was our only view to the west.
See more trip photos here.
Devils Mountain Summit Views
Several communications towers occupied the top of this little mountain. There were also a few small utility buildings east of the saddle. Other than that, the misty weather didn't give us too much to enjoy.
After a break, we walked east back on the road for another 500′. Soon, we reached the shorter high point and saw Big Lake, some Devils Lake, and eastern peaks. Meanwhile, thick clouds hover over the nearby mountains.
See more trip photos here.
Finding More Views
We went down to the spur road south of the towers and thought we would perhaps see more there. Sure enough, there we enjoyed the unobstructed views out to the west. So at least we saw something.
Just as I decided to stay a while longer, the rain came. Later came the unexpected flurries that continued for 10 minutes. Views of Puget Sound would've been much grander if it weren't for the poor weather.
See more trip photos here.
Outro
The rain stopped just as we were leaving. Later we drove past Little Mountain Park on the way to the freeway. Then I quickly turned the car around and pulled into the parking lot. We could use another short hike, I thought.
But as luck would have it, the rain decided to come back then.
See more trip photos here.