Chumstick Mountain has been on the backburner list. So to prepare for the next day's climb, the pup and I went up for a short conditioner. Last weekend we visited the Glory Slam in the Pasayten Wilderness.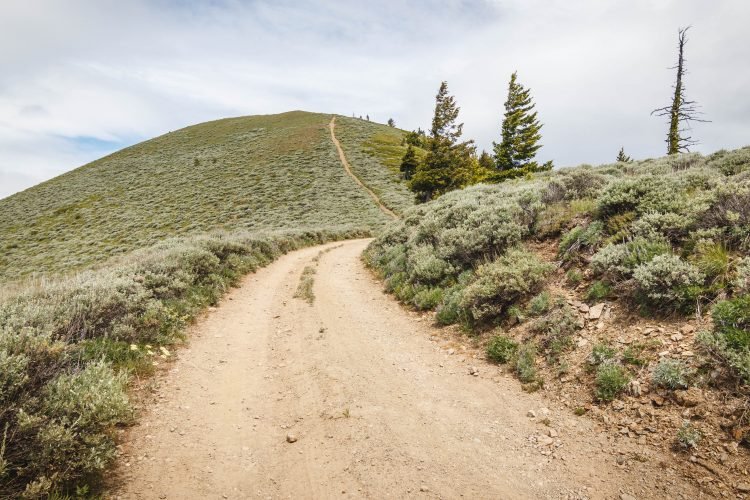 See more trip photos here.
Chumstick Mountain at a Glance
Access: Derby Canyon Road
Round-Trip: 2 miles
Elevation Range: 4950′-5810′
Gear: none
GPS Track: available
Dog-Friendly: yes
Derby Canyon Road
Just past the residential area, the lower parts of Derby Canyon Road were rough and rocky. But we drove slowly as the road wound its way through canyon ridges. Then the road conditions improved just past 3200′. We found many spur roads along the way. So it was good to have a map.
When snow isn't present, one can drive straight up to the top of the mountain. So that was the case today. But we needed at least some exercise. So I parked two miles down the road directly south of the summit. It was a tedious 13-mile drive.
See more trip photos here.
Chumstick Mountain Summit
There was a biking trail straight ahead from where I parked the car. So we took that instead of the road. Then with some road walk, we hiked one mile up to the top. A convoy of SUVs and jeeps was just leaving when we arrived. Soon, two bikers came up to the summit. Then I chatted with one of them.
Later, a dozen or so big cars drove up to the top. So pup and I left and hung out by the south ridge. The group stayed for only about 15 minutes before leaving. Then we went back up to the summit and enjoyed more quiet.
See more trip photos here.
Outro
It was a hazy day with some views to the west and the south. Low clouds had mostly obscured The Enchantments. After the hike, we went to Leavenworth and hung out for a bit. Then we drove to the next day's destination.