Chumstick Mountain in Entiat Mountains is an old heliograph lookout site with nearly 2000′ of prominence. On June 26, 1931, the newly finished 5600′ high road was the highest within Wenatchee National Forest. It soon became popular with sightseers and "spooners."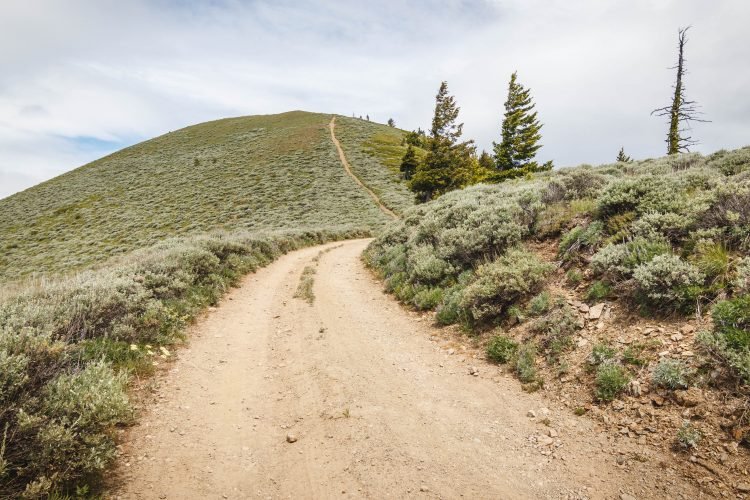 See more trip photos here.
Chumstick Mountain at a Glance
Access: Derby Canyon Road
Round-Trip: 2 miles
Elevation Range: 4950′-5810′
Gear: none
GPS Track: available
Dog-Friendly: yes
The Preface
Chumstick Mountain has been on the back burners because of the extended service roads. One can drive to the top without leaving their car. So it's long been an appeal to the public.
To prepare for the following day's climb, the pup and I went to the peak for a conditioner. In turn, it would allow me to cross it off my list finally. Apart from potential windfalls on the road, it'd be a direct drive.
See more trip photos here.
Derby Canyon Road
Lower Derby Canyon Road was rough past the residential area, So I drove slowly and wound through canyon ridges. Road conditions later improved past 3200′. En route were many spur roadways, so I kept my map in hand just in case.
Without snow, one can drive straight up to the mountain, as was the case today. But we needed some exercise, so I parked two miles from the top, directly south of the summit. The 13-mile drive was tedious.
See more trip photos here.
Chumstick Mountain Summit Views
Straight ahead from where I parked was a bike trail. So we hiked it to avoid the lower roadway. Then from the top of the path, we walked one mile on the road up to the summit.
A convoy of SUVs and jeeps was leaving when we arrived. Glad we could at least enjoy some quietness given the popularity of this place. Soon, two bikers came up, and I chatted with one of them.
See more trip photos here.
Outro
A dozen or so big cars came up later. But not before the pup and I left to hang out by the south ridge. But the group only stayed about 15 minutes, so we went back up and enjoyed more solitude.
It was a hazy day with some views to the west and the south. Low clouds had obscured The Enchantments to see anything. Afterward, we hung out in Leavenworth before going over to Salmon La Sac.
See more trip photos here.