Cashmere Mountain marked the last of the Bulger List. It was a six-year-long journey going after the 100 highest peaks of Washington. The difference between this list and the strict 400-foot prominence list is seven peaks.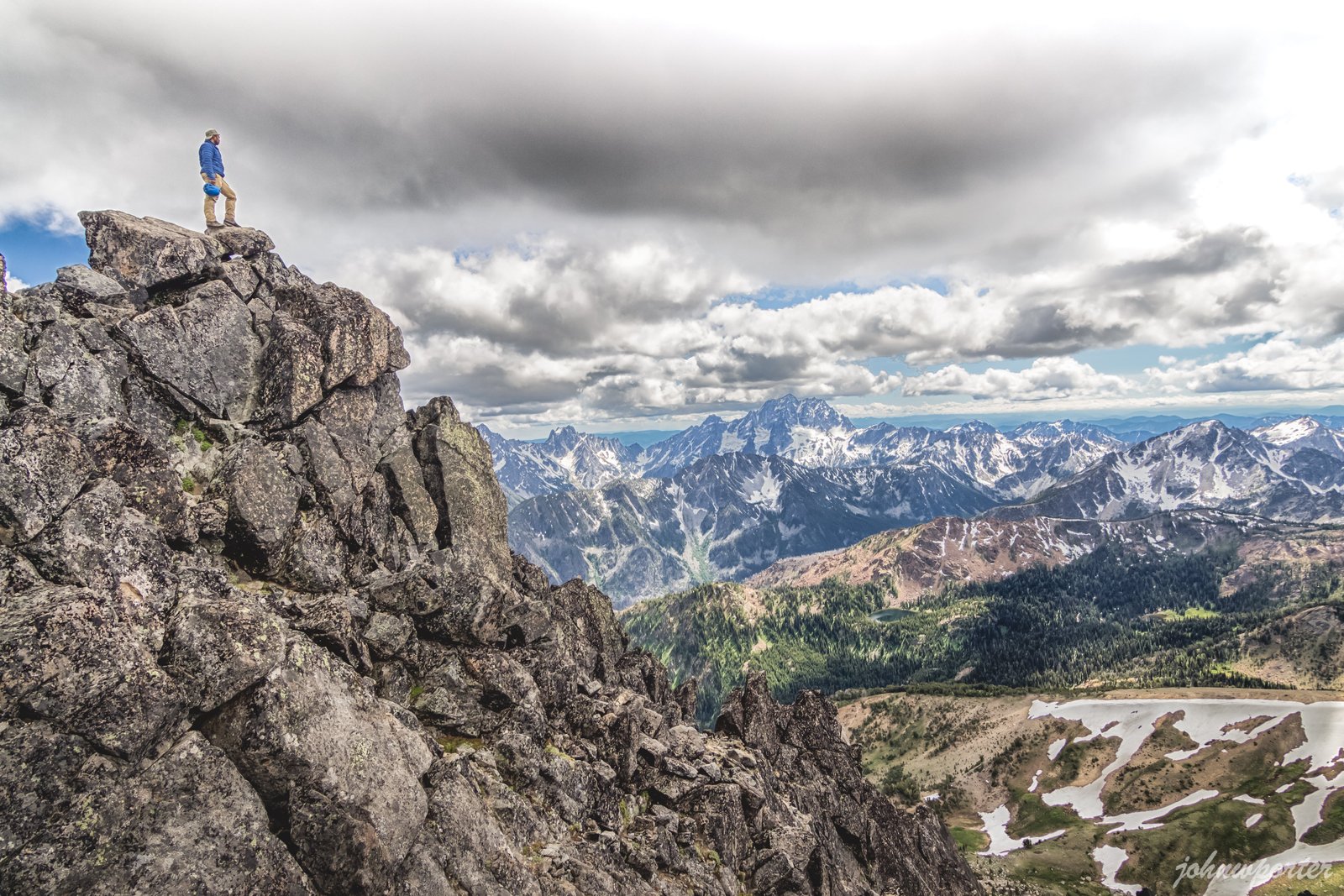 See more trip photos here.
Cashmere Mountain at a Glance
Access: Eightmile Creek Trailhead
Round Trip: TBD
Elevation Range: 3280′-8501′
Gear: helmet
GPS Track: availableDog-Friendly: no pets
Cashmere Mountain
Funny how things work out in life sometimes. I thought Cashmere Mountain was my first Bulger peak. But it ended up being the last. I first climbed the mountain in 2010. But back then, the weather was terrible, and the visibility was weak.
So, as a result, I ended up going up the west peak half a mile away. But I was happy to revisit the mountain. So I could finish on a high (but low-key) note.
See more trip photos here.
Bulger Peaks in The Enchantments
There are 10 Bulger peaks in The Enchantments. Seven of the 9 in the core zone stretch across the Stuart Range. But Cashmere Mountain is the only outlier in the Caroline zone.
Earlier this season, I planned a trip with friends to climb the mountain. I've always had suspicions that I never made it up the first time. But the weather didn't cooperate. So I canceled the outing the day before the trip began.
See more trip photos here.
The Bulger Journey
In retrospect, the times I shared with my two dear Labrador Retrievers were the most rewarding. I couldn't have thanked them enough for giving me the best years of their lives. They had accompanied me to places deep in the Cascades. Together, we shared many first and most memorable experiences.
Among those first experiences were our first camping trip and our first Bulger peak. There were also many learning moments. They included safety, route finding, and navigating through various terrain types. But there came a time when I had to leave them behind when climbs became technical.
See more trip photos here.
The Show Must Go On
The black pup ended his journey with us after our final backpacking trip in 2013. He underwent a TPLO surgery on the right knee. But the yellow dog continued with me on technical scrambles that didn't require a rope.
Our final Bulger trip together was climbing the Chelan Slam over the Fourth of July weekend. It was a group of peaks just west of Lake Chelan. At the time, I thought I was through with the list. But then I decided to revisit Cashmere Mountain. So I could set the record straight.
It was reassuring and rewarding to see the mountain in full view. So I was able to put a closure to this memorable chapter.
See more trip photos here.