Axis Peak marks the highest point on the unnamed, elongated ridge. It also stands between Eightmile Lake to the north and Lake Stuart on the south. The trip was my first time in the Lake Stuart area.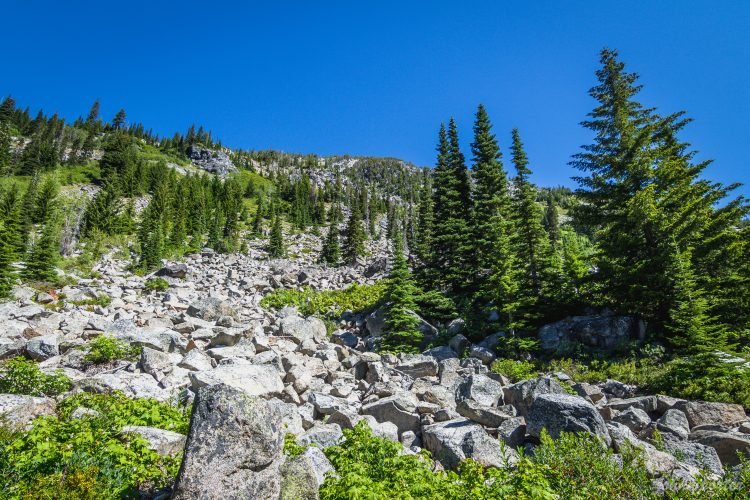 See more trip photos here.
Axis Peak at a Glance
Access: Lake Stuart Trailhead
Round Trip: 12 miles
Elevation Range: 3400′-7550′
Gear: helmet
GPS Track: available
Dog-Friendly: no pets
Lake Stuart Trail
It was surprising to see the Lake Stuart Trailhead parking mostly empty on a sunny summer day. But I shared the first part of the trail to the junction with a rowdy group of kids. They were on their way up to Colchuck Lake.
But later I was able to spend the rest of the hike up to Lake Stuart in peace. Along the way, I met a couple of hikers going to the lake. We chatted a bit by the water before I went on my merry way.
See more trip photos here.
Axis Peak South Route
From the lake, the way up to Axis Peak was straightforward. Later I reached the field mentioned in trip reports. It was on the right side after I got the first full view of the lake.
Later I hopped through boulders for the first 600′ until the heather appeared. Soon, the scree appeared, and the vegetation faded. Afterward, I reached the gully with loose rocks. So I stayed to the right to avoid possible rockfalls. It was also more comfortable to climb on smaller rocks.
See more trip photos here.
Summit with Views
Shrubs at the top of the gully spaced out enough to weave my way through. Then I walked on smaller rocks to avoid the brushy terrain. The final 100′ from top of the bushes up to the summit was sandy. So I made great use of the half-buried rocks to avoid sliding.
It was the closest I've seen the Stuart Range. So the range was much more impressive, and it dominated the southern skyline. Jack Ridge, Eightmile Mountain, and Cashmere Mountain comprised the bulk of the view to the northwest. I could also see Three Queens, Chimney Rock, Mountain Daniel to the far west.
See more trip photos here.
Outro
The ascent went much faster than I had anticipated. So I spent two hours at the top before going back down to the lake. Then I spent the rest of the hike out to the car on the trail alone.