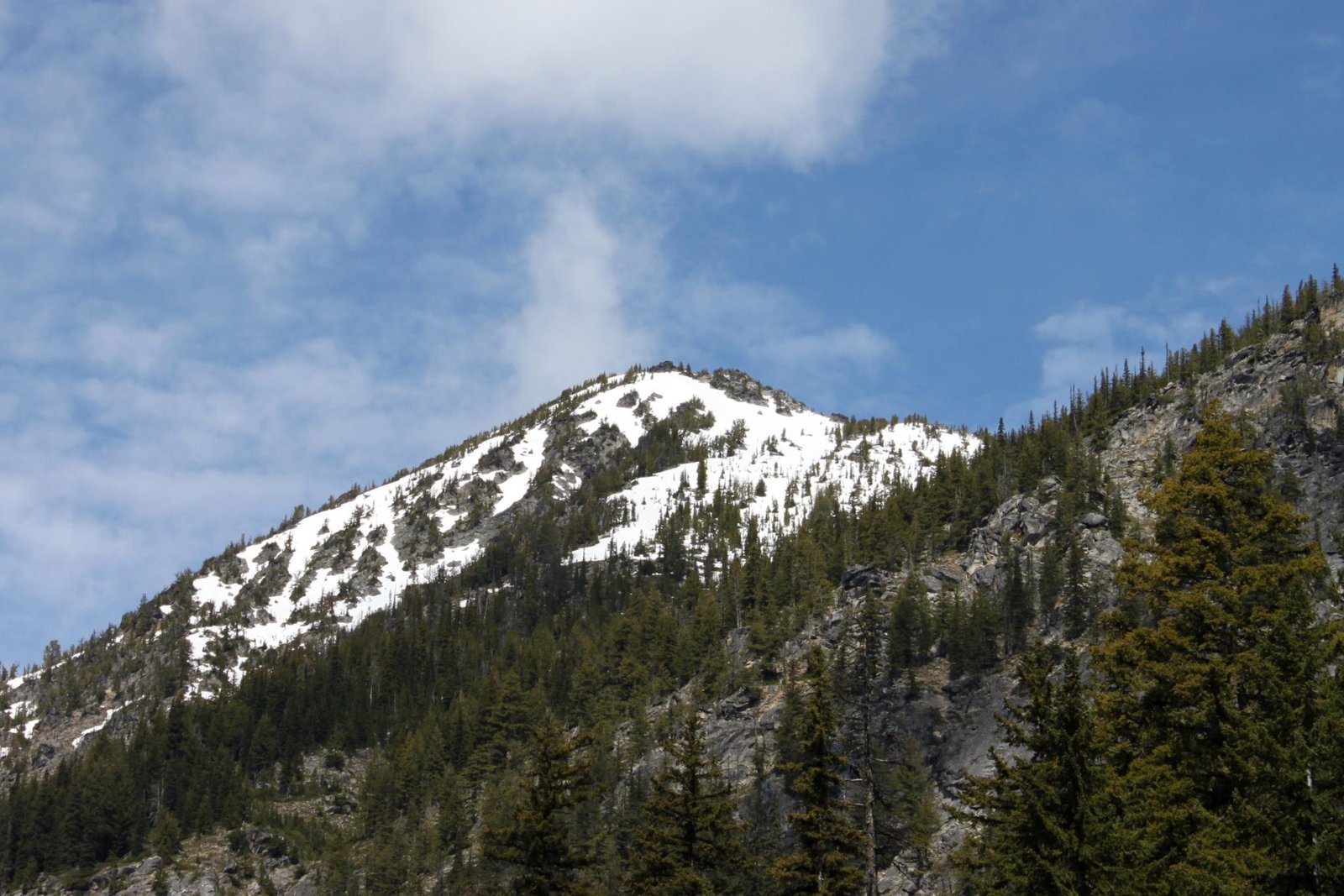 See more trip photos here.
The Lowdown on Eightmile Mountain
Access: Eightmile Creek Trailhead
Round Trip: TBD
Elevation Range: 3280′-7996′
Gear: helmet
GPS Track: available
Eightmile Lake Trail
The last time I was in the area, I went up to Cashmere Mountain. The day was cloudy, and there was no visibility at the top. This time the weather started out excellent, so I looked forward to seeing magnificent views. I arrived at the Eightmile Lake trailhead after nine and started hiking shortly.
Earlier, I saw two hikers at the trailhead. Then later I met a few groups of campers by Eightmile Lake, who came in the day before. It took me a while to get to the north end of the lake before I started climbing. I followed this detailed trip report carefully but somehow started the ascend too soon. I fought my way through thick alder bushes at the bottom of the avalanche chute after about an hour.
See more trip photos here.
Getting to the Southwest Ridge
Beyond the alder, a sea of down trees stopped me at my tracks. Past the logs was a talus field. I didn't want to posthole through the boulders, so I climbed through small rocks for much of the way. Then I hopped onto the snow below the meadow at 6400′. The snow was somewhat slushy but solid enough to go directly up the gully without issues.
The footpath left the party from days before was faint. So I ended up kicking steps and making my way toward the southwest ridgeline. By the time I got to the ridge, the Stuart Range behind Axis Peak had fully emerged. The timing couldn't have been any better. As I slowly made my way up to the summit, clouds began to move in from the north.
See more trip photos here.
Eightmile Mountain Summit Plus Outro
Once I got to the top, views to the east and the north were minimal. The scenery to the west and the south also wasn't great. I stayed an extra half hour on top hoping for the clouds to dissipate, but that never happened. It wasn't until I started heading back down, halfway down the gully when the clouds eventually dissipated.
It's another beautiful day with another fun climb.
See more trip photos here.