Dandy Peak is right by Stampede Pass south of Snoqualmie Pass. I had also wanted to check it out when we went up Dandy Mountain. But back then, the snowmobiles throughout made it unappealing.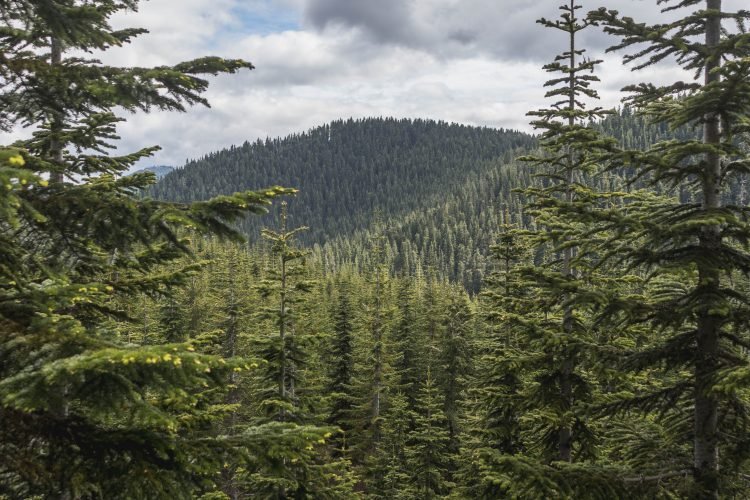 See more trip photos here.
Dandy Mountain at a Glance
Access: Stampede Pass
Round Trip: 5 miles
Elevation Range: 3660′-4400′
Gear: microspikes
GPS Track: available
Dog-Friendly: yes
Chinook Pass to Dandy Peak
We haven't made it down to the South Cascades this year. So after yesterday's trip, this morning, we drove down to Chinook Pass. I had hoped to snowshoe somewhere. But then we turned around after meeting persistent morning clouds and flurries.
Then we drove two hours up to Stampede Pass. NF-54 was decent until past the Palouse to Cascades State Park Trail. There a ton of potholes strewed the road up to Mosquito Creek. Soon, the roadway improved as we slowly gained altitude.
See more trip photos here.
Dandy Peak via Pacific Crest Trail (PCT)
Three other vehicles were at the pass when we reached the PCT trailhead. It began to drizzle just as we started walking. But glad it didn't rain for very long. Even if it did, the trees would still keep us from getting too wet.
The trail weaved in and out of Kittitas and King Counties. Meanwhile, we enjoyed some trailside views. At 4500′, we then went out into the clearing. From there, we saw today's goal across Sunday Creek. It looked woodsy, so I didn't expect to see anything on top.
See more trip photos here.
Road Walk Plus a Short Scramble
Later we reached the four-way junction just past the county line. Then we left the PCT and hiked south on an unnamed road. The roadway still had snow from being in the shade. So I used microspikes for traction. Soon, the path cleared just cleared below the ridge bump.
The views widened at the road's end. Then Dandy Peak was just another half a mile away. Shortly, we entered the forest and made our way south. A faint trail led us through the east of the crest and bypassed down trees on the ridge. But the path was hard to follow at times.
See more trip photos here.
Dandy Peak Summit
The high point was on the southeasternmost end of the summit ridge. But to my surprise, the south side was mostly free of trees! The viewpoint farther down on the ridgeline had better views. So we spent the bulk of our time there.
Mount Rainier would have been behind Kelly Butte had it not been for the heavy clouds. Oh well, another time! There were also views of Snowshoe Butte and Snaggle Tree Peak south of Sunday Creek. The powerline clearcut ran parallel to the water.
See more trip photos here.
Outro
I thought about going over to Little Muffin on the way back. But the weather looked like it could worsen at any moment. So I ditched the idea, and then we stayed a while longer on this summit.
Later as we walked down the road, the loud noise of cowbells caught my attention. It ended up being another hiker with their pup right across the basin. Hmm, I should get those loud bells for my dogs also.
See more trip photos here.