Instead of going through old trips, I found myself packing for Bullion Basin. Because of the snow, I haven't been able to access many service roads this month. But yesterday, we found a place not far from Highway 2.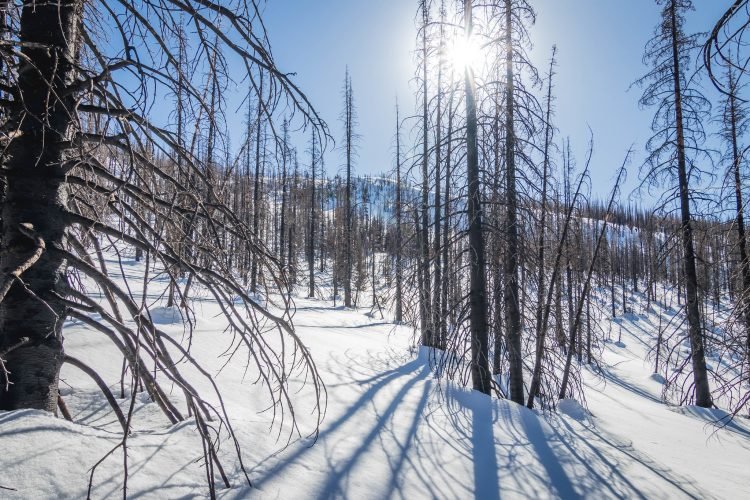 See more trip photos here.
Environs = Point 6760 + East Peak + Platinum Peak + Bullion Peak + Crown Point
周圍地區=6760高點+東峯+白金峯+金塊峯+皇冠點
Bullion Basin at a Glance
Access: Bullion Basin Trailhead
Round Trip: 7 miles
Elevation Range: 4320′-6760′
Gear: snowshoes
GPS Track: available
Dog-Friendly: yes
Bullion Basin Trail
Our late departure ended up taking longer to come to Crystal Mountain Resort. Then I parked in Lot C to be away from the other cars. So we could also be closer to East Peak.
I put on snowshoes at the trailhead. Then we followed old ski tracks into the forest. Glad we could make use of the trails. Otherwise, snowshoeing wouldn't have been as enjoyable.
See more trip photos here.
Western Slopes
Skiers tend to make long switchbacks. At times, it made more sense to go straight uphill on moderate terrain. But today, I was more than happy to use the existing trails.
We continued to be at the mercy of the soft snow. For the most part, skiers avoided avalanche terrain by weaving through the forest. Soon, Mount Rainier was visible once we went above the trees.
See more trip photos here.
Going up to the Ridge
The ski tracks were going farther away from East Peak. But I wasn't too concerned. Once we went up on the ridge, we would be able to move much faster.
Soon, ski tracks brought us up on the north ridge of an unnamed high point (6760). It's south of Scout Pass. I wondered why the peak didn't have a name. It was 100′ higher than East Peak!
See more trip photos here.
Onward to East Peak
Somehow, I thought we were on East Pea the entire time we were up here. But then the map indicated otherwise. We spent an hour soaking in the views, including Norse Peak. Then we made our way south.
The great thing about the ridge traverse was not gaining a whole lot of elevation between high points. We also didn't drop much of it either. Later, we made a brief stop on the real East Peak before continuing.
See more trip photos here.
Platinum Peak Summit
Just as I expected, lots of ski activities to place in the two basins to the east. The various ski track patterns strewing the slopes were hypnotizing. Before long, we were on top of Platinum Peak.
I checked out the forested Bullion Basin to the west. Perhaps the coolest thing we found on this trip was the cross marking this summit. But we didn't stay long here before leaving for Bullion Peak.
See more trip photos here.
Onward to Bullion Peak
I had read about Bullion Basin in my snowshoe book years ago. But I never looked into in it until now. For some reason, I thought this area was only open during the ski season.
The rolling ridge traverse was quite pleasant. The views on both sides. Later, we dropped down to the saddle between Platinum Peak and Bullion Peak. But it felt steep all of a sudden!
See more trip photos here.
Bullion Peak Summit Above Bullion Basin
Oddly enough. With all the ski activities in the area, the ridge between Platinum Peak and Bullion Peak remained untouched. So the 300′ climb from the saddle on soft snow felt like the longest.
It took us on average half an hour going from peak to peak. There were lots of ski and snowshoe tracks on this summit. Bullion Peak surely was the happening place today!
See more trip photos here.
Going Over to Crown Point
We took another quick break at this summit. Then we moved toward our fifth and final goal of the day–Crown Point. The ridge traverse was under half a mile. So it went by in the blink of an eye.
Here we had a closer look toward Mount Adams and the Goat Rocks Wilderness area. Crystal Mountain and Mount Rainier both also looked much more intimate. We spent most of our time hanging out on this summit.
See more trip photos here.
Outro
On the way back, we went back through the ridge. Then we bypassed Bullion Peak from the west on a trail. From the northwest ridge, we dropped directly into Bullion Basin. It looked to have most people came here today.
Later, we followed one of the several snowshoe paths down to 5000′. Then we left the trail by the switchback. Before lon, we found our tracks back in the forest and. Then we meandered out the way we came.
See more trip photos here.