The pup and I had a great trip last weekend. Then we used the rest of the Fourth of July week checking out the Diamond Slam. It was in the same region as the 2017 Diamond Creek Fire. The last time we were in the area, we went climbing The Craggies.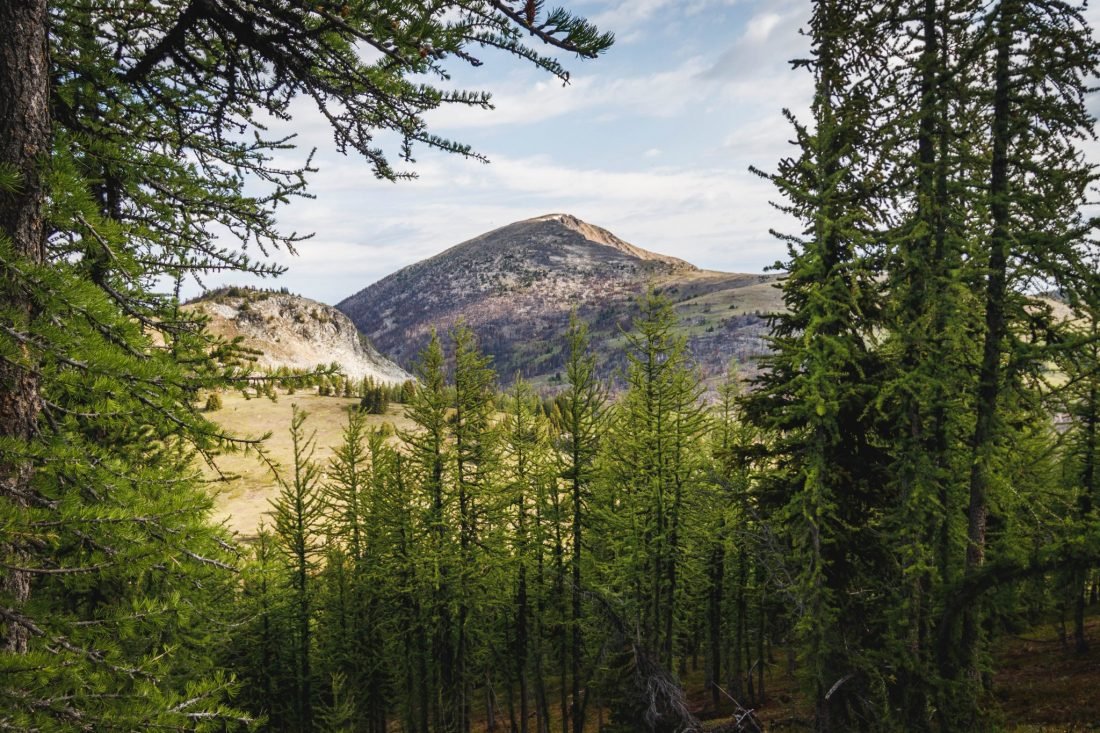 See more trip photos here.
See this post for Sheep Mountain by the Mountain Loop Highway.
Diamond Slam at a Glance
Diamond Slam = Fool Hen Southeast + Fool Hen Mountain + Bauble Butte + Skeptical Butte + Sheep Mountain 8274 + Two Point Mountain
Environs = Foxy Peak + Diamond Point + Corral Peak + Gabril Point + Sand Ridge + Ashnola Mountain
鑽石滿貫=東南樅樹雞山+樅樹雞山+巴勃孤峯+多疑孤峯+綿羊山8274+兩頭山
周圍地區=法克西峯+鑽石點+克拉爾峯+加百利點+砂土脊+艾希諾拉山
Access: Billy Goat Trailhead
Round Trip: TBD
Elevation Range: 3800′-8274′
Gear: helmet
GPS Track: not available
Dog-Friendly: with guidance
Logistics Overview
July 4-7, 2019
Overview > Day 1 > Day 2 > Day 3 > Day 4
Day 1 – Wednesday, July 4
Fool Hen Southeast + Fool Hen Mountain
Night 1 – Fox Lakes
Day 2 – Thursday, July 5
Foxy Peak + Diamond Point + Bauble Butte + Skeptical Butte + Corral Peak
Night 2 – McCall Gulch
Day 3 – Friday, July 6
Sheep Mountain 8274 + Gabril Point + Sand Ridge
Night 3 – McCall Gulch
Day 4 – Saturday, July 7
Ashnola Mountain + Two Point Mountain
Exit via Dollar Watch Pass and Three Fools Pass
---
Day 1
Fool Hen Southeast + Fool Hen Mountain
Overview > Day 1 > Day 2 > Day 3 > Day 4
Happy Fourth of July
I contacted Methow Valley ranger station a month ago. .They said that the road was still open. But the night before the trip, we drove up to a closed gate before the Eightmile Creek bridge. So without a sound backup plan, we bit the bullet and walked the four miles up to the hikers' trailhead.
I have also planned another outing later this summer. So I hope the road will be open then.
See more trip photos here.
Fool Hen Southeast of Diamond Slam
Forest Service had cleared down trees from Billy Goat Trail recently. So the path up to Billy Goat Pass and down the other side was decent. Then we went east on Trail #532 at the first junction. The mostly brushy and somewhat visible trail south of Drake Creek was hard to follow. Tree blazes and a few cairns helped guide our way to the creek crossing. Soon, the trail disappeared.
We continued to travel east from the north of the creek. At the same time, we moved in the direction of the nonexistent trail on my map. Later, we left the boggy basin at 6200′ and went up the scree slopes. Then we went up to the 7240′ saddle between Fool Hen Southeast and Little Fool Hen Mountain. Following the rocky south ridge for another 800′, and at last, we were on our first summit.
See more trip photos here.
Fool Hen Mountain of Diamond Slam
After an extended break soaking in the views, we began crossing the ridge over to Fool Hen Mountain. In my mind, I knew we also wouldn't find the map trail up here. So we stayed on or west of the crest. At the same time, we avoided several ridge bumps. There were lots of loose rocks from Point 8062 to Fool Hen Mountain. So we moved through the east of the ridgeline up to the top.
Similarly, Fool Hen Mountain boasted a broad summit like Fool Hen Southeast. We celebrated the holiday with a few small flags. Then we enjoyed the evening views. Fool Hen Lake looked inviting. But I didn't feel like climbing out of the basin in the morning. On the other hand, Upper Fox Lake made for a better option. It's also on our way to the other goals.
See more trip photos here.
Day 2
Foxy Peak + Diamond Point + Bauble Butte + Skeptical Butte + Corral Peak

Overview > Day 1 > Day 2 > Day 3 > Day 4
See more trip photos here.
Side Trip to Foxy Peak
Morning came way too soon as we slowly rolled out of the tent by the lake. But I felt sleep-deprived from the constant croaking sounds of frogs in the night. We walked around the crystal clear lake to the outlet for running water. Later, we ate breakfast under the blazing morning sun. Then we were off to today's first goal: Foxy Peak.
Before long, we were walking up the fire-scorched west slopes to the summit north of Upper Fox Lake. There were more dramatic views of the neighboring peaks from this short-statured summit. Devastation from last year's fire in the Diamond Creek Basin was evident. Then we left before the mosquitoes could suck more blood out of us. Next stop, Diamond Point.
See more trip photos here.
Side Trip to Diamond Point
Foxy Peak shared a saddle with Diamond Point. So after dropping 400′ on the north ridge, the Diamond Point summit was just another 800′ away. There seemed to be the foundation of an old structure on top. Perhaps the remnants of another decommissioned lookout tower.
From the top, we looked into the Ashnola River Valley. Ashnola Pass and Fawn Lake sat beneath Diamond Point's steep north face. This summit was also a vantage point to see Diamond Creek winding its way into the Lost River Valley. Next, we were off to our third goal of the day: Bauble Butte, aka Zirconium Peak.
See more trip photos here.
Skeptical Butte of Diamond Slam
Bauble Butte's long-running south ridgeline looked impressive from Diamond Point. But we bypassed the ridge and went onto the southern slopes for a leisure walk up to the top. The two points on this broad summit looked to be the same height. But for a better look at the Ashnola River Valley, we stopped on the northern tip. Diamond Point's north face looked impressive.
In need of water, we dropped into the lush basin between Bauble Butte and Point 7931. Vegetation there stayed intact. Then we transitioned back into the burned forest on Trail #532. We went down to Diamond Pass (unofficial) at 6920′ between Point 7931 and Skeptical Butte. After stashing gear, we went south and up Skeptical Butte's east ridge. Then we finished the climb on class 2 terrain.
See more trip photos here.
Bauble Butte of Diamond Slam
The flat, broad summit ridge with expansive views felt like the set of The Sound of Music. We enjoyed a short and breezy stay. Then we walked back down to the pass. Later, we went through the burned forest on the hard-to-follow Trail #532. But the strategically placed cairns guided our way.
Soon, we lost the trail entirely after going down to 6700′. Then we found the path again right before crossing Diamond Creek. Trail #532 ended at the Billy Goat Trail (#502) junction in the Larch Creek Basin. Later, we enjoyed a leisurely walk up to Larch Pass. The occasional down trees didn't pose any issues.
See more trip photos here.
Side Trip to Corral Peak
We still had much daylight left. So I made Corral Peak our last stop today. Then we would go into McCall Gulch. From Larch Pass, we went up the southwest ridge and got to the top 1.5 hours before sunset. What excellent views in the evening colors! This high point gave the contrast between the burnt areas and the lush McCall Gulch.
Despite the rugged-looking north ridge, it was straightforward. Corral Lake seemed inviting. But again, I didn't want to climb out of the lake basin in the morning. Soon, we avoided the outcrops from the west. Then we went up to Point 7918. The vast landscape reminded me of our Boundary Slam trip last year.
See more trip photos here.
Camping in McCall Gulch
We spent some time looking for a water source. At last, we settled on a campsite at 7200′. It came with excellent views to the south. There were even a tiny stream and a lone tree nearby to hang our food. I saw a couple of deer nearby as I set up camp. But they wondered off right after seeing the pup beside me.
We turned in shortly after dinner. So we could rest for a long day ahead. It was a starry night.
See more trip photos here.
Day 3
Sheep Mountain 8274 + Gabril Point + Sand Ridge
Overview > Day 1 > Day 2 > Day 3 > Day 4
See more trip photos here.
An Exciting Day Ahead
Once again, the morning came way too soon. We were also too lazy to go out of the tent. But it was exciting to see Sheep Mountain. It was our eighth and farthest goal up by the Canadian border. But the international crop line never ceased to amaze me. My GPS wouldn't turn on this morning, damn batteries. This part of Billy Goat Trail was in excellent condition. The path continued through to McCall Gulch Pass along Timber Wolf Creek Basin.
Along the way, we bypassed several down trees. Then we continued through more burned forest east of Point 7365. We also saw lots of prairie dogs (gophers?) along the way. Billy Goat Trail ended on the pass at the junction with the Boundary Trail (#533) and Park Pass Trail (#506). The old Diamond Creek Fire closures sign was still hanging on one of the few live trees.
See more trip photos here.
Getting up to Sheep Mountain
We passed through the first 200′ elevation of burned vegetation. Then we hiked over the grassland to Sheep Mountain's east saddle. From there, we got our first look at the calm Sheep Lake 300′ below. We also got a closer look at the mountain's steep east face. There were still a few leftover snow patches.
A large boulder field covered the entire south slopes. Then we began the most fun part of the climb that lasted for 400′: boulder hopping! Beyond the rocks was a mixture of small stones and grass that guided us up through the east rim. We continued to look down at Sheep Lake from various angles.

See more trip photos here.
Sheep Mountain of Diamond Slam
The high points we visited in the last three days all had one thing in common: a broad summit. It took time to walk from one end to another. At the same time, I was trying to get decent photos. The pup enjoyed a one-hour nap on top while I enjoyed the views of our neighbor to the north.
Hard to believe we had come all this way from Billy Goat Trailhead. Without any of the side trips, one-way distance from the trailhead would've only been 20 miles. That's still a lot of mileage to get atop a mountain if you asked me. Although McCall Gulch now looked miles away, there was plenty of daylight to go back and climb something else.
See more trip photos here.
Side Trip to Gabril Point
After spending an hour on top, we then retraced our steps back to Billy Goat Trail. Before reaching McCall Gulch Pass, we took a detour to Gabril Point (aka Timber Wolf Mountain) via the south. The mountain looked far from the trail, but it didn't take long to get up onto the broad summit. We walked across the top and then took a break on the north edge.
We didn't stay long on this mountain because I forgot to pack an extra camera battery for the trip. I was hoping to make the one in use last until the end of the day. This mountain was another high point with a great view of Sheep Mountain from where we just came. Half-hour hiking down the ridge and we were back on the pass looking into McCall Gulch.
See more trip photos here.

Side Trip to Sand Ridge
I knew we had enough daylight left to go up to Sand Ridge. But I wasn't so sure about including Ashnola Mountain in one trip. We took a power nap above the pass and then started going up. It took a lot less time than anticipated to reach the top; we enjoyed a half-hour break atop the elongated summit.
Just when I thought we still had time to climb Ashnola, rain clouds on the southwest horizon slowly crept in. I decided it wasn't worth all that effort to get to the mountain and risk of stuck in a downpour. Sure enough, it drizzled just as we headed back to camp. Then the rain came down hard just as we quickly got into the tent!
See more trip photos here.
Day 4
Ashnola Mountain + Two Point Mountain
Overview > Day 1 > Day 2 > Day 3 > Day 4
See more trip photos here.
Last Day in McCall Gulch
The rain stopped right before 6 AM on our last day. And the sunshine seeped through clouds with promising weather ahead. While letting the tent to dry, I decided that we could squeeze in Ashnola before leaving McCall Gulch. So we did.
Other than deer, squirrels, and prairie dogs, we didn't see anyone on this trip. People were smart not to set foot inside an area that just went through wildfires a year ago. If I were also smart, I'd at least wait until the trail was clear of most down trees. We got more workout from getting around down trees than hauling gear from one place to another.
See more trip photos here.
Side Trip to Ashnola Mountain
It didn't take long before we went up to Whistler Pass and peeked into the luscious Whistler Basin. The majority of the basin looked to have escaped the destructive wildfire south of Ashnola Mountain. From the mostly flat east ridge, it was a simple walk up to the summit. A dip in the ridgeline required descending 150′ before finishing the climb to the top.
It's never easy to describe what it's like out here unless people make the long trek to experience for themselves. Expansive views, rolling hills, and the solitude were only a few perks that came with being in this remote location. The terrain here was very much like the area in the northeastern corner of the wilderness.
See more trip photos here.
Final Moments in McCall Gulch
Not all of the summit we visited came with a register; this one happened to have one placed by Fay Pullen. After an extended stay, we started hiking back to camp. It had been mostly sunny all morning, so the tent should be dry by now. The pup had seen plenty of wildlife on this trip, even the seemingly ubiquitous prairie dogs no longer fazed him.
My backpack felt a lot lighter now that I've eaten most of my food. I had to carry out most of the pup's dry food since he doesn't get as hungry while backpacking. Hard to leave this gulch after two nights of stay, hands down one of the best camp spots. Great view out to East Fork Pasayten River just before getting back on Larch Pass.
See more trip photos here.
Two Point Mountain of Diamond Slam
I had planned on stashing gear on Larch Pass and hike out via Billy Goat Trail after Two Point Mountain. But since we came up through that stretch of Billy Goat Trail, I decided to do one last carry-over. We would, in turn, exit via the mountain's south ridge down to Dollar Watch Pass for the different scenery.
Two Point Mountain summit looked intimidating from Point 7759, but less so as we got closer to the case. Lots of big boulders and slabs on the east ridge with a scree gully finish just below the summit. Another excellent high point with great views, and we stayed for a long time before getting off the mountain.
See more trip photos here.
Outro
Dollar Watch Trail (#451) was good until we crossed Tony Creek into another burned area. Then it was down trees to where the trail got around the south ridge of Point 6588. Down trees were not much of an issue if going downhill.
Only a handful of down trees to negotiate from the Larch Creek crossing to the junction with Billy Goat Trail. The trail was generally good until we got closer to Diamond Creek Basin, where Diamond Creek Fire took place. The fire devastated the area so much that even crossing Diamond Creek was a chore. A good portion of the trail had disappeared.
See more trip photos here.
Fighting the Good Fight
Getting around the Diamond Creek area wasn't as fun. Most fallen trees strategically placed themselves at a height where it wasn't comfortable to step over or crawl underneath. Occasionally, we were able to leap over down trees. But then we hopped off only to find more trees in the next section of trail.
The saga lasted to Three Fools Pass where down trees finally dwindled, hooray! But the tree-free trail only continued to the junction with Drake Creek Trail (#502A), north of Drake Creek. Just when I thought we had left the worst of the down trees behind.
See more trip photos here.
The Agonizing Exit
For the next mile to the junction with Trail #532 south of Drake was by far worst of the worst! By taking Trail #532 on the way in, we missed the best part of Billy Goat Trail. Going up moderate terrain wouldn't be so bad if it weren't for the large section of the trenched trail.
As if that wasn't enough fun. Most trees across the trail with fanning branches welcomed us as we fought through them. We scrambled through most of this section; it wasn't worth spending more time to try and stay on the trail. I forgot to document this part of the experience with photos due to exhaustion. At the same time, an army full of mosquitoes came out of nowhere and began to feast.

See more trip photos here.
Bowing Out
When we finally arrived at the junction with Trail #532, I had to stop and process what had just happened. If it weren't for the love of views, I swear. Mosquitoes followed us up to Billy Goat Pass, but at least there were no more down trees to get through.
I realized something else just as we approached the hikers' trailhead on the way down. I had entirely forgotten about the four-mile road walk back to the car.