Today was the only sunny day this week. So on the spur of the moment, the pup and I went up to Flag Mountain. This insignificant high point is right outside the small community of Liberty. But the views on the summit were anything but nominal.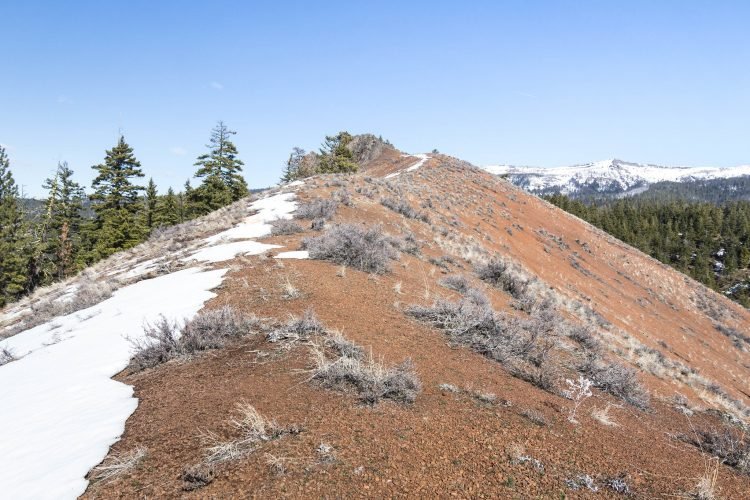 See more trip photos here.
Flag Mountain at a Glance
Access: NF-111
Round Trip: TBD
Elevation Range: 2800′-3834′
Gear: none
GPS Track: available
Dog-Friendly: yes
Afternoon Climb
One thing I get nervous about going to a place like Liberty. The private versus the state-owned property that can be vague at times. I usually look for signage or fences around specific areas. But I have accidentally crossed boundaries in the past. Land ownership changes often. So maps don't always show the latest info.
I drove past the central part of town and made sure not to go on private streets. Then I turned onto the muddy NF-111. Afterward, I parked the car before the "private property" sign. After crossing the road, we then went up the brushy slopes while traveling northeast.
See more trip photos here.
Flag Mountain Summit
We first went up to the southwest ridge. Then the rest of the climb was straightforward. It ended up being a moderate ridge walk up to the summit. So we were able to stay on the crest the entire time and crossed NF-117 once.
We took a short break on top. Then we continued east on NF-123 over snow patches. Full snow soon began at the junction with NF-116. The road became slushy in the late afternoon. But it wouldn't be long before all the snow melted.
See more trip photos here.
Outro
We barely went up to Snowshoe Ridge. Then I decided to turn around and to go back up to the Flag Mountain summit. So I could make use of the remaining daylight to savor the views.
The summit was windy. But we were able to enjoy views of Table Mountain and Lion Rock to the east. Plus, Stuart Range and Teanaway peaks to the north. I could also see the top of Mount Rainier in the south, as well as Liberty by our feet.
See more trip photos here.