We went up to Anderson Mountain last week. So this weekend, we sought out Guemes Mountain in the rain shadow. I had hoped to avoid bad weather with this outing as well.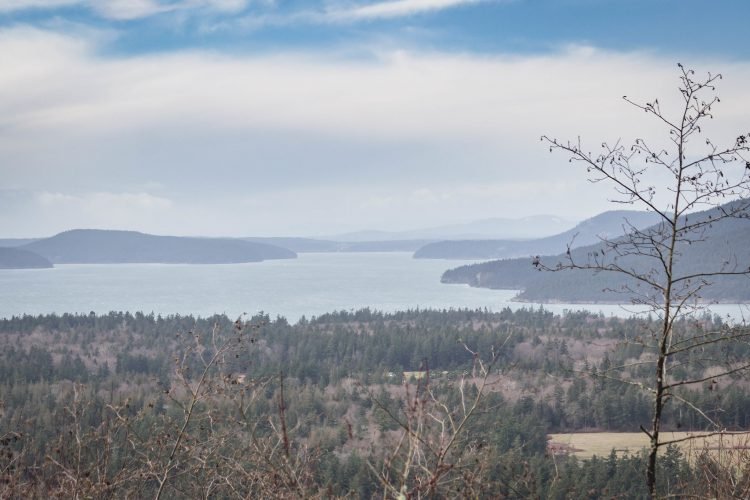 See more trip photos here.
Guemes Mountain at a Glance
Access: Guemes Mountain Trailhead
Round Trip: TBD
Elevation Range: 80′-688′
Gear: none
GPS Track: available
Dog-Friendly: yes
Guemes Island
Guemes Island was just a stone's throw away from the mainland. It was also a five-minute ferry ride from Anacortes. There was a high chance of rain in the forecast. So the plan was not so much to chase the sun. But to find a place with the least rain.
In the past, I had seen the island from Oyster Dome on several occasions. We have been spending most of our time in the Cascades and out east. So it was surprising to find this hideaway gem. The fact that it's open to the public was the icing on the cake.
See more trip photos here.
Guemes Mountain Summit
Later we got off the ferry on the other side. Then a two-mile drive east along the southern shore brought us to the trailhead. Views in the forest were spotty. But the sun had been out for a while, so we were in for great weather. The overlook at 450′ provided views to the flat land below, with Cypress Island in the background.
It was only a one-mile walk up to the top. So it didn't take much time. A couple with two pups left the summit just as we arrived. All of us agreed to have lucked out on beautiful weather despite the weather forecast. We enjoyed an extended break on top while savoring views of the other islands.
See more trip photos here.
Outro
On the way down, I opted to take the south trail. So we could make a loop out of the trip. Soon, the path turned into an old road. Then we approached the interesting "Rainbarn" next to the radio facility. There we got a look at the cloud-capped mountains to the east. Later the roadway joined Holiday Boulevard.
From there, we hiked west and then down to South Shore Road. Then we walked north for under half a mile. Later we arrived back to the trailhead with one other car behind us. It was only 1 PM with much time to spare. So we drove through the quiet island on the main roads and went back to the ferry dock.
See more trip photos here.