I wanted to make the 2.5-hour drive to Teanaway worthwhile. So we stayed east of the mountains after yesterday's trip to Teanaway. Then today, the pups and I went up to Stormy Mountain.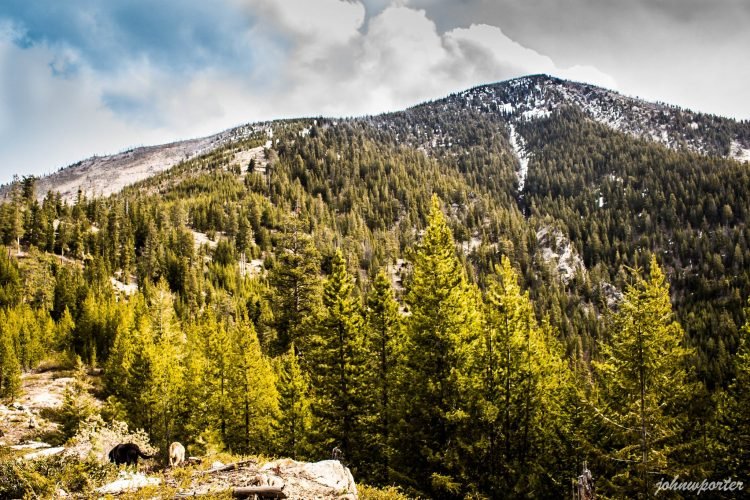 See more trip photos here.
Access: NF-5501
Round Trip: TBD
Elevation Range: 3360′-7198′
Gear: none
GPS Track: available
Dog-Friendly: yes
Driving to the Starting Point
I went through reports in the Leavenworth and Wenatchee area. Then we set off to Entiat River Valley for the better weather. The pups and I slept in the car. We were before the Entiat River Road/NF-55 junction. So we could get an early start.
The southwest ridge looked like the most logical place to start. I also remember seeing that route in a report I read. So I drove up the long roadway to 3360′. Then I parked by the road bend around the ridge, and we started hiking.
See more trip photos here.
Stormy Mountain Southwest Ridge
After a couple hundred through of going through short shrubs, I saw a faint path. So I decided that we would follow it. The trail seemed to be going up the ridge. So that was precisely the way we were going.
It was interesting to see many old service roads now under new growth. But none of them were on my map. We went through several brushy areas along the ridge. But we managed to find ways to avoid them. So we didn't need to fight thickets on this trip.
The Final Stretch
The elevation gain was gradual. But there was steeper terrain in two places, from 4600′ to 5000′ and 5600′ to 6400′. Snow showed up at 6000′. But it was firm.
Later we went up on the northwest ridge at 6600′. Glad I left my snowshoes in the car. I didn't even use my microspikes.
See more trip photos here.
Stormy Mountain Summit Plus Outro
Clouds stayed high, so we had reasonably decent views. Mountains over by Glacier Peak were less visible because of low clouds. They moved in and out of the area.
After an extended break at the top, we then went down the mountain using our route.
See more trip photos here.