Last week on Stormy Mountain, I had thought about continuing to Baldy Mountain. But the weather and the snow conditions over the ridge weren't ideal. So I decided to come back another time.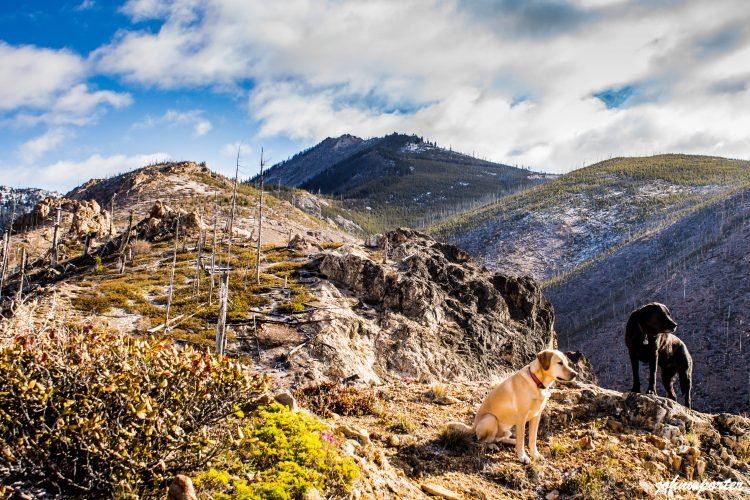 See more trip photos here.
For Baldy Mountain in the Lake Chelan-Sawtooth Wilderness, check out this post.
Baldy Mountain at a Glance
Access: NF-310 end of the road
Round Trip: TBD
Elevation Range: 4000′-6421′
Gear: none
GPS Track: available
Dog-Friendly: yes
Driving to the Trailhead
I drove near the end of North Potato Creek Road (NF-310). Then I parked the car at the bottom of the ridge. The route was mostly visible from the parking area. It stayed on the ridge mostly. The weather was sunny and warm when we started hiking.
At first, the ridge traverse looked rather innocent. But that was before the massive down trees overtook the area. At 4600′ was a short section of short brush plus windfalls. Then the number of thickets decreased past this section. But then at 5000′, the taller shrubs took over.
See more trip photos here.
Baldy Mountain Southwest Ridge
We stayed just east of the ridgeline whenever possible. So we could bypass areas with the most down trees and thick forest. It was steeper west of the ridge. So it was virtually impossible to go through the number of down trees there.
Our battle with the brush and down trees continued through to 6000′. Then the snow took over. From there we went around big rocks to reach the summit block. But to get up to the top, we needed to go around to the north first. Then we relied on snow to go up the final 50 feet.
See more trip photos here.
Bald Mountain Summit Plus Outro
The weather turned worse right before we went up to the summit. Then we did not get another break in the clouds until half an hour later. It was windy on top. But when the sun came out later to offset the wind chill, it felt a lot better.
There were no views of the west because of the bad weather. So I didn't get the opportunity to see the big mountains in that direction. Later, we followed
See more trip photos here.