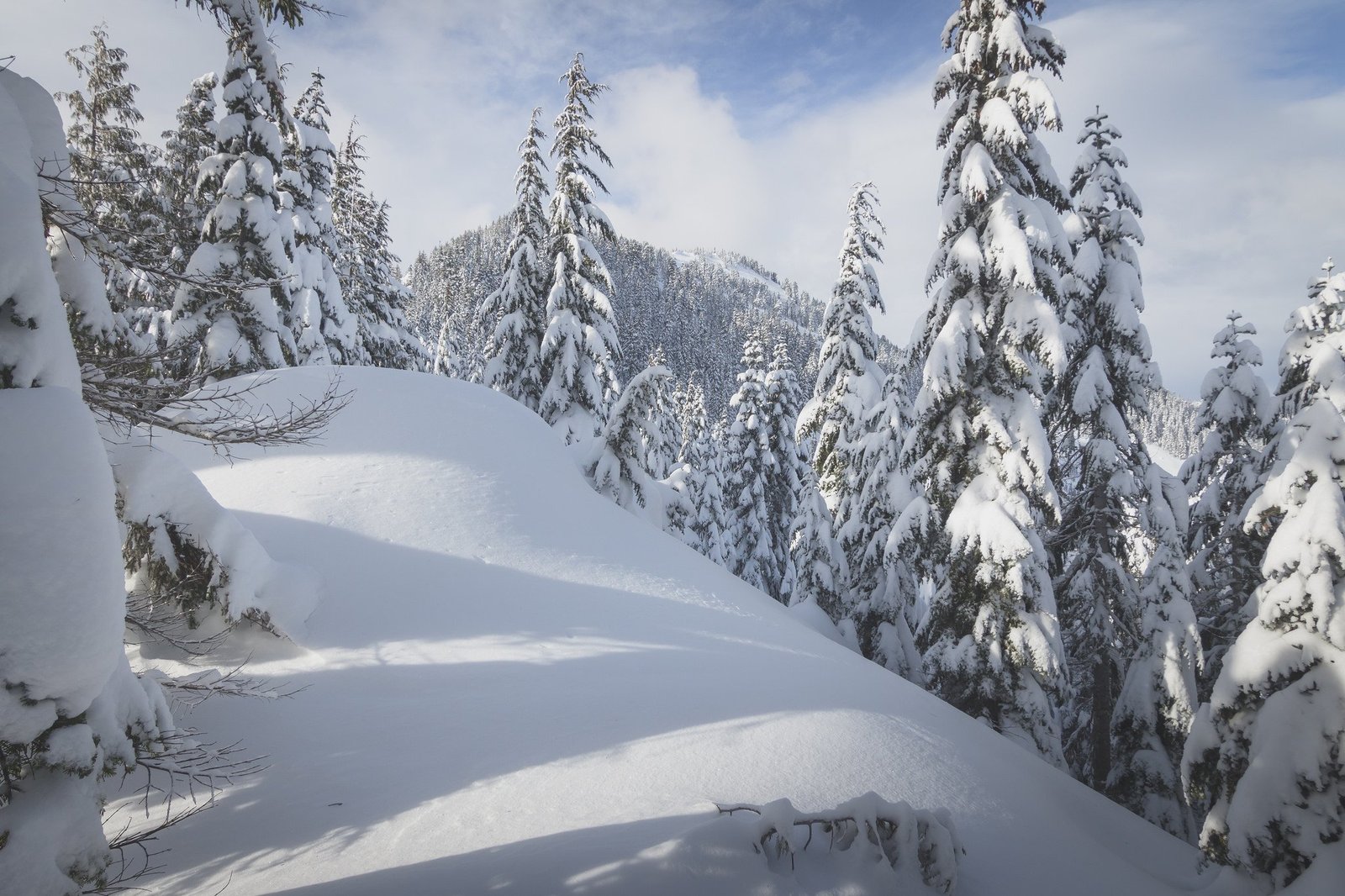 Photos from this trip can be found here.
Snow showers and avalanche danger hindered our New Year's Day celebration on Granite Mountain. Forecast for today looked promising, although avalanche forecast stayed at considerable and most mountains on or near Cascade Crest had 30 mph-plus wind gusts with wind chill factor well below zero. Best to leave Granite Mountain alone for now until after snow conditions improve.
Snow on Granite Mountain Trail was well packed from lots recent foot traffic, used microspikes for traction. Softer snow past Pratt/Talapus/Olallie Lake trail junction. It had been while, I had completely missed the junction and continued to hike Pratt Lake Trail for another half mile before turning around. I put on snowshoes just past the junction on the way to  Olallie Lake.
Pups and I started heading uphill just before reaching the lake at around 3,700′. Lots of fresh powder, reminded me of being on the west slopes of Avalanche Mountain just two days ago. Before reaching Pratt Mountain's southeast ridge at 4,200′, a set of day-old snowshoe tracks suddenly appeared from the east, which we followed for a while until tracks ended at the outcrops crux.
Our first time here was five years ago, end of January when Cascades also received a huge amount of snow. Like the time before we negotiated the outcrops from north slopes, as the south was super exposed and looked to be cliffs if snow weren't present. Sufficient snow on ridge crest allowed for a faster traverse, and we were able to snowshoe over top of the next group of outcrops, which ironically was also the best spot overlooking Talapus Lake.
Ridge seemed to go on forever when consolidated snow was few and far and between. Wind gusts from the (north)east hadn't stopped since we got to southeast ridge. Tree coverage on the ridge helped with blocking out most the wind until just a couple hundred feet below the top where we dropped onto west slopes next to a clearing.
Thank goodness for sunshine, or else it would have been much colder throughout the day. We spent majority of our summit stay behind trees on the west slopes. Views were incredible, although hard to enjoy without constantly getting snow blasted. Many notable lakes nestled behind Bandera Mountain and Mount Defiance; Pratt Lake wasn't fully visible from summit.
Beautiful lighting with colorful clouds as sunset time slowly approached.
Gear: snowshoes