Last week, we went up to Deception Pass. Then today, the yellow pup and I went up to Higher Squire. So he could exercise as I prepared for Lewis Peak. The hidden places in the Mountain Loop Highway area have since taken us on roads I never knew existed.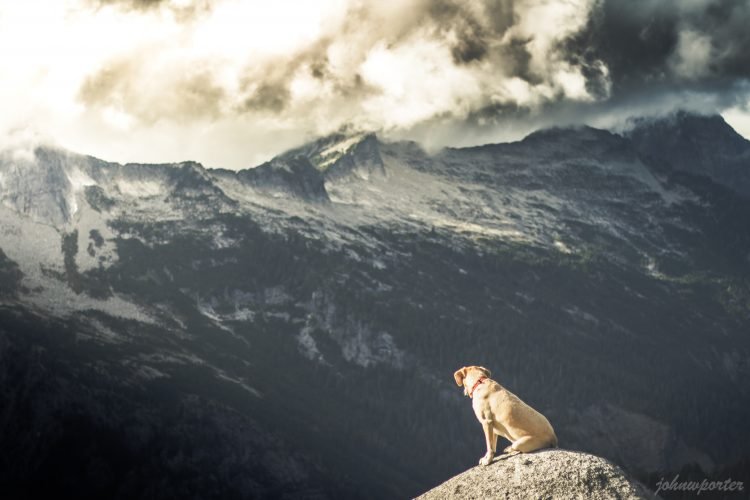 See more trip photos here.
Higher Squire at a Glance
Access: Eight Mile Creek Trailhead
Round Trip: TBD
Elevation Range: 1760′-4879′
Gear: helmet
GPS Track: available
Dog-Friendly: with guidance
Eight Mile Creek Trail
Mr. Cooper continued to recover at home. Then Mr. Cody and I went to explore in the Boulder River Wilderness. On the way to High Squire, I saw two climbers up a big, beautiful slab wall next to the trail. It turned out to be one of the rock climbing places in Darrington.
The pup and I didn't need to go up to the pass. But instead, we made a left at the first opening when we came out of the forest. Then we left the path and went up toward the northeast ridgeline. The goal was to find a decent place to get on the ridge.
See more trip photos here.
Higher Squire Summit
The ridge turned out to be woodsier and bushier than I expected. So we had to go around a few ribs to be on the ridgeline at last. The final stretch up to the summit was a bit rocky. But it was surely doable with some veggie belay plus solid holds.
The clouds have gathered around Three Fingers for a while. So I never got to see its three summits. On the other hand, Whitehorse Mountain went in and out of clouds. But it was visible for the most part. Then I looked over at Jumbo Mountain. I still couldn't believe the pups made it up there with me.
See more trip photos here.
Outro
Helena Peak dominated the eastern skyline. Many notable peaks like Sloan Peak and Mount Pugh sat behind her in the distance. It was woodsy and cloudy to the south. So there wasn't a whole lot to see in that direction.
On the way down, we stopped on Squire Creek Pass. So I could get a close-up view of the big mountains. Later, the two guys we saw climbing earlier the wall were packing up their gear. So I chatted with them about the route. It became totally dark until right before we went back to the trailhead.
See more trip photos here.