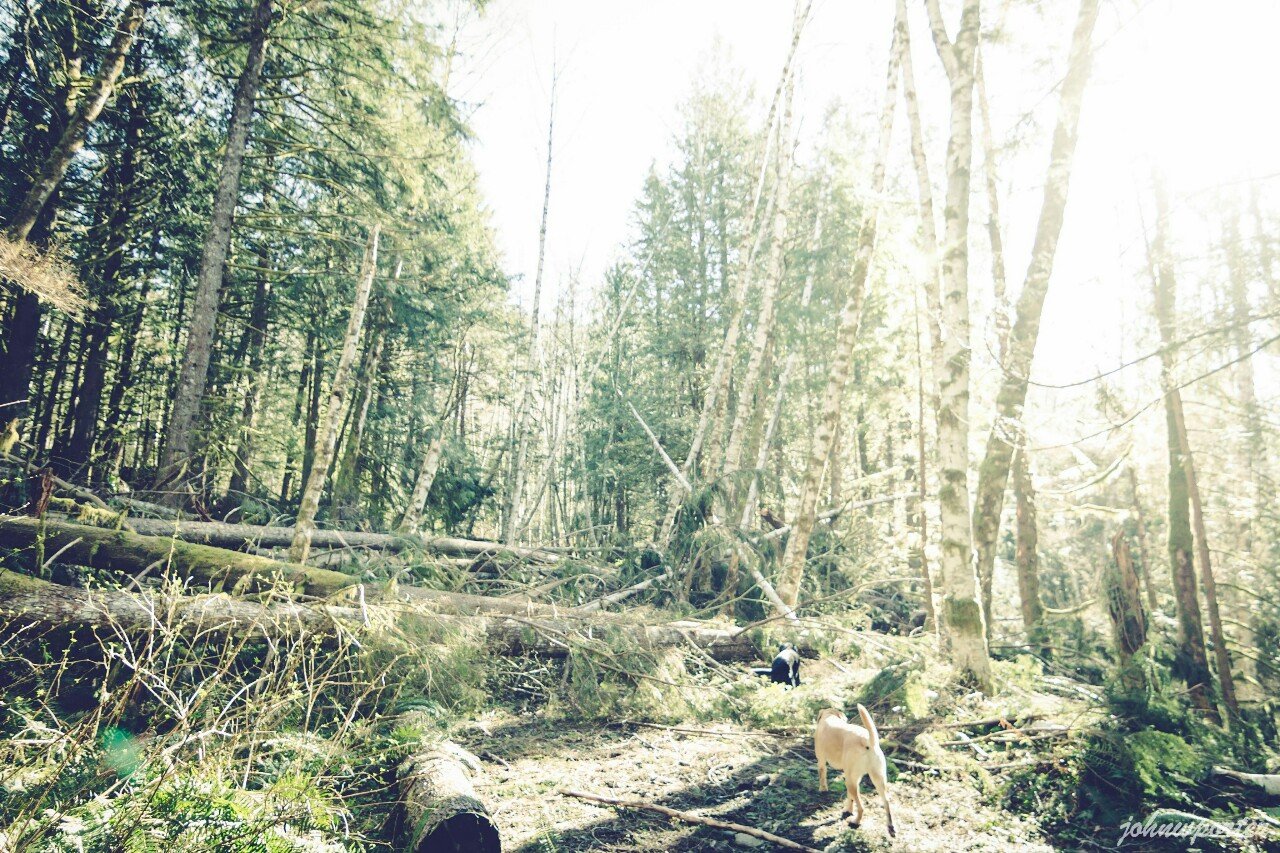 Photos from this trip can be found here.
Up until last week I hadn't heard about this particular Iron Mountain. In the past I had done two other Iron Mountains, one in Teanaway and the other in the MRNP. A recent trip report with beautiful photos of surrounding Wild Sky Wilderness mountains greatly piqued my interest. It also gave me the chance to drive on Index-Galena Road for the very first time through the town of Index.
Two other cars parked at end of the Index-Galena Road by the blockade when the pups and I arrived shortly before 9 AM. The road walk was straightforward albeit tedious, and the scramble to the summit would start only after having hiked 4.5 miles on the road. On the bright side, route finding was very minimal on this trip. LOTS AND LOTS of individual and clustered down trees blocking the roadway, with the worst section being at 1300' elevation. Road conditions varied, some parts were smooth and dry while others were rough with rocks, mud, and the occasional running water from streams.
Snow began to appear at 3000' with full snow at 3400' where snowshoes were needed. There were some old snowshoe tracks and a pair new tracks from today, so there was at least one other person ahead of me. The new set of tracks veered off at 3600' for west basin, while I followed old tracks to nearly the end of the road at 4250' before scrambling up. Upon reaching the saddle of southeast ridge at 4750', we followed the ridge for under half a mile traverse to the summit. Occasionally we negotiated big rocks and outcrops by traversing on the south side of the ridge on steep slopes.
Summit was heavily corniced on the north side and the wind was light as in the forecast. Views were everywhere to be had on this sunny day, but the back side of Merchant Peak, Gunn Peak, and Jumpoff Ridge was especially aesthetic yet daunting. What a great perspective to check out nearly all of the Wild Sky Wilderness mountains! On the way down, we followed tracks of the earlier climber down west ridge and then dropped into west basin. By the time we got to the south slopes and before connecting with our old tracks at 3600', the snow had gotten pretty slushy and impossible to plunge step for a faster descent.
Nice to have snow while it lasted before getting back on the road and finishing the last four miles of uneventful walking.