In the northeastern corner of the Olympic Mountains stands Mount Townsend. It offers tremendous views with low effort. But that's only when snow isn't present to complicate things.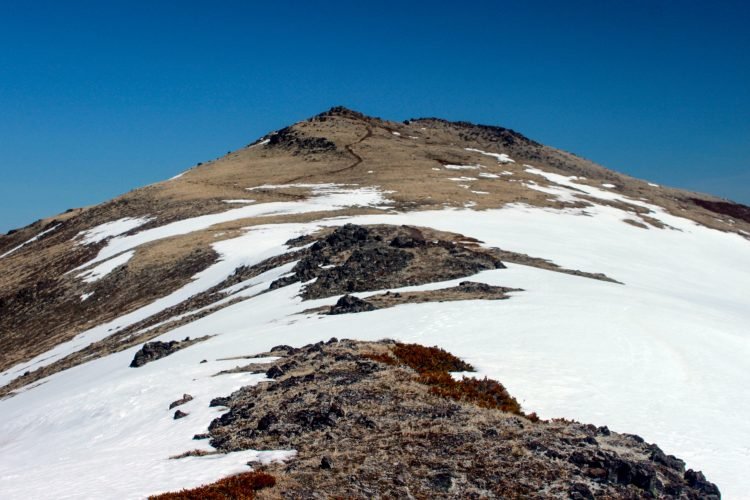 See more trip photos here.
Mount Townsend at a Glance
Access: NF-27
Round Trip: 7.5 miles
Elevation Range: 3180′-6280′
Gear: snowshoes
GPS track: available
Dog-Friendly: with guidance
Mount Townsend
My choral group had a performance in Port Townsend. So I looked for a nearby hike and found Mount Townsend. Then the pups and I made use of the beautiful morning to go up the mountain.
It was our first trip to the Olympic Mountains. So everything was new. I wasn't sure of the amount of snow on the service road. But my goal was to be back at the car by 2 PM to make the call time.
See more trip photos here.
Road 2700-190
The late spring snow on Road 27 forced me to stop at 1.5 miles before the upper trailhead. Trying to continue in the slush probably would've given us in trouble. So we began walking from there.
We were able to follow the trail for quite a while. Then I put on snowshoes before going directly up the slopes. It was doable without the gear, but it would've taken us longer. So I had brought them just in case.
See more trip photos here.
Mount Townsend Summit Plus Views
Judging from the trail conditions, it hasn't snowed for some time. I also didn't see any recent tracks. So we by ourselves. It was a clear day with spectacular views. Nearby peaks included Buckhorn Mountain and Maynard Peak.
It was hazy out on the horizon. So the sky would need to be more transparent to see into Canada. It felt surreal to be in the Olympic Mountains since I only see them during my drive home.
See more trip photos here.
Outro
We will make more trips to the Olympic Mountains this summer.