I spent two days alone on Easy Ridge. Then today, the pups and I explored Ugly Duckling. It would be their final trip with me before my summer climbing escapades began!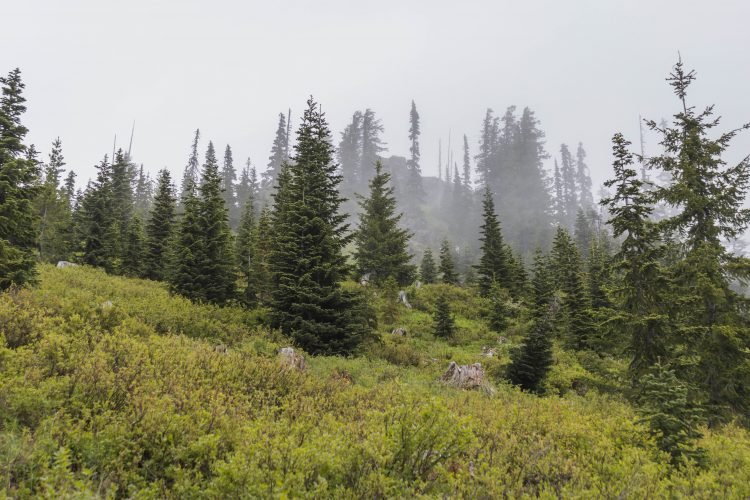 See more trip photos here.
Ugly Duckling at a Glance
Access: NF-4948-120
Round Trip: 6.5 miles
Elevation Range: 3500′-5140′
Gear: none
GPS Track: available
Dog-Friendly: with guidance
Box Canyon
Seven years went past since we were in the area climbing Hibox Mountain. Road 4948 split off from 4930 right after we drove past Kachess Campground. It's about two-thirds way up Kachess Lake's west shore.
Soon, the road went up the steep terrain. At the same time, we drove west to the top of the Gale Creek Basin. Later, at four miles from the campground, we reached Road 120 junction and parked.
See more trip photos here.
Road 120 to Ugly Duckling
Clouds had moved in earlier. So the views from the roadway were minimal. Along the way, we heard the occasional target shooting sounds in the distance. Then we met a guy walking down the road after an overnight trip.
Before long, we were at the 4680′ hairpin turn directly below the summit. Then we followed a faint path up the rocky hill. It was to the right of the quarry. Soon, we reached the brushy slopes and scrambled.
See more trip photos here.
The Final Stretch
The closer we were to the top, the rockier it became. Shortly, we stood at the bottom of the summit. But the south route didn't look feasible for the pups. I noticed the buttress to our right. Then we went to check out the other side.
As luck would have it. The terrain on the other side of the cliffs was more moderate. So it allowed us to climb up the final 100′. A tad rocky. But the pups said it was enjoyable.
See more trip photos here.
Ugly Duckling Summit Plus Swan Lake
We had no views today even to see Mount Margaret. We stayed long enough to take our selfies. Later I looked down and saw cliffs on all sides except the east. The mist made everything up here look creepy.
I wanted to check out Swan Lake. So back at Gale Creek, we followed a hidden path and went west. It was brushy and wet in most places. Later in half a mile, we reached the east shore's firepit.
See more trip photos here.
Outro
On the way out, we found a road past the brush. Then it dawned on me that we saw the lower part of it on the way to the lake. So we made a loop to reach the main path. From there, it was only another mile to go back to the car.