We had a short and scenic outing on Christmas Day. Then today, we took Mr. Connor out on his fourth hike on Camano Ridge Trail. He hasn't shown much interest in walking. So I'd put him in my pack after a couple hundred feet. But once he grows a bit older, we'll then add more distance.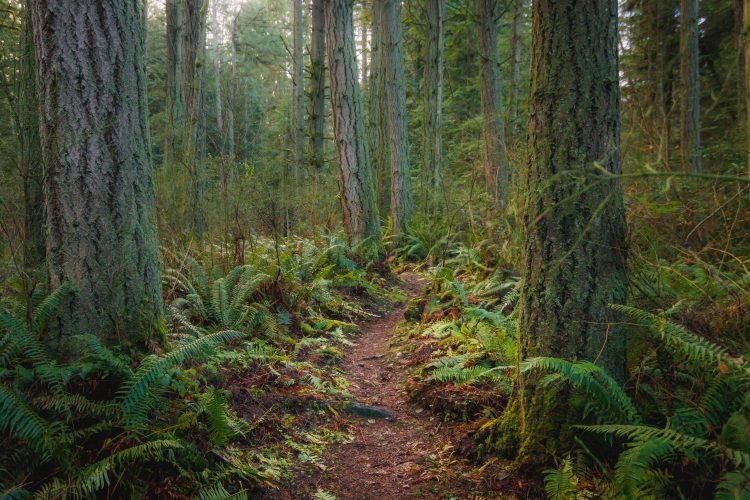 See more trip photos here.
Camano Ridge Trail at a Glance
Access: Camano Ridge Road
Round Trip: 3.7 miles
Elevation Range: 320′-600′
Gear: none
GPS Track: available
Dog-Friendly: yes
Camano Island
This morning I went through my favorite WTA trip reporter's page for a low-key hike. Then we set off to Camano Island. Over the years, I'd driven past the Camano Island exit countless times. But this time, we finally went to explore parts of the island. It's easy to overlook a place like this when it's in the shadow of the larger Whidbey Island.
According to Wikipedia, Camano Island got its name from the Spanish explorer Jacinto Caamaño. But the original name of the island was Kallutchin. It means "land jutting into a bay" in the indigenous Snohomish tribal language. Though, at one time, the island inherited the name MacDonough Island. So glad that the name didn't stay.
See more trip photos here.
Camino Ridge Trail
Mr. Connor isn't yet comfortable on the leash. And so far, our routine has been taking a few steps and then stopping to sniff or look up at me. It's been a while since I tried taking photos while managing two leashes. Nevertheless, the goal was to loop hike counterclockwise through the evergreen forest.
Besides seeing the trees and lots of sword ferns, views in the forest were scarce. Soon, I felt something scratching my leg. That was Mr. Connor's way of letting me know that he's ready to go inside my pack. Then we continued to hike the sometimes muddy trail and weaved our way through several more junctions. Hard to believe a place this quiet was right in the middle of a neighborhood.
See more trip photos here.
Lush Forest Plus Exit
We got off track at one point and descended on a spur trail. I knew right away we were going toward the east entrance. So we backtracked after an eighth of a mile. Soon, we hiked past the halfway point. It felt like the greenest part of the forest. We took a break there so that the pup could get out for some fresh air. Of course, we also needed a selfie break.
I read that somewhere in the forest was a clearing with views. But I wasn't sure of the location. Though, at one point, we did walk past what looked like an opening above the cliffs. But it wasn't worth the effort to fight through the dense brush. The trail eventually took us back to the first junction. From there, we then hiked the rest .4 mile back to the car.
See more trip photos here.